Devutthana Ekadashi 2023: Perfect Time For Auspicious Task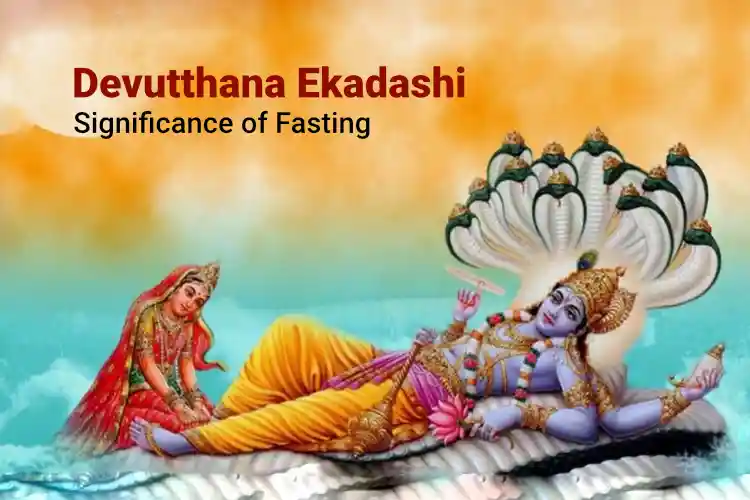 According to Hindu culture, the timing of starting any auspicious event is key to its success. People believe during the calendar year; there is a phase where any good things or events should not be planned. Devutthana Ekadashi is one such ekadashi that marks the end of the inauspicious time. Devutthana Ekadashi is also called the Prabodhini Ekadashi. It falls on the brighter side of the lunar month or the Shukla Paksha.
It marks the end of the four-month period or the chaturmas when Lord Vishnu breaks his sleep. This period is marked as the awakening of Lord Vishnu. Out of the 24 Ekadashi, this one is considered special for marriage dates. This period marks the beginning of Hindu wedding season. It is known by several names like Kartiki Ekadashi, Kartik Shukla Ekadashi and Kartiki. Devutthana Ekadashi is followed by Kartik Purnima that is celebrated as Dev Diwali or Diwali of Gods. As lord Vishnu sleeps on Shayani Ekadashi and wakes on Prabodhini Ekadashi, no auspicious task is performed. It is also believed that Lord Vishnu married Tulsi on this day. Let us know the timing of Devutthana Ekadashi for the year 2023.
---
Devutthana Ekadashi Date And Timings For 2023
This ekadashi falls in the Kartik month of the Hindu calendar during the Shukla paksha. According to the western calendar, this falls in the months of either October or November. The Devutthana Ekadashi 2023 dates are mentioned below.
Devutthana Ekadashi Vrat: 23rd November 2023, Thursday
Parana Time on 4th November:06:18 

AM

 

to 

08:38 

AM

Ekadashi Tithi Start Time: 11:03 PM on Nov 22, 2023
EkaEkadashisadhi Tithi End Time: 09:01 PM on Nov 23, 2023
For more Detailed Eadashi Timings – Check Panchang!
This Ekadashi marks the beginning of the Hindu marriage season, and one can plan any auspicious events like buying an asset or starting any project. With Lord Vishnu's grace, one will attain success. But for this to happen, one must follow the ritual and vrat properly. Let us know the Devutthana story and its significance.
---
Devutthana Ekadashi Vrat Katha And Significance
It is believed that listening to this vrat katha only will grant the native the wish he wishes for. The Devutthana Ekadashi katha revolves around Goddess Lakshmi and lord Vishnu. According to the story, Goddess Lakshmi is in conversation with lord Vishnu. She is telling lord Vishnu that he wakes up day and night for a long time and when he sleeps for millions of years, life on earth is destroyed. All the pastures are waned down. She advises him to sleep for a particular fixed time during the calendar year. This will give time for the rest of the world to revitalize.
Lord Vishnu accepted this suggestion. He also tells her that she doesn't get any rest due to his awakening day and night. After that, he said that he would sleep 4 months in a year before winter, that is, during the rainy season. This will give rest to all the god and goddess. This short sleep was called alpa nidra and Praylay Kaleen Mahanidra. He forecast that during his sleep if any devotee will serve him and then celebrate his awakening with pomp and enthusiasm, then he will be majorly blessed.
The main significance of this Ekadashi is that according to Hindu culture, no one should do any auspicious work during these four months once lord Vishnu goes to Devasayan. When lord Vishnu wakes up from his nidra, then only any manglik event should be launched. On this day, performing fast will grant the person salvation by worshipping lord Vishnu. For performing this puja and vrat, one should follow the exact instructions.
---
How To Perform Puja Vidhi And Fast For Devutthana Ekadashi?
Few points to be remembered before performing this Ekadashi. The fast is recommended nirjala; however, one can perform by consuming water due to any health issue. Elderly people or children can perform one day fast and worship lord Vishnu or kuldevta. Tamasic diet is prohibited. Apart from that, a person with a weak moon or a person who has mental health problems should do nirjala upvas.
Coming to the Devutthana Ekadashi puja vidhi, one should get up early in the morning and take a bath and pledge for fast. For decorating the court of lord Vishnu, he should use sugarcane to build the pavilion. A chowki is built in between and an idol or picture of lord Vishnu is placed in between the chowki. Offer sugarcane, water chestnuts, fruits, sweets to lord Vishnu. Followed by lighting diya of ghee, and one should keep in mind that the diya should be awakened through the ekadashi. This is followed by the mantra chanting and recitation of vrat katha. Finish the puja by touching the feet of lord Vishnu and get your wish.
It is believed that lord Vishnu married Tulsi, and so Tulsi Vivah is celebrated on this day. This is a custom followed with fare in Hindu culture. The marriage of the Tulsi tree and Shaligram is done with much pomp and is celebrated like any other wedding. As lord Vishnu awakens from his chaturmas sleep, he hears the first prayer of Harivallabha Tulsi.
It is believed that those who do not have daughters can attain the virtue of kanyadaan by performing this Tulsi vivah.
Book a free puja consultation to know the details about doing puja for Devutthana Ekadashi.
---
Remedies For Wealth During Devutthana Ekadashi
Apart from marriage and auspicious work, it is believed that performing some remedies will grant the native immense wealth in his life. Here is a list of a few of these remedies one can follow.
During this Ekadashi, offer Lord Vishny saffron mixed milk.
Getting up early and taking a bath in the river will please lord Vishnu. Followed by a bath, chant the Gayatri Mantra to have good health.
Prepare white sweet or kheer along with Tulsi leaves and offer as bhog to lord Vishnu.
Donate coconut and almonds to lord Vishnu's temple. This will help one to resume all the pending tasks and complete them.
During sandhya kal, light a diya of ghee in front of the Tulsi plant and revolve against the Tulsi plant 11 times. This is believed to bring peace at home.
Offering yellow coloured things like yellow clothes, fruits or flowers to lord Vishnu will shower blessings on the native.
Completion of Devutthana Ekadashi marks the commencement of Shubh Muhurat of any auspicious work or marriage. Pray to lord Vishnu with utmost devotion, and one will find blessings and grace of lord Vishnu. Bringing a Vishnu Yantra and installing it at home will bring prosperity at home and in your life. Order your Vishnu Yantra right now and gain the blessing of lord Vishnu.
For Any Questions You can Ask an Astrologer, First Consultation with 100% Cashback!
With Ganesha's Grace,
Astrologers trained by Shri Bejan Daruwalla
The GaneshaSpeaks Team
---
---
Get 100% Cashback On First Consultation