Tulsi Vivah 2023: Let's Celebrate Vrinda And Shaligram Vivah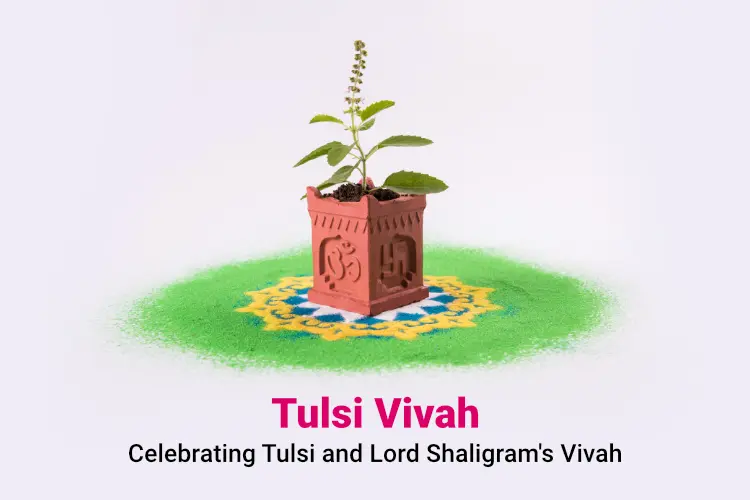 In Hinduism, many plants and trees are given holy status and worshipped as Gods and Goddesses. One of them is Tulsi, also known as Holy Basil. She is regarded as a symbol of purity, has excellent medicinal qualities, and is found in the majority of Hindu homes. In Hindu culture, Tulsi Puja plays a vital role. Tulsi is thought to be an incarnation of Goddess Lakshmi, so the union of Gods and Goddesses is celebrated with great fanfare throughout the country. Tulsi Vivah refers to the mythical marriage of Shri Krishna which is an incarnation of Lord Vishnu with the tulsi plant.
---
Tulsi Vivah 2023 Time, Date and Tithi
Tulsi Vivah is celebrated on the 12th day of the Shukla Paksha of the Kartik month, as per the Hindu calendar. Although this ceremony may be held at any time from the Ekadashi of Prabodhini to Kartik Poornima. Sometimes the festival is held for five days, ending on the full moon day of the month of Kartik. Tulsi Vivah signifies the beginning of the Hindu wedding season and the end of a monsoon season. Tulsi Vivah's day is different from one region to another.
Tulsi Vivah Date : Friday, 24th November 2023
Dwadashi Tithi Begins – 09:01 PM on Nov 23, 2023
Dwadashi Tithi Ends – 07:06 PM on Nov 24, 2023
---
Tulsi Vivah 2023 Significance
Tulsi Puja plays a very significant role for Hindus. It is believed that on this day, Lord Vishnu married Goddess Tulsi in the form of Shaligram or his Shri Krishna avatar on Prabodhini Ekadashi. As per the Hindu scriptures, Tulsi Mata is said to be the avatar of Goddess Lakshmi who is the wife of Lord Vishnu. She took birth as Vrinda, as the legends say. Hence, this day is considered to be the most auspicious day for conducting rituals and ceremonies related to marriage along with Kanyadaan.
Married women across India perform the Tulsi Vivah puja for the well-being of their husbands and family members. The Hindus worship the tulsi plant, and Tulsi herself is thought to be an incarnation of Goddess Mahalakshmi, who was previously known as 'Vrinda.' To obtain marital bliss, young women pray to Goddess Lakshmi with full dedication. Young, unmarried women also follow Tulsi Vivah rituals in order to find good husbands. Also, many schedule their marriage on Tulsi Vivah day as it blesses the couple with blissful married life.
---
Tulsi Vivah Rituals
Lord Krishna's marriage to Tulsi is very similar to a traditional Hindu wedding. The rituals are carried out in various temples, but the Tulsi Vivah can also be performed at home.
The one who observes the Tulsi Vivah must keep fast until the evening, once the actual rituals begin.
The tulsi plant is surrounded by a beautiful mandap made of sugarcane stalks and decorated with colourful rangoli. The tulsi plant is then dressed up like an Indian bride with a bright sari, earrings, and other jewellery. Also offer vermillion powder and turmeric to the holy tulsi plant.
A face is drawn on a piece of paper and attached to the Tulsi plant, along with a nose ring and a bindi.
Either a brass idol or a photo of Lord Vishnu is used to represent the groom. The puja may also include the use of the 'Shaligram Stone,' which represents Lord Vishnu. A dhoti is then placed over the image of Lord Krishna/Vishnu.
For this grand occasion, a special type of vegetarian lunch is prepared. After the marriage rituals are completed, the prepared food is set aside for 'bhog.'
In the evening, the actual ceremony begins. Before the wedding, both Lord Vishnu and Tulsi are given a bath and adorned with flowers as part of the Vivah ceremony. For the ceremony, a yellow thread is used to tie the couple together.
A priest can perform the Tulsi Vivah ceremony, or women in the house can perform the puja collectively. Only widows are not permitted to participate in the Tulsi Vivah ceremony. Throughout the wedding ceremony, mantras are chanted. The newlyweds are showered with rice mixed with vermillion after the marriage rites are completed.
A tulsi aarti is sung after the puja. After the aarti, the cooked food is served as a 'bhog,' along with fruits. The prasad is then shared among family members and other visitors.
A person who performs the Tulsi Vivah is also required to eat a Tulsi leaf, which represents Goddess Tulsi entering the devotee's body. After that, everyone receives prasad in the form of sweets.
Performing Personalised Lakshmi Puja on the day of Tulsi Vivah brings eternal prosperity into your life. Book Lakshmi Puja Now!
---
Tulsi Vivah 2023 Puja Vidhi at Home
Tulsi Vivah Puja Vidhi can also be performed at the comfort of your home. Fasting is one of the key rituals in Hinduism during any festival. Hence, devotees observe fast on this day. The fast is broken in the evening after offering rituals.
Bathe the Tulsi plant with water, clean the statue of Lord Vishnu, and adorn it with flowers and mala.
Get the Tulsi plant ready in the form of a bride. You can wrap a red cloth around and embellish her with ornaments like bangles and bindi.
Tie a holy thread between Tulsi and Lord Vishnu's idol.
Offer flowers and fruits to the holy Tulsi plant and Lord Vishnu.
After performing puja and aarti, distribute prasad to family members and other devotees.
You may also sing devotional songs and read the Tulsi Vivah Vrat Katha and distribute the Prasad and Panchamrit among everyone afterwards.
---
Tulsi Vivah Celebration
Tulsi Vivah celebrations are grand happenings that take place in temples across India. The Lord Rama temples in Saurashtra have much more elaborate celebrations. The bride's temple sends the groom's temple an appropriate wedding invitation. The bride's side is greeted by a grand Barat accompanied by dancing and singing devotees. It is widely believed that childless couples who perform Tulsi's kanyadaan will be blessed with children soon. The ceremonies end when Lord Vishnu and his bride Tulsi return home. The Tulsi Vivah is a perfect example of an Indian wedding.
Worried about marriage difficulties? Get Solution with your Personalised Janam Kundli
---
Tulsi Vivah Story
Vrinda was a devout follower of Lord Vishnu. She was married to the demon king Jalandhar and was his devoted wife. He was thought to be Lord Shiva's demon child. The King possessed great power, but his evil nature drove him to conquer all Gods and become the Asura King. It was impossible to kill Jalandhar until Vrinda remained loyal to him.
As a result, other Gods asked Lord Vishnu to take Jalandhar's appearance and meet Vrinda with the goal of defeating Jalandhar. Vrinda spent the entire night with the disguised husband, unable to recognise him as Lord Vishnu.
As Vrinda was no longer able to protect Jalandhar, the Gods were able to defeat and kill him. As a result, she was enraged by Lord Vishnu's actions. He wanted to apologise for his wrongdoings and bring justice to Vrida. As a result, the Lord changed her soul into a Holy Basil plant. To seek forgiveness for his wrongdoings, Vishnu Dev granted him the blessing of marrying Vrinda in her next incarnation.
As a result of this legendary story, this auspicious Tulsi marriage ceremony took place!
---
Why You Should Perform Tulsi Vivah Puja?
The day of Tulsi Vivah is very auspicious and divine. Performing puja on this day confers you with many benefits. Here are just a few to mention:
It removes obstacles from your life and protects you from misfortunes happening within your family.
If you are facing a delay in marriage, performing Tulsi Vivah Puja can remove all your marriage difficulties.
Childless couples who perform Tulsi's kanyadaan, are blessed with children.
It brings happiness, prosperity and wealth.
---
Closing Up
A home where the holy Tulsi is worshipped daily with full devotion can overcome the challenges and obstacles with ease. Worshipping Tulsi can help you attain health, wealth, and long-term prosperity.
We wish you Happy Tulsi Vivah 2023!
Attract Good Luck With Your Personalised Horoscope On The Auspicious Day Of Tulsi Vivah! – Talk To An Astrologer Now!
With Ganesha's Grace,
The GaneshaSpeaks.com Team
Astrologers trained by Shri Bejan Daruwalla.
---
---
Get 100% Cashback On First Consultation