Solah Somvar Vrat – Righteous way to perform puja vidhi of Lord Shiva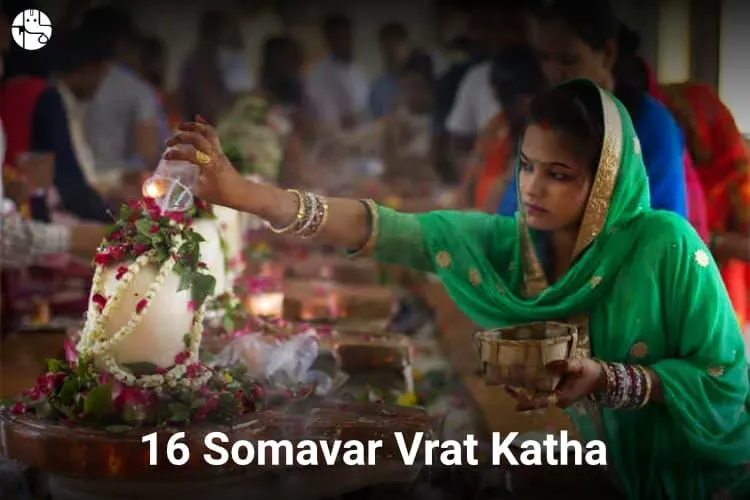 The holy month of Shravan also known as Saawan is here, and it's time to worship the kind-hearted Lord Shiva. In India, where festivals are celebrated with zeal and devotion, one such festival is celebrated for an entire month by offering prayers to the deity and seeking his blessings
Also Read: 108 Lord Shiva Names with Meaning
---
Monday Fast Significance
Monday is said to be an auspicious day of Lord Shiva. Devotees line up at Shiva mandirs or temples on this day to get blessings and boons from the Lord, who is known to remove great difficulties from the lives of devotees. 16 Monday Vrat or Solah Somvar Vrat is one of the most revered fasts in Hinduism that is dedicated to Lord Shiva. Hindus regard Lord Shiva as a powerful God, and observing fasting for 16 Mondays consecutively, can bestow several blessings on them
---
When to start 16 Somvar Vrat?
Solah Somvar Vrat starts from the 1st Monday of Shukla Paksha in Shravan month and is believed to be extremely fruitful. One can observe fast up to 4 to 5 Mondays continuously. A person who is willing to do more can continue fasting up to 16 consecutive Mondays.
---
Why is 16 Somvar Vrat observed?
The 16 Monday Vrat happens to be the most prevailing one in India. It has to be held for 16 Mondays successively to offer reverence and please Lord Shiva for seeking his blessings. Anyone who wishes to gain blessings from the deity may observe this fast. Mostly, unmarried women observe this Vrat to get blessings of blissful marriage with an ideal partner. Observing this fast during Shravan month is of immense benefit. Similar to other fasts and festivals, devotees pray, conduct puja vidhi, and read the 16 Somvar Vrat Katha.
You are Also Interested to Know About the Significance, Story and Puja Procedure of Sawan Month.
---
Solah Somvar Vrat Puja Vidhi
The 16 Somvar puja vidhi can be followed with ease. Before starting the puja, one must pledge to follow the Vrat with true devotion and authenticity.
For performing puja, wake up early in the morning, take a bath and arrange all samagri for 16 Somvar Vrat (ingredients for Solah Somvar Vrat puja).
Next, visit the temple of Lord Shiva. If this is not possible, one can perform puja at their home as well. Start with cleansing the deity's idol with water and decorate the altar with flowers.
Clean the place of worship and light diya with oil. After this, offer flowers along with chanting prayers to Lord Shiva.
Offer betel leaves, coconut, nuts, fruits, and sweet dishes to mark the end of the puja. People usually offer sweet dishes prepared at home.
Next, the recitation of 16 Somvar Vrat Katha is done and the puja is concluded with arti.
Light a lamp in front of Lord Shiva in the evening. Fast should be observed throughout the day. Unmarried women should read the marriage story of Lord Shiva and Parvati Devi to get blessings.
Also, Get to Know Shravan Somvar Shiv Puja According to Zodiac Signs.
---
16 Somvar Vrat Katha or Story
Once there lived a moneylender and his wife, both were distinctly religious and devoted in their life. They didn't have the happiness of a child and prayed to the Lord to bless them with one. Lord Shiva was appeased by their prayers and blessed them with a baby boy. Unfortunately, the boy was meant to live for only 12 years, and this was known to his father.
The moneylender taught his son to live a highly modest and devoted life. On the year he was going to turn 12, he was sent to Kashi with his uncle to finish his academic career. They witnessed a marriage ceremony. The bride was the daughter of a businessman, but the groom suffered from blindness in one eye. After discovering this, the bride's family requested the money lender's son to marry her.
After marrying the bride, both went to Kashi, and the boy completed his studies as decided. But his destiny was close and one day he came to face his death. The money lender's family had prayed unmeasurably to Lord Shiva. Seeing their devotion, the Lord was touched and hence as a boon, blessed their son with longevity. The boy and his wife happily returned home and lived with their family with great bliss.
Happy 16 Somvar Vrat and may Lord Shiva bless everyone with prosperity and happiness in life.
To Get Your Personalized Solutions, Talk To An Astrologer Now!
With Ganesha's Grace,
GaneshaSpeaks.com
---
---
Get 100% Cashback On First Consultation