Shravan Month 2023: Dates, Significance, Puja Vidhi & Fast Rituals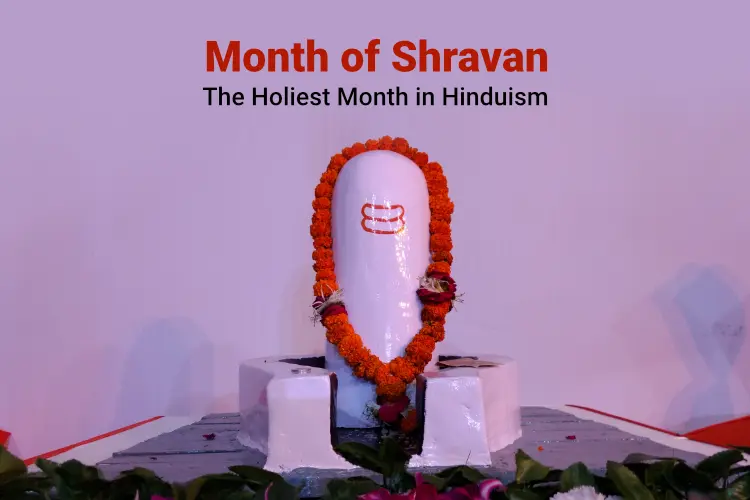 Shravan Meaning
According to the Hindu calendar, the Shravan month is one of the holiest months compared to all months. This is the fifth month of the Hindu calendar. But have you ever thought about why it was named Shravan? The Shravan Nakshatra is considered to govern the sky on Poornima or full-moon day; therefore, its name is derived from the Nakshatra. During this month, devotees offer Patram-pushpam & phalam-toyam to Shiva linga.
The month of Shravan is synonymous to festivals & events. It is the best time to conduct all the auspicious events as most of the days of this month are promising for shubh aarambh (the new beginnings).
In this month, every Monday is celebrated as Shravan somvar across all the temples, with Dharanatra over the Shivling, bathing it with holy water and milk throughout the day and night. Let's understand the dates and times of Shravan and the all-important Mondays!
---
Shravan Month 2023 Dates
Shravana Somwar Vrat Dates for Rajasthan, Uttar Pradesh, Madhya Pradesh, Punjab, Himachal Pradesh, Uttarakhand, Chhattisgarh, Bihar, and Jharkhand.
04 July (Tuesday) First day of Shravana Month
10 July (Monday) Shravana Somwar Vrat
17 July (Monday) Shravana Somwar Vrat
24 July (Monday) Shravana Somwar Vrat
31 July (Monday) Shravana Somwar Vrat
07 August (Monday) Shravana Somwar Vrat
14 August (Monday) Shravana Somwar Vrat
21 August (Monday) Shravana Somwar Vrat
28 August (Monday) Shravana Somwar Vrat
31 August (Thursday) Last day of Shravana Month
Shravana Somwar Vrat Dates for Andhra Pradesh, Telangana, Goa, Maharashtra, Gujarat, Karnataka, and Tamil Nadu.
17 August (Thursday) First day of Shravana Month
21 August (Monday) Shravana Somwar Vrat
28 August (Monday) Shravana Somwar Vrat
04 September (Monday) Shravana Somwar Vrat
11 September (Monday) Shravana Somwar Vrat
14 September (Thursday) Last day of Shravana Month
---
The Significance Of Lord Shiva In Shravan Somvar
According to the Hindu legends, in the conflict between the Devas and the Asuras, poison emerged from the water. Lord Shiva drank all the poison to rescue the human race. This incidence took place in the Shravan month. Due to this, Lord Shiva's body temperature rose considerably. Then Lord Shiva donned the moon on his head, which helped to lowered his temperature, and all the Hindu gods poured Gangajal on Lord Shiva, which is also followed today by the devotees.
It is also said that Lord Indra wanted the temperature of Lord Shiva to drop, and hence the rains poured excessively. That soothed Lord Shiva and eased him. Since that time, Lord Shiva is honoured and water is poured over Lord Shiva during the month of Sawan, especially on Mondays.
Here is all you need to know about the rituals:
---
Shiv Puja Rituals On The Holy Shravan Month Somvar
As per the belief, it is said that it is easy to please Lord Shiva among all the Gods. Thus, to attain his grace, perform the rituals as given below.
Wake up early in the morning and take a bath on Sawan Somwar Day.
You must then visit Shiv Mandir or perform an authentic Rudrabhishek Puja in your own house with proper rituals.
The bel leaves, datura, gangajal, and milk are important puja materials.
Shivling is anointed with Panchamrit.
Ghee-Shakkar is offered to Lord Shiva.
Then pray and perform the Aarti.
After Puja is completed, distribute the Prasad.
---
Benefits Of Shiva Puja In The Shravan Month
Worshipping almighty Lord Shiva during Shravan brings various blessings for the devotees, including the accomplishment of spiritual cleansing. Moreover, the miseries or troubles due to planetary Doshas are nullified by worshipping Lord Shiva with Rudraksha, honey, ghee, belpatra, etc., according to the instructions given by a Pandit.
A Rudrabhishekam Puja, performed by the experienced pandits, can help you get rid of incurable diseases, financial issues, and bad karma. It can also fetch you success with your career, business, and personal life. One of the most beneficial aspects of a Rudrabhishekam Puja is the removal of doshas and malefic planetary combinations in your birth chart.
Similarly, performing a Laghu Rudra Puja to appease Lord Shiva can help you achieve inner peace and fulfil your desires. A Pathatmak Laghu Rudra Puja can also destroy evil and negativity around you.
To get your personalized solutions, Talk to an Astrologer now! First Consultation with 100% Cashback!
---
Sawan Somvar Vrat Katha In The Shravan Month 2023
According to the Skanda Purana, Sawan vrat Katha goes like this; once, Goddess Sati made a dramatic decision to go against her father to marry Lord Shiva. She married him but gave up her life when she witnessed Shiva, her husband, was humiliated at her father's place. She was later reincarnated as Goddess Parvati, the daughter of Parvat Raj Himalaya and Naina. She carried out a severe penance and Tapasya all month long to make him her better half. As a consequence, she achieved her goals and came to Shiva as his adored partner.
That is why many people still follow this practice, and girls observe fast for sixteen consecutive Mondays (Solah Somvar) to get partner like Lord Shiva.
---
Fasting Rules Of Sawan Somvar Vrat
Sravan somvar is the most essential, and if you observe 16 Mondays, Lord Shiva is supposed to bestow whatever your heart wants!
The solah somvar vrat is extremely easy to follow. One must commit to following the vrat with pure heart and dedication for 16 Mondays. The vrat starts early in the morning by waking up and taking a bath. The puja samagri are collected.
You can then visit the temple to pray god, or you can perform the puja at home. Decorate the idol or picture with diyas and flowers.
Next, clean the altar and then light the lamp with gingelly oil. You may finish the puja with betel leaves, almonds, coconut and a sweet dish.
Next, you have to recite the 16 somvar vrat Katha and finish the puja with arati. It is essential to light a diya near Lord Shiva at night. One must fast whole day or can eat prasad and fruits after a puja has been completed.
---
Sawan Vrat: Mantra
While fasting in the Shravan month, several devotees chant the mantra of "Om Namah Shivay" and Mahamrityunjaya Mantra to get rid of all the diseases.
You can also worship a Mahamrutyunjay Yantra to fend off the negativity from your life, evil, black magic, and even untimely death.
---
What To Eat & Not To Eat During Fasting In The Shravan Month
Fruits, sabudana, sendha namak, milk and related products like curd, buttermilk can be devoured. However, some people consume one meal a day. Furthermore, meals cooked with salt, garlic, and onions must be avoided.
---
Types of Fasts observed during the Shravan month.
Partial Fasting: In partial fasting, the devotees are allowed to eat fruits and foods like sabudana, nuts, etc. Some people also keep fast during the day and eat at night.
Austere Fasting: In this kind of fasting, devotees do not eat anything during the day and only consume water. They break their fast after sunset by eating a meal that does not have onion and garlic.
---
Is Solah Somvar Vrat Effective
According to Shiva Purana, following this, Vrat contributes to the successful profession, business, connections and provides peace of mind, good health, longevity. The observation of this Vrat in the Shravan month helps defend against all the maladies and sickness. Moreover, those struggling from conflicts would enjoy peace and harmony.
---
The Conclusion
The Shravan month is the auspicious month and worshipping Lord Shiva during this month with full dedication and devotion helps one to attain peace and progress spiritually. Moreover, devotees receive the blessings of omnipotent Lord Shiva. Everyone is going through unprecedented times with the new normal. If you are also one of the struggling ones, worshipping Lord Shiva this holy Shravan month will certainly help you overcome the challenges.
To get your personalized solutions, Talk to an Astrologer now! First Consultation with 100% Cashback!
With Ganesha's Grace,
The GaneshaSpeaks.com Team
Astrologers trained by Shri Bejan Daruwalla.
---
---
Get 100% Cashback On First Consultation