Rana Daggubati Birthday Prediction: What will be his success rate in 2021?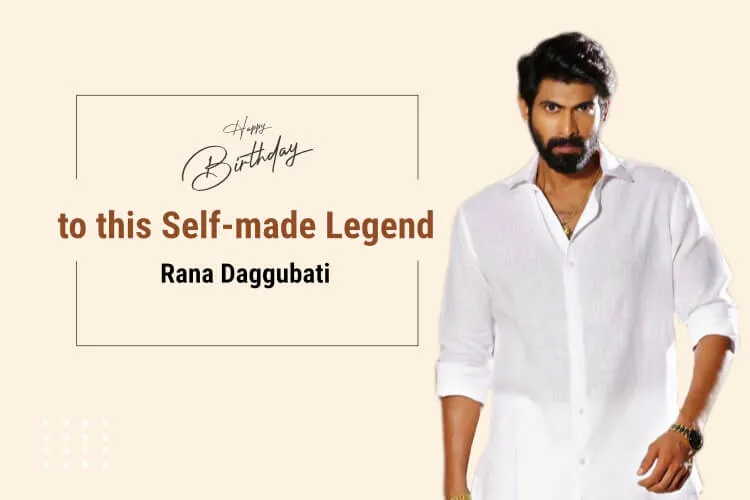 "Success is not what you buy with money but earn through passion and hard work". It is the best-suited quote for this phenomenal Baahubali fame actor Rana Daggubati. His villainous eyes, a well-built body, and a full-grown beard have earned him many negative and praiseworthy roles in his professional career as an actor. Rana Daggubati is a pan-India superstar who started his journey with the Telugu film industry, and now he has become a well-known name in the Indian film industry as well. Apart from an actor, Rana Daggubati is also a tech geek and owns an Anthill studio in his name. Augmented Reality, Artificial Intelligence, and VFX are some of the areas on the radar of 'Anthill Studios'. His love for technology doesn't end here as he is also the partner of Kwan South entertainment, the company being identified as celebrity management. Rana Daggubati is a phenomenal actor, a successful producer, and an entrepreneur. With the biggest break with "The Baahubali series as an antagonist, he has cemented a place in everyone's heart.
As this Baahubali fame actor celebrates his birthday on 14th December 1984, let's analyze his planetary positions, aspects, and transits based on his Surya Kundali.
Find out what your planetary positions reveal about your future, with your Personalised Janampatri manually analysed by our Expert Astrologers.
---
Surya Kundali of Rana Duggabati
Date of Birth :- 14 December 1984
Birth Time :- Not Known
Place of Birth :- Madras, Tamil Nadu, India
---
Astrological Observations of Rana Daggubati's Birth Chart Rana Daggubati experimenting with new ideas.
Rana Daggubati horoscope analysis predicts satisfactory outcome from new experimentation. However, without a date and time, it will be a precipitous act to predict his upcoming businesses. But, it is certain that Rana Daggubati will earn a tremendous load of applause for this upcoming performance. The upcoming transit of Saturn over Mars and Venus suggests that he is likely to remain active on his professional front. He will be in a newfangled mood to experiment with new ideas and for conceptualization. Overall his upcoming performance as Hiranyakashipu would bring a desirable result in terms of money, name, and fame.
---
Rana Daggubati's Married Life: A Smooth Ride.
The upcoming period suggests that the planets may call him to deal with his family members in a more loving and caring way, rather than an intellectual manner. He might be clear with his personal goals and perceptions. So, overall his personal life and his married life might not face any opposition. The Jupiter transit suggests that he may have a good time with his family and even try to participate in some genre of social gathering.
How will your married life be? Get the 2023 marriage report analysis and know all the facts about what your conjugal life seems like.
---
The Return of Rahu-Ketu in Rana Daggubati Horoscope.
As the return of Rahu and Ketu is apparent in his Surya Kundali, he would be in a phase of newer and bigger projects at the professional front. He may be doing remarkably well in upcoming projects and would be inclined to increase his fees and remuneration. The possibility of some new earning is also seeming possible. Overall, higher possibilities are expected for his success in terms of new ventures and projects.
---
Rana Daggubati is looking unconventional in his routine practice.
Newer and something unusual is an extraordinary feature of Rahu and Ketu transit. Thus, the Rahu and Ketu return phase reveals that he may be irregular in his routine task, and as a result, he may even indulge in some genre of web series in the coming days. Moreover, his upcoming period may further bring more success in his financial work. He may even take his action and task seriously in fiscal matters.
What the upcoming year 2023 suggests about your financial matters? Find out with your 2023 financial report.
---
---
---
Get 100% Cashback On First Consultation