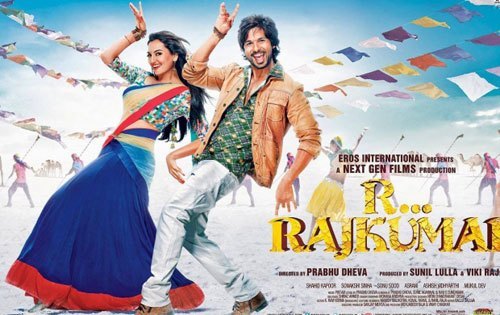 Each Friday, a new movie hits the silver screen and the following week decides its fortune at the box-office. But Friday, December 6 2013, is not going to be just another Friday at the Box-office, especially for Shahid Kapoor, as R... Rajkumar starring him and Sonakshi Sinha will be releasing on this day. Despite his acting skills and extraordinary dance moves, Shahid has been unable to give a hit for a long time now. Hence, it will be interesting to see if R... Rajkumar becomes a turning point in his career. For Sonakshi, too, this is going to be an important film as she is yet to make a mark in Bollywood for her acting skills. This directorial venture of Prabhudeva also stars Sonu Sood and Ashish Vidyarthi, in the negative roles. Ace music director Pritam has composed music for this film, two of the songs are already quite hit with the masses.

All the speculations about the success of R...Rajkumar will finally on December 6, when it will release globally. Ganesha analyses the release time chart and predicts whether audiences would appreciate R... Rajkumar. Read on to know Ganesha's interesting observations.


R... Rajkumar Release time chart
for Bollywood's major territory

Astrological observations
Ganesha observes that R... Rajkumar will be releasing with Sagittarius Ascendant.
Lord of the Ascendant, Jupiter, will be retrograde in the 7th House.
Lord of the 10th House of Success is placed in the 12th House of Losses.
Mars is placed in the 10th House and is in exchange with Lord of the 12th House, Mars, which is also the Lord of the 5th House Lord too. Mercury, the Lord of the 10th House, is also Lord of the 7th House.
Rahu is placed in the 11th House of Gains with exalted Saturn.
Venus and Moon are placed in the 2nd House of Finances.
In Sarvashtakvarga, there are 33 auspicious Bindus in the 10th House and 29 Auspicious Bindus in the 11th House. There are 29 auspicious Bindus in the 12th House as well.
Astrological predictions
Ganesha feels that R... Rajkumar although may receive warm welcome at box office. However, it won't open full house everywhere.
The box-office earnings during the first weekend will be above average. Ganesha feels that there will be a decline in the business after the first weekend.
In foreign markets, this film will do well mainly due to female character. However in Indian Market it is unlikely to do very well.
Ganesha feels that this film is not going to continue its run for more than two weeks at box-office.
In some of the small pockets, film is likely to do well.

In short, R... Rajkumar is going to do better than average business at box office, says Ganesha.

Ganesha's Grace,
The GaneshaSpeaks Team