All Uphill From Here For Hrithik Roshan, Horoscope 2021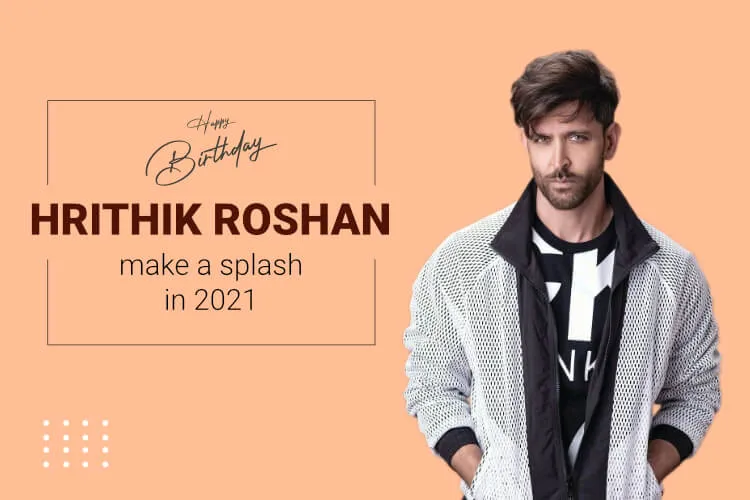 Hrithik Roshan, Bollywood's own 'Duggu', is known infamously for his stellar performance in Hindi cinema. He has been tested to be one of the most powerful, proficient, and versatile celebrity icons. Also, he has a huge fan following because of his dancing skills, supreme acting talent, and well-toned physique. One of the highest-paid actors, Hrithik has got several notable awards to his credit. With fame and spotlights, his name also appeared on Forbes India's Celebrity one hundred, a ranking awarded due to his increasing quality work and financial gain. .
Directed by his father Rakesh Roshan, Kaho Naa…Pyaar Hai proved to be a major linchpin to his medium career. Because the romantic film wasn't solely the highest-grossing Indian film back in 2000. However, it helped to win several unearned awards and made Hrithik a superstar overnight. Through onerous works and impeccable medium performance among well-chiselled strong physique, Hrithik has engineered up a picture of being a matinee idol actor, with most fans line him Greek God of the movie industry. The fourth chapter of the Krrish series is set to release in 2021. Find out what the new year has in the bag for him. Here are the horoscopic predictions.
Check out what Aishwarya Rai Bachchan's stars tell about her success in 2021.
---
About Hrithik Roshan
Date of Birth: 10th January 1974
Birth Time: 03:25 am
Place of Birth: Bombay (Maharashtra)
Hrithik Roshan's Kundli
According to the actor's birth chart, Hrithik is born in Sagittarius ascendant and is the native of a Cancer zodiac sign. The Sun is associated with Mercury and Jupiter in the ascendant house. The lord of luck, Sun is present in the 1st house. The influence of the Sun here reveals that the actor's achievement as a Bollywood star is only and only the result of his hard work and passion. He has unique self-confidence and a charismatic personality.
Check what your ascendant tells about you. Unveil your Personalised Free Janampatri!
The lord of the ascendant house, Jupiter in Capricorn is in the 2nd house. According to Hrithik's Navamsa Kundli, Jupiter is posited transiting in Cancer. In his birth horoscope, Venus is in Capricorn, and the Moon is present in Cancer. Both of them respect each other, and have a great influence on the actor's acting skills. With the favourable support of Venus and Moon, Duggu became a successful Bollywood celebrity. Also, the Moon aspects Jupiter in Hrithik's Lagna Kundli, which helped the actor earn wealth and prosperity. Venus present in the Capricorn sign inspires individuals to achieve desired success in their acting career, and the same worked for Hrithik.
Mars in Aries, sitting in the 5th house motivates the actor to do hard work and further helps him to achieve the new heights of his career success. The pair of Saturn and Ketu present in the 7th house creates issues in the actor's love relationship or leads him to separation. These planetary influences are not gone unnoticed in the actor's recent past life. Mars in its own house bestows the actor with a brilliant, creative, and intelligent mind.
Know what the current placement of planets and their combinations in your horoscope tells about you. Uncover 2023 Horoscope Now!
---
Hrithik Roshan's astrology chart in 2021
According to the current transition of planets, the Sun is passing over the natal planets – Sun, Mercury, and Rahu in Sagittarius. Also, Mars is passing over the natal Mars in Aries. Whereas, planet Mercury is passing over the natal Jupiter and natal Venus in Capricorn. The transiting Jupiter in Capricorn is passing over the natal Jupiter and natal Venus. Also, the planet of love, Venus is passing over the natal Sun, Mercury, and Rahu in Sagittarius. The strict teacher, Saturn is passing over the natal Jupiter and natal Venus in Capricorn. The planet Rahu is passing through the Taurus sign while Ketu is passing through the Scorpio sign.
---
What's in store for Hrithik Roshan upcoming films? Krrish 4 to make a splash in 2021
Currently, the actor is in Maha Dasha of Sun and Antar Dasha of Mercury. The Sun is the lord of luck, which is a part of Venus nakshatra. On the other hand, Mercury is the lord of the 7th house and 10th house. Here, the transit of Jupiter in Capricorn and Aquarius throughout 2021 is supporting him and it is also protecting you from bad Karma. And thus, it can be said that the actor will taste success with the help of the 'Krrish' series.
Planetary transits in 2021 can bring many transformations in your career and business. Explore all imminent events from your Personalised Career Report!
---
Hrithik Roshan's Fitness Goal
In regards to his health in 2021, considering the position of Moon, Ketu is passing through the 5th house, which means the actor may suffer from problems in the digestive system. Till 6th April 2021 or from 14th September 2021 to 20th November 2021, the transiting Jupiter in Capricorn who is also the lord of ascendant is passing through the natal planets, Jupiter and Venus. Also, it aspects the 6th house. And therefore, the actor is likely to maintain stable fitness and health in 2021. But still, the actor should give proper attention to his health from 7th November 2021 to 14th November 2021.
---
Will Hrithik Roshan find love in 2021?
Here, Jupiter in Capricorn is passing over Venus till 6th April 2021 or from 14 September 2021 to 20th November 2021, and it aspects the 10th and the 6th house where Venus is a provider of medicine. Also, during the other periods (from 6th April 2021 to 14th September 2021 and 20th November 2021 to 14th April 2022) Jupiter will transit in the Aquarius siHrithik-Roshan-kundalign. So, the actor is likely to have a successful business partnership with the flamingo Group.
A stable financial growth, bumpy ride, or quick success? How will your financial position be in the coming year? Get a Detailed Life Report now!
---
Will Hrithik Roshan find love in 2021?
From the position of Moon, Jupiter of Taurus sign placed in the 11th house will help the actor to be in a blissful love relationship. Here, from 6th April 2021 to 14th September 2021 and 20th November 2021 to 14th April 2022, transiting Jupiter of Aquarius will aspect the 7th house, 9th house, and 11th house, meaning the actor may take their relationship status to a higher level. There is also a chance that the actor may get married for a second time. If he wants to enter a marriage relationship again, he will tie-a-knot.
Do you know when you will meet your soulmate? Get your answer from Love Prospect Report!
All in all, Hrithik Roshan is expected to experience a comeback in Bollywood, the brand world, and his personal life as per his horoscope readings. He needs to pay attention to his health issues at a certain point of time in 2021, it's all uphill after that.
GaneshaSpeaks wishes a great year ahead to Hrithik Roshan on his birthday.
To Get Your Personalised Solutions! Talk To The Best Astrologer Now.
With Ganesha's Grace,
Astrologers trained by Shri Bejan Daruwalla
The GaneshaSpeaks Team
---
---
Get 100% Cashback On First Consultation