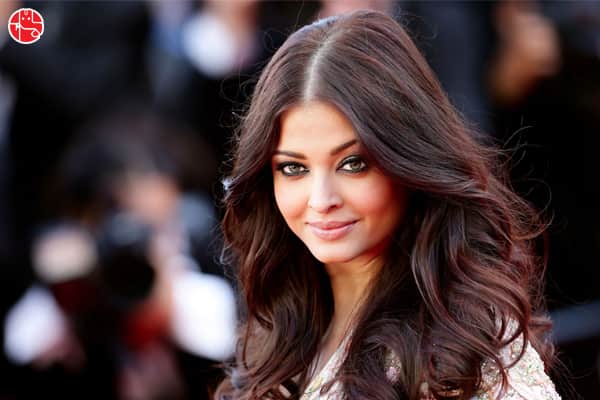 (Image Source: Internet) 
For many, this glamour doll is superlative in terms of beauty and grace. Yes, we are talking about Aishwarya Rai Bachchan, the epitome of good looks who has traversed huge miles in success and achievement. From being Miss World to enjoying a flourishing career in Bollwood, Aishwarya has many feathers in her cap. Now Ganesha has analysed her Birth Chart and probed her future. Here are the findings:        
Aishwarya Rai Bachchan 
Date of Birth: 1st November, 1973
Birth Time: 04:05 am (Unconfirmed)
 Place of Birth: Mangalore, Karnataka, India
Birth Chart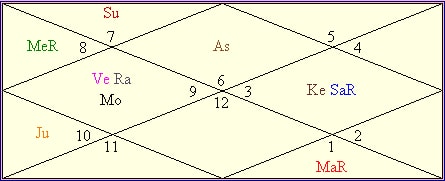 Astrology Behind Her Beauty 
Moon is the Atmakaraka in this Indian actress' chart. This signifies creative talent. It also indicates the ability to be imaginative. Besides, Moon is placed in her 4th house with Venus and Rahu. This planetary placement has made her glamorous and the most beautiful person as per Aishwarya Rai horoscope. This planetary position and conjunction have made her so appealing that it is hard to take our eyes off her, whether on screen or in real life as per her birthday forecast. Aishwarya is way above the crowd as per her birthday predictions. What do your birthday predictions say?
Buy Your Birthday Report- Premium and get the answer
. 
Ambitious, And An Achiever 
Moon is in the Sagittarius sign which indicates a love for freedom and travel according to Aishwarya Rai birth chart. Saturn placed in the 10th house shows determination and dedication towards her goals and desires. Thus, she wants to move ahead in life and is a big achiever.   This is clearly seen in her life, she has achieved one height after the other. She became Miss World in 1994 because of her dedication. She will continue her achievements even in future. 
Unique And Gifted 
Mars is in its own sign which indicates a strong and bold attitude towards any situation in life. These factors show her strong presence and persona, which makes her one out of the crowd. This is also in accordance with her Zodiac sign
Scorpio
. Thus, she is gifted, unique and attractive. Her looks and charm will continue to help her in the future.     
Surge In Fame And Money 
Jupiter is currently transiting through the 2nd house and over natal Sun. Thus, due to this transit, she will see a rise in her popularity, primarily through her hard work. She will also be able to earn a lot of money in the upcoming year. Her success will even be compared to leading male heroes like Salman Khan. Aishwarya's popularity will surge. But how will your business fare?
Get the Free 2018 Business Report and know the answer
. 
Professional Success Foreseen 
She may do only a few movies in the upcoming year. But she will do well in these upcoming movies. Her level of commitment and dedication will be very high. She will be in the prime limelight once again. She will get all the attention from her fans and media-persons. She will want to stay a private person but will find it difficult to escape the limelight. Her career will move in the right direction. Besides, actresses like Priyanka Chopra may get a stiff competition from Aishwarya Rai Bachchan. 
Upcoming Movies Likely To Go Hit
Saturn is transiting through her 4th house and over natal Venus, Moon and Rahu as per Aishwarya Rai's birthday forecast. This shows that she will get more appreciation for her works and skills in the days to come. This is a clear reflection on her upcoming movies. At the same time, she may face some health issues as she will be overstressed due to work. She should take good care of her health as per Astrology.   
Difficulties In Balancing Personal And Professional Life 
Rahu and Ketu transits through the 11th and 5th houses respectively signify a very important period in her performance as per Aishwarya Rai kundli. Also, Ketu will be transiting over natal Jupiter which indicates some difficulties in balancing personal and professional life as per her birthchart. She will go out with her spouse Abhishek Bachchan and daughter Aaradhya Bachchan in order to give them full attention. 
Likely To Become More Family-Centric
Aishwarya will get a lot of attention from her family and friends, including her father-in-law
Amitabh Bachchan
. However, she may not have the time to be with them all the time. She will make new friends and her circle of close friends may change somewhat. She might have to stay away from her family members, which will make her worried about them.  
With Ganesha's Grace,
Aakanksha Jhunjhunwala,
You May Also Like This;