Hema Malini Astrological Prediction: will her political career be in good shape?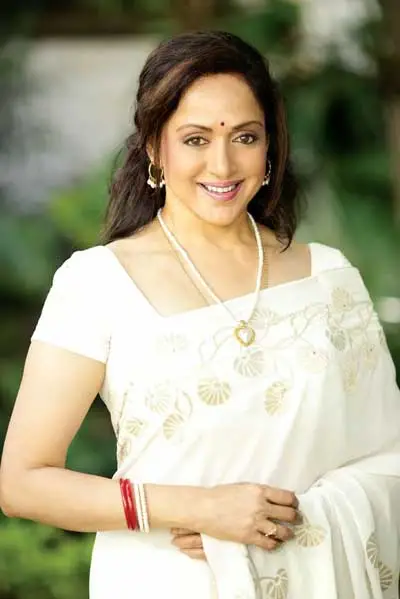 The dream girl of Bollywood industry, a producer, and director for films and television, an outstanding dancer, choreographer as well as an active member of Parliament, Hema Malani is a woman who wears many hats with masterly ease. Since the era of '70s and '80s, she is the one who reigned the hearts of millions of people with her superb acting prowess and breathtaking beauty.
Hema Malini who belongs to the backdrop of traditionally speaking Tamil families started her career as an astute dancer. Due to her keen interest in the sphere of acting, she left schooling in the middle and shifted to Bombay. Having started her acting career in 1986 with Raj-Kapoor starrer – Sapno Ke Saudager, Hemaji regaled movie buffs with roles in films like Seeta Aur Geeta, Sholay, Dream Girl, Satte Pe Satta. Her most successful pair with Dev Annand in Johny Mera Naam, Amir Garib, Shareef Badmash, Jaaneman, Chhupa Rustam, and Joshila in the 1970s earned her the kind of fame after which she never looked back in her life.
The most memorable part of her acting career was her pairing with the macho humorous gangster Jai in Sholay in which her character of Basanti aka Tangewali had become an indelible part of our Indian cinema. The duo's amazing on-screen chemistry had a lot to do with the actual feelings they had for each other.
As Basanti, she exuded the kind of energy that made people recurring, again and again, to watch her into the cinema hall, her endless talk and parading around as a symbol of empowerment made people crazy to watch her again.
Over the past fifty years, she had been a great performer and brilliant dancer with her apparently ageless beauty and exquisite charm. This is why one can easily use the word that Shakespeare used in his book for Cleopatra- "Age cannot wither her, nor her custom stale, her infinite variety."
Right now, you experienced the former life of this splendid actress, but this actor turned-politician still has a lot to reveal about her life, So let's go and find out what her upcoming life says about her based on her Birth Chart. As we don't have an accurate time of the birth of this glamorous Diva, we will make an astrological forecast based on her Surya Kundalini and see how her future sees the new light in this new sphere.
Name: Hema Malini
Date of Birth: 16th October 1948
Time: Unknown.
Place of birth: Tamil Nadu.
---
Surya Kundali of Hema Malini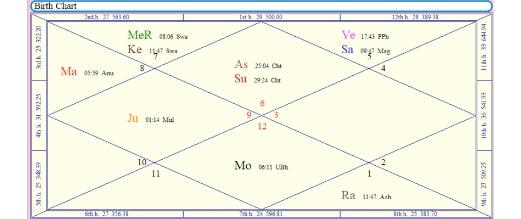 The dream girl of 70s and the famous Bharatnatyam Dancer as well as actor-turned from Mathura Constituency, it may not be illicit to state this lady a jack of all trades. According to her Birth Chart, Hema Malani's zodiac sign is Libra, and that's the reason for the most desired personality of Bollywood. The upbringing of this gorgeous actress took place in the beautiful district of Ammankudi located in Tamil Nadu, where she was completing her schooling phase before starting her career as a lead actress. Earlier, she had an immense interest in learning dance, so she attended the Andhra Mahila Sabha in Chennai and attained her mastery in both classical as well as western form.
---
Promising Planets: Venus and Mars
The initial stage of her career was not so subliminal because of her skinny look. But when she was on the verge of starting her career, the influence of Venus that denotes (art and drama) and Mars in its own Nakshatra(Uttara Phalguni) which propelled her take up the role as a lead in Sapno ke Saudagar. Only because of these two powerful placements, Venus and Mars in her Birth Chart, she is considered as the most dominated person in the world of entertainment.
---
Favourable Conjunction Of Venus and Saturn in the 12th House
She is very disciplined, and the conjunction of Venus with Saturn in the 12th house proves this fact. She is a woman who has taken the acting profession seriously and always might be in the future. In fact, this quality of her is also reflective in the field of politics. And that's why she is always appreciated for her professional expertise. With this discipline, she might continue to work for the upliftment of her political constituents.
She is also the woman who brought about the success in her life by enduring many thick and thin phases with the help of her planets and earned the lasting title of Dream Girl with her unblemished beauty and charming look.
Do you also wish to know about your planetary placements and aspects revealed for you? Then get your Personalised Janampatri written by Our Expert Vedic Astrologers.
---
A Little Area of Concern!
Though her acting as well as a political career is looking bright, there is one area where she might need to be careful about, and that is the portion of her health where she might face some issues. But other than else, her political career is as budding as her artistic career.
---
Birthday wishes!
Ganesha wishes for immense success in all her endeavours. May her career and health remain as bright as the light of the morning sun for eternity.
To Get Your Personalized Solutions, Talk To An Astrologer Now!
With Ganesha's Grace,
GaneshaSpeaks.com
---
---
Get 100% Cashback On First Consultation