New Career Heights Predicts A.R. Rahman Horoscope in 2021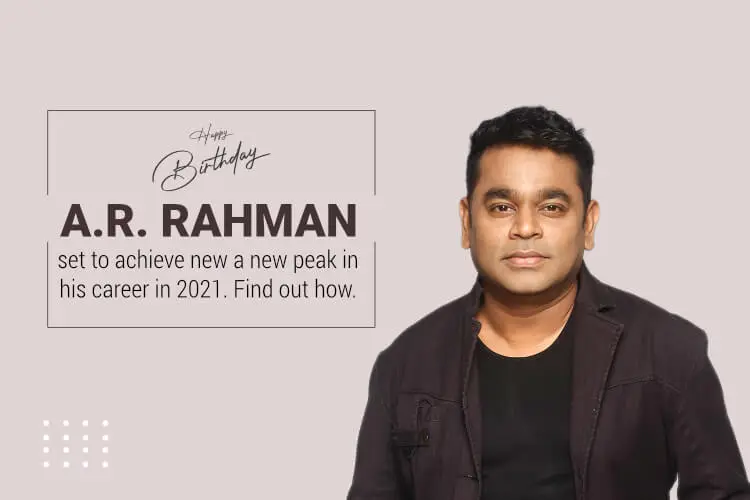 "The Mozart of Madras" A.R. Rahman is a famous singer, composer, and music director of Tamil and Hindi films. He was well-versed with the classical music of western and southern India, before singing songs for some of the super hit films. In addition to that, his performance at many international shows has helped him grab multiple awards. Famously known as "Isai Puyal" which stands for "The musical storm", Rahman has left no stone unturned to win the hearts of billions.
It's not wrong to say Rahman is born into a musically rich family as his father was a renowned singer and composer of Tamil and Malayalam films. With a rough career start to earn daily wages, the movie Roja has changed his life completely bringing success, recognition, and fame to. After that, with his countless achievements in the music fraternity, Rahman's music is an absolute show-stopper.
Check out what Rajinikanth's stars tell about his success in 2023.
---
About AllahRakha Rahman
Date of Birth: 6th January 1967
Birth Time: 05:50 am
Place of Birth: Chennai (TamilNadu)
---
A.R. Rahman's Kundli
Now! according to the Vedic astrology analysis of A.R.Rahman birth-chart, Surya Lagna or the Sun in the ascendant bestow him curly hairs. The presence of natal Venus in Leo describes that singer has slightly dark skin and being the native of Sagittarius ascendant, this famous singer and composer is short-statured.
According to Rahman Chandra Kundli, the lord Moon is associated with Lord Ketu so he lost his father early. Karmic planet Sun is present in the shatru nakshatra. In the Lagna Kundli, the lord of the 10th house is Jupiter which is positioned in the Astamesha nakshatra. Thus, with the aspect of Karmic planets Sun and Saturn, Rahman lost his father at the age of 9.
Know what the placement of the Sun and other planets in your horoscope tells about you. Uncover Free Janampatri Now!
---
A.R. Rahman - alone but never lonely
As per Chandra Kundli of the singer, Moon is associated with Ketu in Astamesha nakshatra, and the conjunction of Mars and Uranus suggests that the Tamil singer will continue his life journey without his father's support. The planetary combination denotes that he is a builder of his career without any support. The tenth house is occupied by Mars, and so the struggle and hard work done by the singer helped him build his name and fame across the world. Also, he could lead a successful life due to the blessings of Mars in the House of Career. The lord of the 8th house is Jupiter and the 9th house is aspected by Saturn. Here, the auspicious planet Jupiter inspires Rahman to achieve the desired success in life. And hence, this legendary genius was able to fulfill his dream of being a classical maestro.
Considering the status of the Moon and the marriage relationship of his mother, the planets Mars and Uranus are combining in the 7th house from the 4th house. Referring to Chandra Kundli, the conjunction of Moon and Ketu also indicates that his mother would spend less time with his father. However, according to Chandra Kundli, the 4th house and Lagna house were aspected by Jupiter, and therefore the singer received immense support and love from his mother.
---
A.R. Rahman's journey as a maestro
At age nine, he was in the major period of Jupiter and Rahu Antar Dasha, this is why the singer lost his father too early. Saturn Antar Dasha in Saturn Maha Dasha forced the singer to struggle a lot, but this hard work offered the fruits of success, and he emerged as a popular singer. Saturn aspected by Jupiter and yoga karaka planet Mars combines with Uranus. Also, the lord of the ascendant, Jupiter is in the eight house. All these astrological combinations resulted in the unsuccessful making of his bilingual songs. Because of the Rahu in the 5th house, the singer was able to learn western music as well. Saturn, who is considered as the provider of (alcohol) addiction, is present in Jupiter's nakshatra. Due to this, the singer is non-alcoholic. Moreover, because of Rahu's presence in the 5th house, the singer made multiple music learning spells, and somehow achieved the desired success in his singing career. He took training from different singers to learn different forms of music. In 1990, following the study of classical music, young A.R. Rahman kicked-off his singing career at the age of 23 only.
---
From Dilip Kumar to A.R. Rahman
Soon, he decided to accept his mother's religion and converted himself to Islam. And thus the previously known Dileep Kumar got a new name, 'Allah-Rakha Rahman'. In 1992, he made a Bollywood debut by giving music in the film 'Roja'. He worked with Ilaiyaraaja and Mani Ratnam to create some popular songs of the 90s, which helped him make a successful career in Bollywood.
His songs earned huge applause from the audience after the release of famous movies like 'Roja', 'Dil Se' and 'Bombay'. Moreover, he came into the light when he gave his voice to the song 'Vande Mataram' and bagged multiple awards.
---
How Jupiter helped A.R. Rahman's music?
The planet Saturn, which is in the house of intelligence is aspected by Mars, which is in the 12th house, and Jupiter which is in the 10th house from the position of Moon, and as a result, the singer earned huge appreciation by organizing music concerts in India and other countries. He made India proud with the help of Indian classical music. Moreover, with the help of western and classical music, he earned a new fanbase. Jupiter's presence in the eight houses inspired the singer to open a music academy and also to restart the old music universities.
Non-stop Planetary combinations and transits in 2023 will bring many shifts and shake things up in your life. Explore all of them from your Personalised 2023 Highlight Report!
---
A.R. Rahman horoscope predictions for 2023
Referring to the planet's transitions, Rahu is passing through the 6th house. As per Chandra Kundli, Saturn is passing over the lord of the ascendant, Venus. And the moon is aspected by the planet Saturn (until Jan 2023). Considering the position of the Moon, Rahu will remain in the eight house (until April 2022) where Saturn is in Antar Dasha of Ketu. So the singer needs to be extra careful about his health as he may have diabetes, cholesterol, obesity, and intestine-related issues. He may have mental stress. He should also be concerned about his mother's health as she might face health issues. Till April 2021, he will have the support of Jupiter and the natal planets are also strong, so he would be able to control his tensions and may even lessen them. But until February and after August, he should give proper attention to his health.
Currently, the singer is in the Maha Dasha of Ketu, which will end on August 19, 2022, and thereafter he will be under the Maha Dasha of Venus which means he should remain careful about his health at any cost.
---
How would A.R. Rahman's music career affected according to his birth chart?
Currently, the singer is in Maha Dasha of Ketu, and therefore he will not be afraid of trying new things. Transiting Saturn in the house of income aspects the 6th house (from the position of Moon), and so the singer may find work-related issues in his profession. But the singer will receive enough support from Jupiter till April 2021. This will help him to earn new opportunities as well. He will find new ways to earn money or may come up with new projects. He will be busy with religious work and will develop new skills. Ketu and Saturn Antar Dasha will inspire the singer to establish new music universities or schools as well. Mercury in Ketu till August 19, 2022, which means the singer will achieve a new height of his career. Thereafter, during Venus Maha Dasha, transiting Jupiter will help him to achieve his desired career goals. So, till this time the singer will have a decent time of his career.
As a summation, A.R. Rahman is liable to achieve new career highs in 2021. He needs to vary his health and take care of his mother's health as well. It will be an epic year for the singer, but only if he takes account of his health, both mental and physical.
GaneshaSpeaks wishes a great year ahead to A.R. Rahman on his birthday.
To Get Your Personalised Solutions! Talk to an Astrologer Now, First Consultation with 100%
With Ganesha's Grace,
Astrologers trained by Shri Bejan Daruwalla
The GaneshaSpeaks Team
---
---
Get 100% Cashback On First Consultation