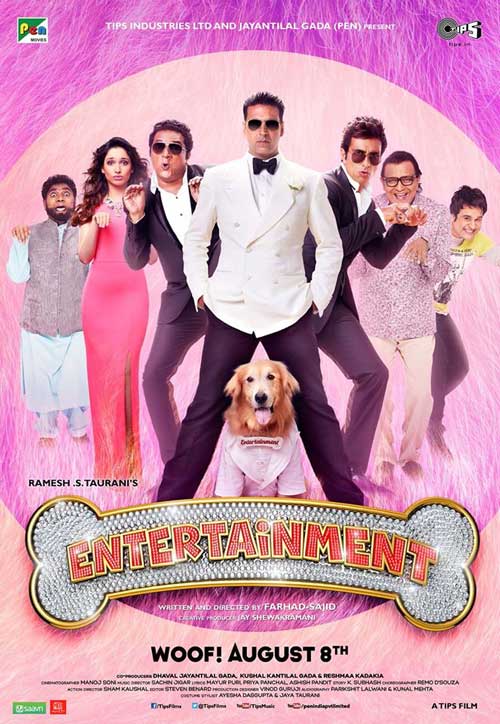 Akshay Kumar starer Hindi feature film Entertainment is all set to release on Friday - 8th August, 2014 in major theatres across India and abroad. Akshay is known for his carefree attitude and very funny dialogue deliveries (in a comedy film) that are an instant hit with the audiences. Moreover, the film as bubbly songs that will excite you; it also includes a nursery rhythm "Jonny Jonny", which is blended with petite amount of daaru - is an appetiser that people want to taste again and again. The music has just become a craze with the youngsters. The film's title is also an inspiring one 'Entertainment', as the word conveys pretty much what the film stands to deliver - a wholesome entertainment and nothing else.

What makes this film even more interesting is the fact that it also features Mithun Chakraborty (known for his exceptional acting and funny dialogue deliveries in comedy films), Johnny Lever (one of the best entertainer in Bollywood film industry who can effortlessly make you laugh even in the absence of a rock solid comic dialogues - just remember his acting in Baazigar), and Riteish Deshmukh in a cameo role. It looks like this film might do really well at the box-office.

Ganesha, with the help of Vedic Astrology, analyses the film Entertainment's Release Time Chart to explore how well this film will do at the box office.

This is an astrological prediction for the Hindi feature film – Entertainment.


Release date 8th August 2014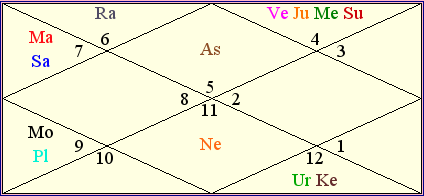 Astrological Observations
Entertainment is releasing with Leo Ascendant.
Rahu is in the 2nd House of finances.
There is Stellium of 4 planets in the 12th House of loss.
Exalted Saturn is aspecting Moon.
Moon and Jupiter are in exchange in the Release Time Chart.
Astrological Predictions
Considering all the planetary positions mentioned above, Ganesha feels that Entertainment is going to open well at box office. It might be a warm welcome but may not go full houses in all major territories.
First weekend's business shall be more than satisfactory.
However, the first week's business shall be better than average.
One remarkable point here is, because there are 4 planets in the 12th House of distant places, this movie may do well at foreign lands.
It may not have more than a week or two week's standing capacity, feels Ganesha.

Ganesha wishes good luck for the film's good prospects.

You may also get your horoscope analysed by expert astrologers! Avail 100% personalised Your Horoscope Analysis report NOW!

Ganesha's Grace,
The GaneshaSpeaks Team

Your may also like to read: