World Food Day & Zodiac Signs
Published on October 7, 2020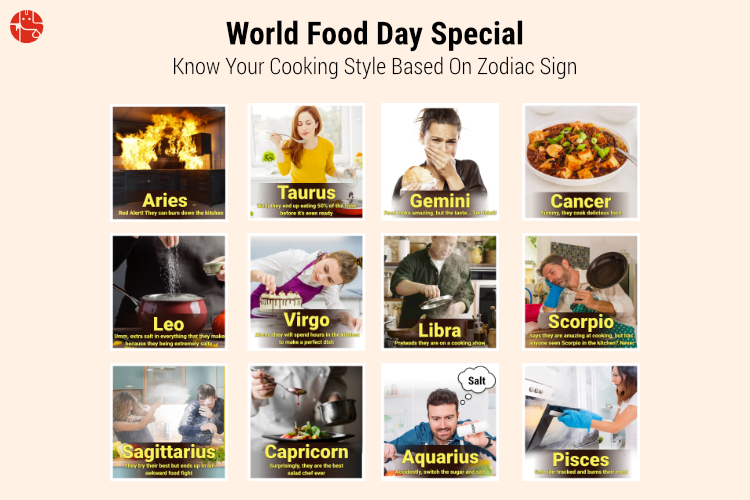 There are so many delicious recipes and ingredients for us to indulge in, from pizza to pasta, cookies to cakes, and everything in between, and World Food Day celebrates them all. Now you may be wondering why World Food Day is observed.
Well, every year, World Food Day is commemorated to raise awareness of poverty-related problems and to emphasize the importance of food security and healthy diets for all people. They raise global awareness and action for those who are hungry, as well as the importance of ensuring that everyone has a balanced diet.
Who Founded World Food Day and Why?
16 October is celebrated as World Food Day, which is all about raising consciousness for those who do not have access to the delicious food we do. There are people suffering from hunger all over the world. Hunger is a major issue in severalOctoberatcountries, and much needs to be done to raise awareness and fight it. It seems absurd that we live in a world where a significant portion of the population can eat anything they want without hesitation while others struggle to feed their families.
The international food day commemorates the founding of the United Nations' Food and Agriculture Organization (FAO). Dr Pál Romány, the former Hungarian Minister of Agriculture and Food, who led the Hungarian Delegation at the FAO Conference's 20th session, came up with the concept of a day devoted to combating global hunger. Following that, the FAO's member countries created World Food Day in November 1979 and called for its commemoration on October 16, 1981.
The UN General Assembly adopted this resolution on December 5, 1980, and encouraged governments and regional, national, and local organisations to participate in World Food Day celebrations. Every year since 1981, 16 October is celebrated as World Food Day.
Global Food Day
World Food Day is a perfect occasion to have some fun in the kitchen, try some new recipes, and tackle the issue of food waste – the actual aim of World Food Day. But have you imagined what actually happens in the Kitchen when you enter to cook food? Have you ever noticed your cooking style or what mess you make in the kitchen?
For now, feast your eyes and control your drooling, as we are here to reveal what happens when you enter the kitchen to cook food based on your zodiac sign. But, before you do Ctrl + F your sign, let us all together take a pledge to follow some simple practices like less food wastage, sustainable kitchen practices, and avoid toxic items and also follow some health tips amidst the Covid-19.
What Happens When The Signs Bake/Cook?
Well, it can be an exciting and terrifying experience. But you won't know that until you take your chef self into the kitchen and try, right? What better way than this to celebrate World Food Day than sign up for some cooking and baking? This is also the time to express our appreciation to the Food Heroes, who, throughout the crisis, tried that food makes its way from the farm to your table.
Aries – Red Alert! They can burn down the kitchen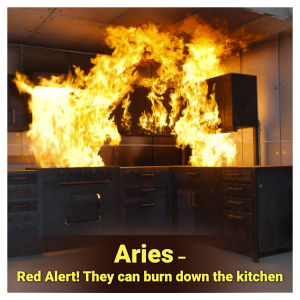 Aries peeps are full of energy and on the go on Global Food Day! They are not at all afraid of trying new things as they love to have adventures, and of course, that includes culinary adventures too. Yes, they have a huge appetite and love to try a variety of exotic foods. They just do not follow a routine when it comes to food. But when Aries is asked to cook food. You should definitely see the Red Caution board above! They can nearly burn down the entire kitchen. No doubt, they are excited and enthusiastic to try making new recipes, but cooking always ends in disaster for them. Hence, easy-to-prep or no-prep foods should be their constant mantra. Want to know more about yourself? Access your Free personalised Janampatri!
Have an insight into the interesting facts about Aries
Taurus – Well, they end up eating 50% of the food before it's even ready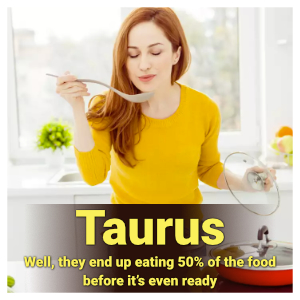 The foodie of the year award goes to – Taurus! Taurus is a true gourmet. They know all the delicacies and love all sorts of food. For them, food is something that should be enjoyed fully. They are never lazy about food and cooking too! Surprisingly, they are the actual master chef. Ha! but that's a different story that they end up eating half of the food before it is even done cooking. In other words, you can say that they live to eat.
Have an insight into the interesting facts about Taurus
Gemini – Food looks amazing, but the taste… Terrible!!!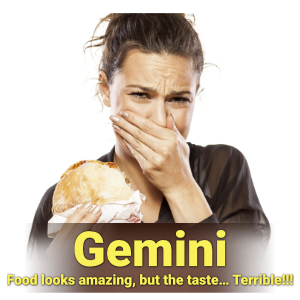 Gemini enjoys delicious food. They will try so hard to make perfect food. Follows the recipe thoroughly but everything is bound to fall apart at some point. TBH, food looks amazing, but whatever they cook usually sits in the fridge for a couple of days because nobody wants to taste it again. Then they just get bored and give up. So, they normally do not cook and order pizza and macaroni at last. But, they truly work hard to achieve success. Will you get success in the year 2022? To know, get your Free 2022 Yearly Report!
Have an insight into the interesting facts about Gemini
Cancer – Yummy, they cook delicious food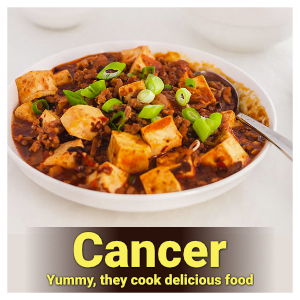 Some people love to eat, while some love to cook. As said, cooking is an art and not everyone can master the art. Cancer is great when it comes to cooking. Everyone automatically looks to them to bring delicious food to any event. They make a tasty meal that smells delicious. But they may just end up ruining everything or injuring themselves. So, they need to stay careful while cooking.
International food day must have been different than your boring day, correct? Well, you can get an insight into the interesting facts about Cancer
Leo – Umm, extra salt in everything that they make because they being extremely salty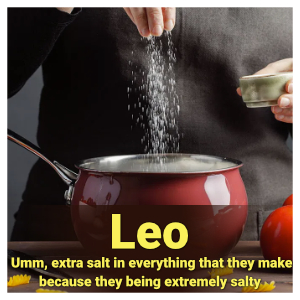 Leos are not fond of cooking themselves, but still, they have a big appetite for food. Leos are always ready to eat but never ready to cook. If they cook, expect extra salt in the food they are trying to make. TBH, they are very bad at cooking, they can't even cook an egg. They love to show others and give tips on how to cook, they will comment on how it looks, smells, and tastes, but will never try it themselves.
Have an insight into the interesting facts about Leo
Virgo – Ahem, they will spend hours in the kitchen to make a perfect dish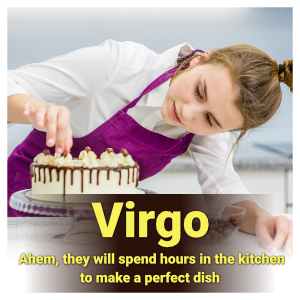 Virgo can add magic in the kitchen. They are likely to use all their creative talents to prepare a dish that is not only tasty but also looks perfect. They can spend hours in the kitchen to make a perfect dish. Peeps, you can tag a Virgo as #IncredibleCook. People always want more when Vigo is cooking. They do not like to waste food. Often, they come up with their own new recipes to turn something from nothing, meaning they can make something delicious using all the leftovers from the fridge.
Have an insight into the interesting facts about Virgo
Libra – Pretends they are on a cooking show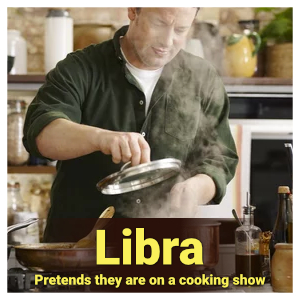 Delightful cook = Libra. They are foodies but they never deny cooking a meal. Even with a busy schedule, they can take some time to cook food. But they believe that every meal is a feast and they want everything to look perfect and nice. They may make wonderful decorations and arrange the dining table & pretend as if they are on a cooking show. Libra will decorate everything and make their dish look beautiful and attractive and will literally try to make even their toast look photogenic.
Have an insight into the interesting facts about Libra
Scorpio – Says they are amazing at cooking, but has anyone seen Scorpio in the kitchen? Never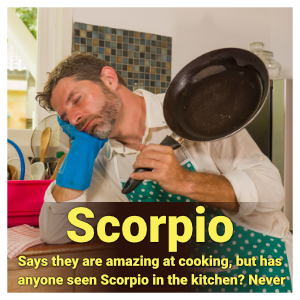 Scorpio has a palate for spicy foods. They have a tendency to be binge eaters and also, they can crave for at any time be it a day or at 2 in the night. But they are least interested in cooking. However, they pretend as if they are the master chef and are amazing at cooking, but the fact is they might not even know where the kitchen is, strange, right? If they cook, it's a rare case, of course, then the food can either be very good or very bad, there is no between because Scorpions deal with extremes – all or nothing.
Have an insight into the interesting facts about Scorpio
Sagittarius – They try their best but ends up in an awkward food fight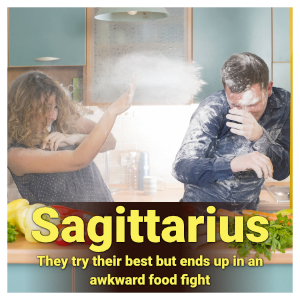 Sagittarius likes to eat a variety of food. And, they like to cook too. They try their best, they will be ready to cook food, wear a blue apron, bring cutting edge new gadgets in the kitchen and trick people into thinking that they know how to cook. They think they are amazing but in reality, they can only make toast and microwave meals. To add further, anytime they even try to cook, there is a chance they will start a fire. Overall, their cooking experience usually turns into either an awkward food fight, or they just get bored and give up and find it easy to go to McDonald's. What's important on international world food day is to have your favourite food, right?
Is Saggi a cheese person or not? Have an insight into the interesting facts about Sagittarius.
Capricorn – Surprisingly, they are the best salad chef ever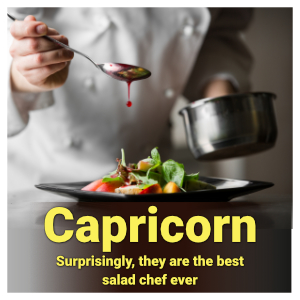 Capricorn is considered as health-conscious and hence likes to cook elaborate and healthy meals for themselves and their loved ones. Moreover, for Capricorn, cooking helps them to calm down. They enjoy chopping or grating vegetables. As Capricorns have a healthy appetite, they are the best salad chef ever. They are always ready to do hard work that some healthy recipes require and they never complain about it, and it's no different on world food day.
Toss your way in and see some interesting facts about Capricorn
Aquarius – Accidently, switch the sugar and salt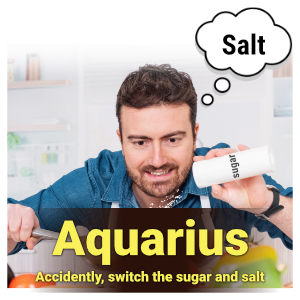 Aquarius can really make whatever they want and that too Yum! But while cooking there are Hundo P chances that they make a huge mess and their kitchen looks like a crime scene. Sometimes they are too quick that they accidentally switch the sugar and salt. They try super hard to impress others with their cooking but sometimes they screw important details and end up ruining everything. But chill, this is very rare, they often cook tasty food, and we have faith they will serve you something edible on international food day! *wink*
The water carrier is not as scary as it looks; really, no, you may have a look into the interesting facts about Aquarius
Pisces – Get side-tracked and burns their meal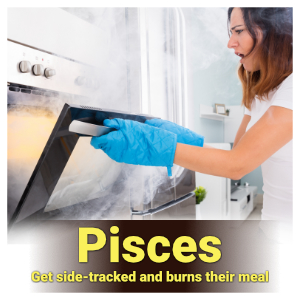 Pisces cook from the heart so that everything they make is delicious. They do their best cooking for others. Pisces always tries new kinds of cuisines. They often use food as a way to make themselves feel better. But as a water sign, they are too emotional. Their mood and their food are joined together. They may get side-tracked and burn their meal. They often forget about the food in the oven. But, the good thing, they learn from their mistakes and then try a dish they failed, it's usually better.
Have an insight into the interesting facts about Pisces
To Get Your Personalized Solutions, Talk To An Astrologer Now!
With Ganesha's Grace,
GaneshaSpeaks.com