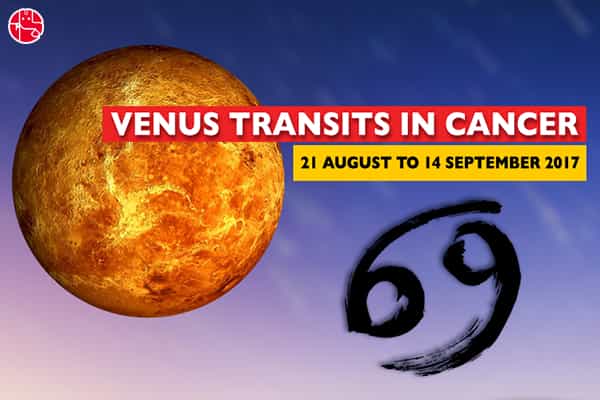 (Image Source: Internet)
Dates For Venus Transit :

Venus In Cancer: An Overview
Venus is considered highly significant in the planetary cabinet. It is especially regarded as the significator of female elements. Planet Venus is associated with Entertainment, Arts, and Beauty products. Venus is also believed to be the Guru of Gods. It is also considered as the significator of Sanjeevani Vidya. Although a person is almost dead, it is up to Venus to grant life to that person. Venus is even regarded as the significator of wealth and treasures. It is also considered as a very important planet in Astrology. Venus will now start transiting in Cancer sign from 21 August 2017 to 14 September 2017. Hence, let us know about the auspicious & inauspicious effects of this transit on various signs.
Venus Transit 2017: Venus In Cancer – Predictions for The 12 Moon Signs
Venus Transit In Cancer 2017 For Aries
- Venus In The 4th House
Venus Transit In Cancer 2017 For Taurus
- Venus In The 3rd House

Venus Transit In Cancer 2017 For Gemini
- Venus In The 2nd House
Venus Transit In Cancer 2017 For Cancer
- Venus In The 1st House
Venus Transit In Cancer 2017 For Leo
- Venus In The 12th House
Venus Transit In Cancer 2017 For Virgo
- Venus In The 11th House
Venus Transit In Cancer 2017 For Libra
- Venus In The 10th House
Venus Transit In Cancer 2017 For Scorpio
- Venus In The 9th House

Venus Transit In Cancer 2017 For Sagittarius
- Venus In The 8th House
Venus Transit In Cancer 2017 For Capricorn
- Venus In The 7th House
Venus Transit In Cancer 2017 For Aquarius
- Venus In The 6th House
Venus Transit In Cancer 2017 For Pisces
- Venus In The 5th House