The Transiting Sun and Jupiter Conjunction in Pisces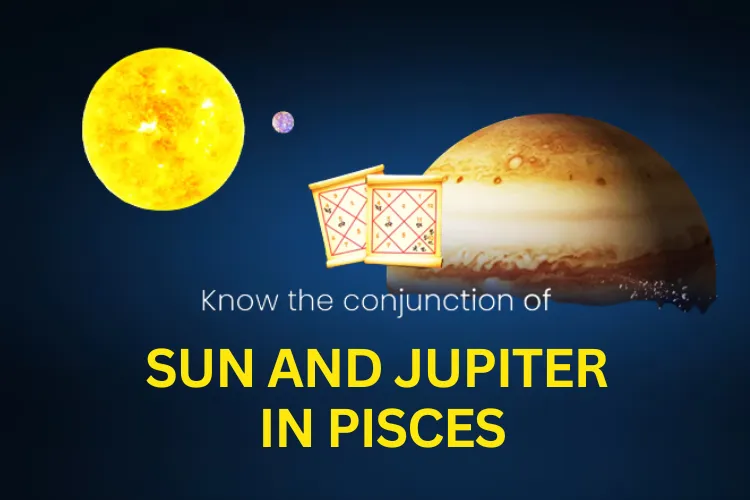 In astrology, the Sun, who creates life, stands in for our conscious mind. It stands for our desire to live and for our vitality. Sun is linked to kingship, generosity, and a sense of humour.
The Jupiter, also known as Dev Guru Brihaspati, is a large, beneficent planet in the solar system. Jupiter has historically been linked to fortune and optimism. The conjunction of these two enormous planets fosters imagination, good fortune, and optimism in everyday affairs.
Between 15 March and 14 April 2023, the transiting Sun and Jupiter will be in Pisces. Let's examine the main effects of this conjunction on the different Moon Signs.
---
Aries
Interest in introspective study, research, or working behind the scenes is evident during this time. You'll be more interested than usual in philosophical and spiritual topics. Your life here may be influenced by karmic factors over which you have little control. In other words, Jupiter and the Sun may send you difficulties in order to develop your character. Salute them and put yourself to the test. Because the Sun and Jupiter are regarded as the natural allies of the Aries sign, there are no indications of any significant problems.
---
Taurus
Your creative abilities will be enhanced, Taurus. You might find that you become more interested in artistic pursuits or that your social life grows busier. Now, you and your co-workers seem to get along better. Small gifts of gratitude might be given to you. Your professional and financial affairs would succeed during this time. People who are interesting and powerful will enter your life. As usual, the family and health fronts will all experience satisfactory development and happiness.
---
Gemini
This combination will land in your 10th house, Geminis. By operating with confidence, this will increase your work's chances of being profitable. You're likely to come up with fresh business concepts. Working with large groups and attending international conferences are both ideal at the moment. You'll make an effort to connect with people outside of your immediate social and professional network, which will undoubtedly open doors to success and opportunities, ultimately bringing joy into your life. Here, family life will continue to be cosy.
---
Cancer
Sun and Jupiter will transit your ninth house at this time. You will benefit financially and professionally from this. In trade and business, you can anticipate profit. When it comes to achieving your goals, this can be a very advantageous time. Your level of interest in religious activity would be unprecedented. Along with doing good things, you would seek the company of saints and spiritual leaders.
---
Leo
You might need to develop a lot of patience as this phase moves forward, even though it first seems good for career advancement and business-related matters. Ganesha advises that you stay out of court at this time. Only if you are able to distinguish between good and evil will the time prove to be beneficial. Ganesha advises you to steer clear of making hasty or poor decisions in relation to your finances. Try to save money and refrain from being a spendthrift.
 Access the Free Personalized 2023 Report to know what the stars have in store for you.
---
Virgo
Significant career turning points will result from this period. Businesspeople might be certain that the projects they start or work on will be successful. You will need to be extremely goal-oriented, though. You'll gain acceptance in society. People will hold you to a high standard on the professional and business fronts. Additionally, you can anticipate favours from bureaucrats or government organisations. Although this time period initially seems promising for business-related matters and job advancement, as it goes on you will need to develop a lot of patience. Ganesha advises staying out of legal trouble at this time. Only if you can tell good from evil throughout this time will it turn out well. Ganesha advises you to steer clear of making hasty and poor financial decisions. Don't be a spendthrift and make an effort to save money.
Planets in your birth chart can also tell you a lot about your financial situation and decisions. Access that knowledge for better with a Janampatri Analysis
---
Libra
Dear Librans, you will be more motivated to enhance your health and fitness, so you will take the required precautions. By exerting more effort in the areas of life that are required while preserving your energy levels, you can try to push yourself beyond your boundaries. Success is also expected in professional affairs. During this time, several sources of income are anticipated. Ganesha advises you to make wise use of your resources in order to increase your financial advantages.
Is Marriage In Your Kundli In 2023?
Know from Experts Trained by Shri Bejan Daruwalla. Avail 2023 Marriage Prospect Report Now.
---
Scorpio
Ganesha thinks this would offer you a good start in all aspect of your life. You'll have more opportunities to make a positive contribution. You will use your intelligence and diligence to advance in your job. Setting new goals is not a smart idea at this time. You might, however, feel a little off course from your goals on some days. Only if you perceive the positive aspects of the situation and stick to your course will your career and financial graph improve.
Get a Janampatri and ask your personal astrologers what different things you should give as a gift to reduce the malefic effects of planets in your birth chart.
---
Sagittarius
Ganesha predicts that at this time, your family will continue to occupy your thoughts. You'll come to understand that if there is peace on the household front, there will also be peace in other aspects of life. This time frame is likely to see a number of emotional troubles with near ones. This time period for you will be above average in both your professional and financial lives.
---
Capricorn
By far, this would be the most advantageous time for your company. Your personal performance would be at its peak, and you would be able to handle challenges and be successful in your new endeavours. However, it is best to avoid disputes or disagreements with your co-workers. Overall, this is a success waiting to happen.
Get accurate solutions to all your finance-related queries, Consult Best Vedic Astrologers now and Get 100% Cashback on First Recharge.
---
Aquarius
The financial fortune of Aquarians will improve. However, this transit might also have a negative side if you tend to overextend yourself financially and that you might spend extravagantly and as freely as you earn. For professionals, this is also a time when you can get an opportunity to close a really lucrative contract.
---
Pisces
Depending on how you handle it, this transit for you has the potential to be good or unpleasant. You will be more truthful and reliable at this time. On the flip side, Jupiter and the Sun in this sign might cause one to be excessively indulgent, lavish, or conceited. Anyhow, at this time, you may get more self-assurance and showcase a more modest demeanour. During this time, you may have fervent religious or moral beliefs.
Get Your Handwritten Detailed 2023 Yearly Report From Expert Astrologers of Bejan Daruwalla.
---
---
Get 100% Cashback On First Consultation