Gift Guide According to Zodiac Sign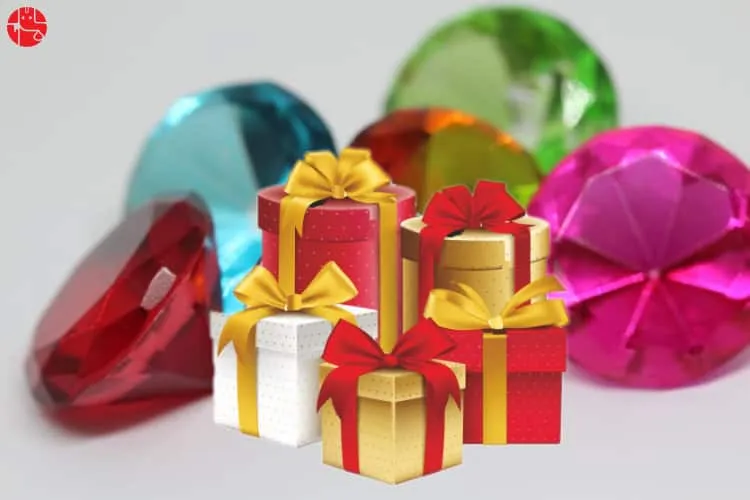 A gift or a present is given to someone on special occasions like a birthday or marriage. If we choose a gift according to the receiver's zodiac sign, it can yield the best results.
Aries can be gifted tickets to sports events or music festivals or things related to sports and dance.
Taurus would love to have pashmina scarf; a genuine leather bag; fine perfume; or any fashion accessory.
Gemini would like knitting needles or a set of crochet hooks with a ball of yarn in a bright, fun colour; a book about enhancing creativity.
Cancer should be gifted a framed family photograph or a photo album pre-loaded with pictures of loved ones; a pair of throw pillows in silk or velvet.
Leo would love tickets to the theatre or opera; a professional photoshoot; a karaoke machine.
Virgo can be gifted a card to a discount clothing store; a year's membership at a club; a gym membership;; a book about health and wellness.
Libra should be given a bottle of fine wine; or a box of assorted gourmet chocolate truffles.
Scorpio love nonfiction book about some fascinating aspect of human psychology; or a true-crime novel.
Sagittarius would like tickets to a never-before-visited destination; camping gear; tickets to a favorite sports event.
Capricorn can be gifted a fine leather briefcase, portfolio or appointment book.
Aquarius love tech gadgets; a yoga mat and DVD; a donation to their favourite charity.
Pisces love book of love poems; a framed photo; a scarf you knitted by hand.
---
---
Gifting a GemStone
A gemstone is a piece of mineral crystal which, in cut and polished form, is used to make jewelry or other adornments.
Diamonds, Emerald, sopal, pearl, ruby, sapphire, topaz and spinel, are the different types of gemstones.
---
Significance of Ruby
Ruby is one of the traditional cardinal gems.The red colour of a ruby is due to the element chromium. It helps cure peptic ulcer, fever, rheumatism, gout, boils, itch, and insomnia. Ruby, in combination with other stones, helps to cure heart diseases.
Ruby is very helpful to improve your eyesight, blood circulation, and overall health.
Ruby gives you the courage to face your difficulties.
It helps to Cures depression and anxiety.
Ruby clears the mind, making it sharp and dissolves any type of confusion.
The ruby gemstone is particularly beneficial for people who are looking to achieve marital bliss. For people who choose to get married but find conjugal happiness to be elusive the best thing to do would be to wear ruby gemstone as this can truly help in achieving the marital happiness.
---
Gemstones for Marriage?
The Gemstone of Venus is the brilliant White Diamond. Yellow Sapphire removes the delay in the marriage in the horoscope of a female native. It provides stability and longevity to the marriage.
Emerald facilitates great communication between the couples. It is an ancient tradition that if newlywed couples gift each other Emeralds on the wedding day, their love keeps increasing every day. The Moon is the ruler of peace, beauty, serenity, calmness, emotional quotient, fidelity, and confidence in each other and honesty in a relationship. The Gemstone of the Moon is Natural Pearl.
In Astrology Venus or 7th lord is in conjunction with Saturn or Mars then native has a high chance of unconventional marriage. If the conjunction of Venus with Saturn and Mars is well placed, then the person will have a successful love marriage.
Healing stones help gain marital bliss and make up for the loss in married life. Rose, Quartz ,Pyrite, Chrysocolla, Citrine ,Smoky Quartz ,Amethyst and Howlite are a few healing stones.
---
What can be the best gift for your spouse?
Gold Jewelry, Garnet, Pearls, BlueTopaz, Sapphire, Amethyst, Onyx, Tourmaline, Lapis Lazuli, Diamond,Turquoise, Ruby, Citrine, Opal and Jade on your anniversary for marital bliss.
Get a Janampatri of your spouse and get detailed prediction report about which Gemstones you should gift your spouse on his/her birthday so that it would help to keep the health of your spouse better and also help to keep healthy relationship between the couple and bring good fortune in your married life.
---
Ending note
Gemstones are perfect to bring you closer to your partner and strengthen your relationship. Therefore, Gemstone for Marriage is one of the solutions to marriage related problems. These gemstones, as a solution, would also be good for starting a happy married life.
To strengthen the weak planet in a horoscope, the best gemstone for marriage is recommended. Once a gemstone touches the skin, it starts giving immediate effect.
A learned and experienced astrologer can suggest the best gemstone in adverse cases of marriage.
To Get Your Personalized Solutions, Talk To An Astrologer Now!
With Ganesha's Grace,
The GaneshaSpeaks Team
---
---
Get 100% Cashback On First Consultation