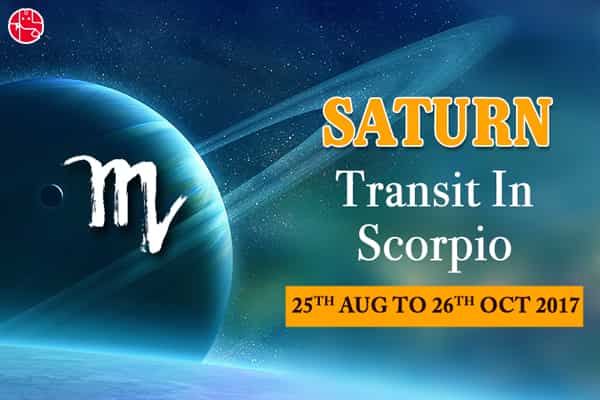 (Image Source: Internet)
Dates For Saturn Transit:

Saturn In Scorpio: An Overview
As Saturn begins its transit in Scorpio, there are bound to be many developments across the world. Saturn is rightly called the tough task-master. It delivers judgements based on the quality of your actions (karma). This transit will influence each and every individual, as per the tenets of Astrology. From 21st June 2017 Saturn was retrograde in Scorpio sign. However, Saturn will now transit directly in Scorpio sign from 25 August 2017 till 26 October 2017. Read on to know about the effects of Saturn's direct transit in Scorpio sign on natives of various signs.
Saturn Transit 2017: Saturn In Scorpio – Predictions for The 12 Moon Signs
 Saturn Transit In Scorpio 2017 For Aries 
- Saturn In The 8th House
 Saturn Transit In Scorpio 2017 For Taurus
- Saturn In The 7th House
 Saturn Transit In Scorpio 2017 For Gemini 
- Saturn In The 6th House
Saturn Transit In Scorpio 2017 For Cancer 
- Saturn In The 5th House
 Saturn Transit In Scorpio 2017 For Leo 
- Saturn In The 4th House
 Saturn Transit In Scorpio 2017 For Virgo  
- Saturn In The 3rd House
 Saturn Transit In Scorpio 2017 For Libra
- Saturn In The 2nd House
 Saturn Transit In Scorpio 2017 For Scorpio
- Saturn In The 1st House
 Saturn Transit In Scorpio 2017 For Sagittarius
- Saturn In The 12th House
 Saturn Transit In Scorpio 2017 For Capricorn  
- Saturn In The 11th House
 Saturn Transit In Scorpio 2017 For Aquarius  
- Saturn In The 10th House
 Saturn Transit In Scorpio 2017 For Pisces
- Saturn In The 9th House