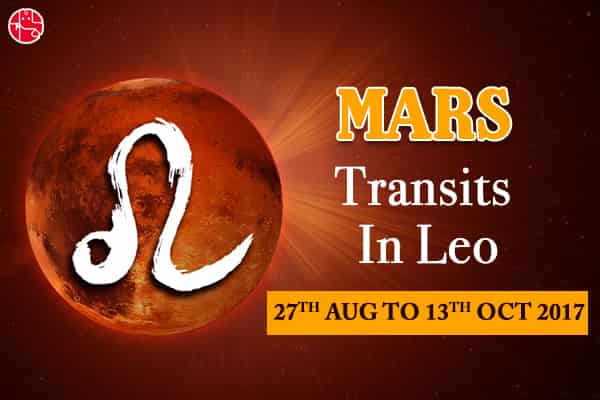 (Image Source: Internet)
Dates For Mars Transit :
Mars In Leo: An Overview
Mars is regarded as a very important planet in Hindu religion. It is also considered highly significant in Indian Vedic Astrology. Everything becomes 'Mangal' (Auspicious) by just uttering the name of this planet, which signifies power and energy. Many times, Mars creates 'Mangal Dosh' in our birth chart, and forms unfavourable yog for us. Till the time Mars is inactive in our horoscope, our body is without energy and just like a dead body. Hence, Mars also represents life energy.
Mars will enter Leo sign on 27 August 2017 at 8:28 am and thus form a combination with Sun and Mercury. Besides, Mars will remain to combust till 18 September 2017 and then continue to transit in Leo sign till 13 October 2017. This transit is going to impact the lives of people across the world. It is bound to influence the lives of everyone. We should know about these changes to be aware and empowered.
Mars Transit 2017: Mars In Leo – Predictions for The 12 Moon Signs
Mars Transit In Leo 2017 For Aries
- Mars In The 5th House
Mars Transit In Leo 2017 For Taurus
- Mars In The 4th House
Mars Transit In Leo 2017 For Gemini
- Mars In The 3rd House
Mars Transit In Leo 2017 For Cancer
- Mars In The 2nd House
Mars Transit In Leo 2017 For Leo
- Mars In The 1st House
Mars Transit In Leo 2017 For Virgo
- Mars In The 12th House
Mars Transit In Leo 2017 For Libra
- Mars In The 11th House
Mars Transit In Leo 2017 For Scorpio
- Mars In The 10th House

Mars Transit In Leo 2017 For Sagittarius
- Mars In The 9th House
Mars Transit In Leo 2017 For Capricorn
- Mars In The 8th House

Mars Transit In Leo 2017 For Aquarius
- Mars In The 7th House
Mars Transit In Leo 2017 For Pisces
- Mars In The 6th House