Find out 2021 lucky zodiac sign, lucky number, colour, month – all under one roof!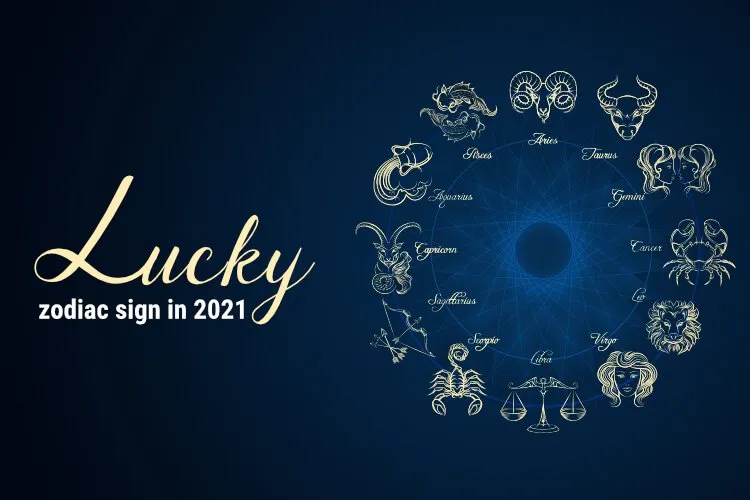 After the wild jungle ride of 2020, we need to appreciate and value what we have. Coming 365 days are going to be extremely beneficial for everyone. We'd all like to know which is the lucky month for us based on our zodiac signs.
We are as much excited as you guys, and therefore we want to give you a head start as to what kind of ride will 2021 be… Even if you are not one of the luckiest zodiac signs in 2021, that doesn't mean you get your grumpy faces on. We can look forward to the new experiences and memories we'll be making. Horace said, 'Carpe diem' or 'Seize the day', so what if March is not your lucky month, maybe October has amazing surprises for you!
---
Does your zodiac sign fall under the category of luckiest zodiac sign in 2021?
Sometimes you become the centre of attention unknowingly. And 2021 has set the stage for you to do just that. These 4 are the luckiest zodiac signs in 2021. All your wildest dreams are going to come true.
---
Well, if not a lucky zodiac sign, does that mean you are the unluckiest zodiac sign in 2021?
Everyone carries their luck in their hands and if we trust this saying, then that means all of us can learn the art and become lucky birds. But it is also said that people who work hard day and night are more likely to succeed in life. So you are a couch potato and wish to be the lucky zodiac sign, it may not work out for you. Well, let's see who ends up in Saturn's house.
End your curiosity and get a full report on the 2023 lucky zodiac sign.
---
Which is the luckiest month for each zodiac sign?
Aries for you the lucky month is April. You can expect good things to be delivered to you very shortly. Your relationships will be filled with passion, and you can look forward to getting success at work.
Taurus, October is your lucky month. It looks like a long way down, but trust in the lord – it'll be worth the wait! You can expect a lot of heated romance and passion to pop up magically too.
Good fortune and enormous luck is waiting for you in July, dear Gemini natives. This monsoon season there will be romantic and financial rains for you.
March will be the month for you to meet someone special, Cancer pals. This month will bring you nothing but joy, love, and happiness. You'll make some great memories with your friends, families, and loved ones.
With the extra mile and extra hour that you have been putting in tirelessly, Leo you will reap its fruits in October.
Don't worry and panic if you have to wait for the whole year to pass out before it gives you good news Virgo because in December your personality will receive huge confidence. This courage will make you get out of your comfort zone and find the relationship you deserve.
With the determination and hard work you have been putting in your whole life, Libra it will pay off in December. Finally, the guiding light will help you to pursue your goals and could even get you a promotion.
Scorpions your latter half month, i.e. November will be your lucky month. Love will sweep you off your feet and send you on cloud 9. This month will offer you amazing opportunities, and everything will go smoothly for you in every area of life.
By the time July comes around dear Sagittarius, you'll feel stronger and happier than ever before. 2021 has a whole lot in stock for you. You are the luckiest and most favoured zodiac sign this year. Even the planets are on your side and will guarantee you lots of excitement.
Capricorn, your lucky month is August. This month everything will be laid out for you. The efforts and hard work will be paying their due so take things easy and slowly.
Aquarius, this summer month is your lucky month. You'll feel on top of the world when love will surround you, and you get to live your romantic fantasies in July.
You may feel like you are lost as the year begins, Pisces but your lucky month June is going to be just fabulous. You will make unforgettable memories in terms of love and relationship.
---
Which Will Be The Challenging Month For Each Zodiac Sign In 2021?
Aries natives have to look out for themselves in June as it will be a challenging month for you. Everything will just keep piling up and eat you raw. In simple words, tensions will rise, and disputes could be headed your way.
Taurus, July will be your unfortunate month. The stress will eat you alive, and the struggle will be real, especially in terms of your professional life.
Do not feel as if the world is against you dear Gemini cause it certainly will feel like that in November. You will find it difficult to navigate through anything.
Communication is the key to solve all the problems. September can be the month for you dear Cancer fellas when you will come across many misunderstandings doesn't matter if you are single or in a relationship.
The month of October will be testing your patience, Leo friends. You will feel like letting your Lions and Lionesses out of your system, but you just have to hold tight, and this phase shall pass too.
When plans don't go as mapped out, it can be pretty frustrating, and the same will happen in May, dear Virgo. Almost nothing will be done in terms of your work, and you will feel like pulling your hair out at the lack of progress.
The disastrous month for you, Libra is September. This unlucky month will have the continuous presence and influence of both Uranus and Pluto planets, which will have an unsettling effect on you. This can also lead to financial issues for you.
Scorpions, the month after your birthday month will be a harassing one for you. December will bring you nothing but unnecessary drama. The cherry on the top will be the tension and trouble that will appear in your relationship.
We wish you Sagittarius, 'May the odds be in your favour', but ironically the month of May will be putting you in a complicated situation. You will face difficulty in personal as well as professional life. The question is, will you listen to your head or follow your heart?
Capricorns we know that it is your birthday but the following month will not treat you well. It is predicted that your spending could get out of hand in February and holidays plus birthday will just max out your plastic cards. You'll need to be tougher and have control over yourself.
Aquarius the year 2021 started on a very good note for you, but that does not mean life will let you end it without a tide. December 2021 can be a complicated month for you. You need to balance your love life nicely, or your romance can be put on pause for a while.
Pisces, September will be your downfall. You will forget the count of all the fumbles that will happen during that time. Even staying positive will be a big task and you'll feel lost. But remember after the storm there comes a ray of hope/sun.
---
Lucky numbers in 2021
Who says you can only have one lucky number, here are 10 lucky numbers for every zodiac sign:
Aries: 1, 3, 9, 10, 22, 34, 43, 45, 76, 98
Taurus: 7, 9, 8, 32, 46, 55, 63, 67, 69, 89
Gemini: 5, 6, 8, 13, 27, 42, 59, 71, 77, 91
Cancer: 2, 3, 9, 11, 19, 21, 34, 46, 51, 66
Leo: 1, 9, 10, 11, 14, 33, 42, 45, 63, 87
Virgo: 4, 5, 15, 16, 24, 25, 30, 45, 47, 93
Libra: 6, 7, 8, 9, 14, 29, 43, 64, 53, 88, 90
Scorpio: 2, 4, 11, 19, 27, 33, 51, 52, 75, 86
Sagittarius: 1, 5, 8, 10, 18, 22, 36, 40, 49, 57
Capricorn: 1, 3, 7, 5, 15, 39, 41, 46, 51, 94
Aquarius: 2, 7, 16, 17, 29, 48, 66, 70, 84, 95
Pisces: 3, 8, 17, 19, 20, 33, 39, 55, 62, 71, 84
| | |
| --- | --- |
| Zodiac Signs | Lucky colours in 2021 |
| Aries | Silver, grey, black |
| Taurus | Yellow, pink, cherry red |
| Gemini | Cream tones, fuchsia pink, turquoise |
| Cancer | Blue, grey, black |
| Leo | Bright pink, pale yellow, |
| Virgo | Silver, white, sea green |
| Libra | Red, white, yellow |
| Scorpio | Yellow, purple, ocean blue |
| Sagittarius | White, yellow, green |
| Capricorn | Silver, vanilla, white |
| Aquarius | Purple, violet, grey |
| Pisces | Sky blue, bright yellow, peach |
Why did you wait to scroll this here to click on this. Get your personalized 2023 horoscope report NOW!
To Get Your Personalised Solutions! Talk To The Best Astrologer Now.
With Ganesha's Grace,
Astrologers trained by Shri Bejan Daruwalla
The GaneshaSpeaks Team
---
---
Get 100% Cashback On First Consultation