Effect of Gemstones On Your Horoscope or Kundali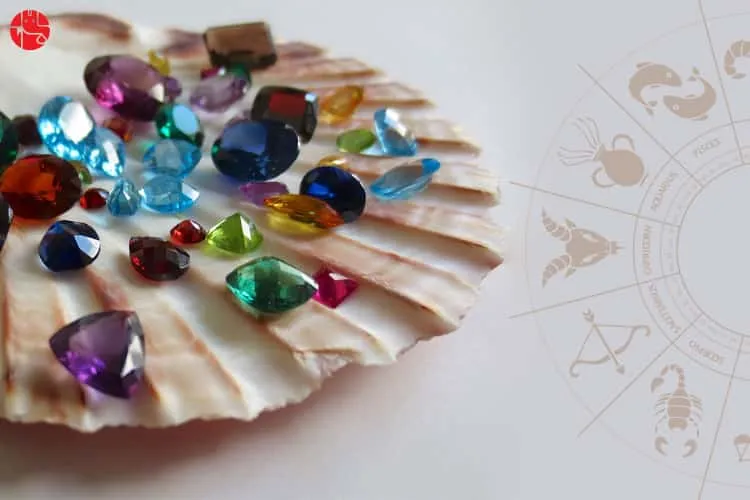 How Gemstones Affect Your Horoscope or Kundali?
You might have seen several people wearing gemstones to bring in additional luck and blessings to their life. Seeing that, most of you must be wondering what these stones are, and how does it affect an individual.
It's very simple, your horoscope and gemstones have a connection that influences your Garha Dasha in Kundali. In this article, we will help you understand the importance of each gemstone and their impact on an individual's life. Moreover, you can study the Gemstones effects in Vedic astrology for deeper understanding.
Before that, let's find out the connection between gemstone and astrology. Indian or Vedic astrology is an ancient science that helps us to predict the celestial movements and their impact on each horoscope. Gemstones represent the energy that enhances the power of certain planets when it is in your specific houses in Kundli.
You can look free gemstone recommendation in Vedic astrology for removing negative effects of planets in your horoscope. In Kundli of an individual, you can see the arrangements of Grahas in different houses based on the time of birth.
These Grahas have influencing impact on the Kundli and the particular events occurring in the various phases in life. Sometimes, these Garhas are beneficial but do have that much energy. Get the benefit of wearing gemstones as it showers its positive energy of the planet on the wearer.
To get a brief knowledge about the main gemstones. According to Vedic astrology, there are gemstones for zodiac signs. All nine planets represent nine special gemstones.
With all this information, you must be thinking exactly what are the types of stone.
Read on to know about them:
---
Ruby (Manika) represents the sun
The red cosmic rays of Ruby makes wearer active, smart, and bring pride and social respect. If you look at ruby stone astrological benefits, it takes away the sight problems like a defect in vision. This gem rules bones, head pain, dyspepsia, fevers, and colic. So, if you wear a ruby, you are blessed with good health, position, and prestige, and improves your health.
---
Pearl (Moti) represents the Moon
Pearl has beneficial vibes of planet Moon. It reduces tension, stomach problems, and marital issues. It increases self-confidence and mental health. Individual having problems in their marital life or temper control can wear pearl pendant or ring to get the positive vibes from it. Gemstones therapy have pearl as the first preference because it suits most horoscopes.
---
Coral (Moonga) the Mars
Coral is a beautiful red stone obtained from the depth of the sea. It emits red radiation and helps the wearer feel emotionally stable. Wearing this gemstone can help you get off many diseases such as chickenpox, jaundice, fistula, impotency, anaemia, general debility, weakness, lassitude, body pain, cough, and cold.
Do you know which gemstones are beneficial for your ascendants and which gemstones give you negative results by wearing it? Ask any questions to Our Expert Astrologers and maximise the benefits of gemstones.
---
Emerald (Panna) the Mercury
Emerald: The precious green gem emits green radiation, which soothes the mind of the wearer. Also, enable the wearer to get good control of nervous and intestinal portions, liver, tissues, lunges, vocal cords, tongue, and nervous system. Wearer gets the benefits of mercury planets.
---
Yellow Sapphire (Pukhraj) the Jupiter
Yellow Sapphire: The wearer is blessed with the good fortune of the Jupiter planet. It provides you with economic prosperity and comfort. It purifies your aura and adds more grace to it. You can acquire the beneficial outcomes of the Jupiter planet by wearing this gemstone.
---
Diamond (Heera) for Venus
Everybody loves diamonds but do you know this gemstone resembles with the Venus. It brings positive energies of Venus to your life. Often people seeking financial prosperity and happiness are recommended to wear diamond. Gemstones affect horoscopes greatly and to reap the benefit of Venus diamonds is the best Gem.
---
Blue Sapphire (Neelam) the Saturn
Neelam is a very elegant looking gemstone. People who have Saturn influence in their Kundi prefers to wear this stone and enhance its positivity. Neelam is a very protective gem, which saves you from all the evil vibes around you. It brings mental clarity and helps you make the right decisions in life.
---
Hessonite (Gomed) the Rahu
If you ever wondered how gemstone affects the life of an individual, try wearing a Gomed. It protects an individual from the evil effects of Rahu. Gomed is the gemstone that helps you ease its effect. It calms down the wearer mind and provides relief from mental problems like depression and stress. It also acts as a protection against evil or negative vibes around you.
---
Cat's eye (Lasuniya) for Ketu
People who have the bad placing of Ketu in their natal charts are advised to wear this gemstone. Ketu is a very notorious planet who can harm your name and fame in the society. Thus, considering wearing Cat-eye ring to ease the negative influence of Ketu on your life. Also, it disperses the obstacles or hindrances caused due to the evil effects of witchcraft.
Buy gemstones online according to the recommendation of your personal astrologers and make the placement of planets stronger in your horoscope.
---
Summing up
Acquire the power of gemstones by wearing them as per your horoscope. When you wear a gemstone properly as per the ritual and rules, these gemstones create a protective layer around you. It protects you from evil eye and negatives vibes.
Experiencing gemstones effects on the life of an individual, you will experience positive and soothing effects on your mind and body. In astrological terms, gemstones can modify the influence of a planet on you.
Astrologers study the effects of the gemstone in Kundali and suggest you a gemstone that is beneficial for you. The wearer experiences its positive effects soon after wearing it with the right ritual.
Show your Kundali to Indian Astrologers and get suggestions for different gemstone beneficial for you.
To Get Your Personalized Solutions, Talk to an Astrologer Now, First Consultation with 100%
With Ganesha's Grace,
The GaneshaSpeaks Team
---
---
Get 100% Cashback On First Consultation