Bollywood Celebrities and their Gemstones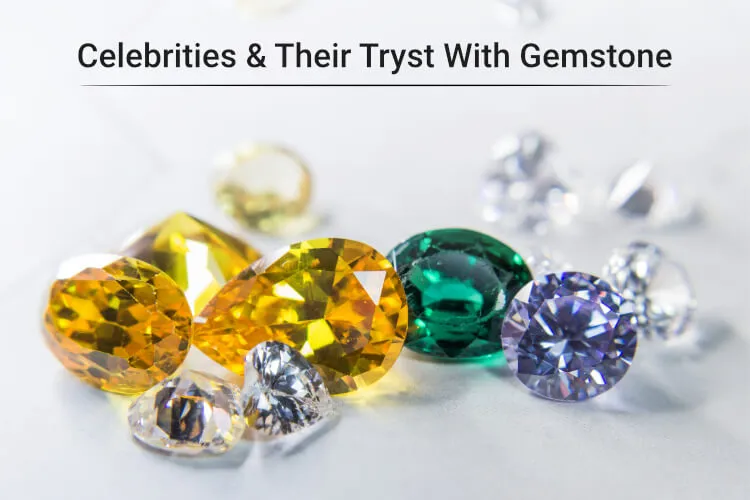 Life is a very complex structure that nature has made, and sailing smoothly and finding success in this complex structure is no less than a miracle. But still, there are plenty of stories in which people have attained overnight success. How? The reason is their love for Gemstones. The emerald has long been associated with the idea of luck, love, mercy, and intelligence. And, it is no wonder that emerald Gemstone is something many people love to wear. Believe it or not, but there exists some mysterious power which is beyond everything and controls us. No doubt, many well-known celebrities believe in this fact. Have you ever wondered the reason behind the success of leading Bollywood celebrities? There is no wonder that they have gone through some bad phases in their life, but their love for gemstones is also undeniable, which has helped them to evolve through the difficult waters.
So, let's dwell a little deeper and find few celebs who believe in the power of so-called Gemstones – Precious Stones and have been seen sporting various gemstones to ensure the presence of luck and good health in their lives!
---
Amitabh Bachchan – Blue Sapphire (Neelam)
It is supposed that people who wear sapphire stones are showered with love and success, and prevent them from all kinds of foes and negativities . Big B is among those celebrities who have seen supporting the Blue Sapphire gemstones. A few years back Big-B was in immense debt. His company was on the verge of shutting down, and his career was on a downhill. Fortunately, he sought Astro guidance and so an Astrologer advised him to wear a Blue Sapphire ring that completely changed his fortune.
According to Vedic Astrology, the Blue Sapphire is correlated with the planet Saturn also known as Shani. And, its energy is capable of showering wealth, name, and fame.
What Gemstone suits you? Find out Now!
---
Shilpa Shetty – Emerald (Panna) A Lucky
A failing professional graph. And a couple with a broken heart with a sad personal life. The famous Bollywood star Shilpa Shetty was in desperate need of luck and fortune. Following her mother's advice, she started wearing a gemstone that owes a lot of success to her today. From winning the British TV series – Celebrity Big Brother show to her IPL stint, it all changed after she started wearing an Emerald ring.
The ring Emerald is associated with the planet Mercury, and it helps one improve their concentration and communication skills. It also boosts your creativity. Emerald stone is widely used in gem therapy.
---
Kareena Kapoor Khan – Pearl and Red Coral (Munga or Moonga)
Kareena Kapoor's life has been no less than an open book. In most of her movies, Bebo has seen wearing these rings. The secret of her smile is hidden in the armed pearl that enables her to tone down her aggressive nature because of her controversial and gaudy life.
Pearl is associated with the Moon Planet, and it reduces aggression, whereas the Red Coral (Moonga) helps you heal from the inside and keeps all the negative energies and foes at bay.
---
A. R. Rahman – Blue Sapphire (Neelam) A Reason For His Melodious Voice
There is no introduction needed for this soulful music creator who possesses the ability to allure millions of people with his idyllic voice. From the touching song of "Choti Si Aasha" to encouraging "Mittwas", his voice has always been melodious and loved by all. Since childhood only, he started earning the fame that we all have witnessed to date. What special he puts in his music is calmness and deep thought, which is only possible through Blue Sapphire that is especially known for impacting the state of mind.
---
Aishwarya Rai Bachchan Blue Sapphire (Neelam)
The gorgeous and charming Aishwarya Rai, who brought pride to India by winning the Miss World crown has enthralled audiences worldwide with her superlative performances and her gracious behaviour. The eternal Diva Aishwariya has much of her time being in controversy related to her love life. From the age of 16 only she started modelling and after winning Miss Beauty pageant in 1994, she has started receiving several opportunities in the film industry. In the initial stage, her performance witnessed to be not up to the mark, due to which she went through several ups and downs. But, the Neelam stone proved to be a Midas Touch for her.
It possesses luck-altering power. Blue Sapphire is the most powerful Gemstone of Saturn/Shani and can recalibrate Karmik Life Maps.
---
Ajay Devgn – Yellow Sapphire and Pearl (Pukhraj and Moti)
Yellow sapphire is the flag-bearer of good fortune, and also enhances the wearer's decision-making abilities. And, it also takes us to spiritual enlightenment. The Singham of Bollywood has been through many ups and downs, but the gemstones yellow sapphire and pearl helped him in his journey. Ajay Devgan draws his calm and peaceful personality from the yellow Sapphire and the pearl, which he always wears.
Get the maximum benefit of Yellow Sapphire Now!
---
Ekta Kapoor -Yellow Sapphire (Pukhraj), Emerald (Panna), Diamond, and Coral
Ekta Kapoor's daunting personality needed no introduction. She is the well-known face of TV Melodrama. She has a huge collection of gemstones including Yellow Sapphire, Emerald, Diamond, and Coral. And, if we see her life, then it will not be wrong to say that she derives the energy and power from her gemstone studded finger.
---
Dilip Joshi- Ruby (Manik)
Tarak Metha ka Oolta Chasma fame Dilip Joshi who started his journey with the two blockbuster movies "Mai Ne Pyar Kiya " and "Hum Aapke Hain Kaun" in Rajshri Production. But, there was a time when he was struggling to get work, and one whole year he spent without work. However, his life completely took a new turn when he started wearing Red Sapphire. It is associated with the Sun which enables the wearer to bring name and dignity into their life.
---
Salman Khan – Turquoise (Firoza)
Who is not aware of his Turquoise charm bracelet. This bracelet was a gift from his father when he was passing through his unpredictable and speculated career. This bracelet has always been near to Salman Khan's heart and is considered as his lucky charm and certainly seems to have a positive impact on his life.
According to Vedic Astrology, Turquoise possesses the power of both Mercury and Ketu. And, it helps avoid negative energies as well as work as an impetus to move forward in life.
---
Sanjay Datt – Yellow Sapphire (Pukhraj)
Sanjay Dutt, a highly talented movie star of bollywood and belongs to an affluent family.
Everybody knows about the controversial life of Sunjay Dutt. Even the movie has been released on his life. Sanjay Dutt has been in controversy owing to various events. Be it related to drugs or in a custodian of illegal weapons. Even his love life has been through several ups and downs. But Now, after a long period, stability has touched the feet of Sanjay Dutt. And, it has only been possible through his faithfulness in Yellow Sapphire. On many occasions, he has been seen wearing it.
Yellow Sapphire is associated with the planet Jupiter, and it blesses the wearer of this gemstone with prosperity and wisdom.
Find out whether Yellow Sapphire is right for you by using our First Consultation with 100% Cashback!
---
Emraan Hashmi – Opal Stone: An Impetus To His Emotional Integrity!
A quentisinnal lovable rogue is fairly known to be a bankable star. But few are aware of that, he has no plan to come into the acting realm, instead his plan was to be a director and want to make a difference with his imaginative prowess. Emrran Hashmi believes in opal which is associated with planet Venus. Opal is an alluring gemstone which increases the emotional integrity in people, and hindrance to the obstacles.
---
Nita Ambani- Emerald (Panna)
Nita Ambani is amongst the richest and famous personalities across the globe. A multitasking business woman Nita Ambani, who once belonged to the middle class family, now comes under the biggest and richest personality of the nation. Her belief in Emerald is the reason that owns the success and fortune of this ambitious woman.
Emerald is the precious stone which is commonly known as panna. It is associated with planet Mercury, an agent of speech and Karka. Which gemstone should you wear? Or whether Emerald or Ruby brings success to you? First Consultation with 100% Cashback!
Your Accurate Personalised Astrology Predictions Are Just A Call Away – Talk To Expert Astrologer Now!
With Ganesha's Grace,
Astrologers trained by Shri Bejan Daruwalla
The GaneshaSpeaks Team
---
---
Get 100% Cashback On First Consultation