Big B Will Continue To Give Tough Competition, Predicts Ganesha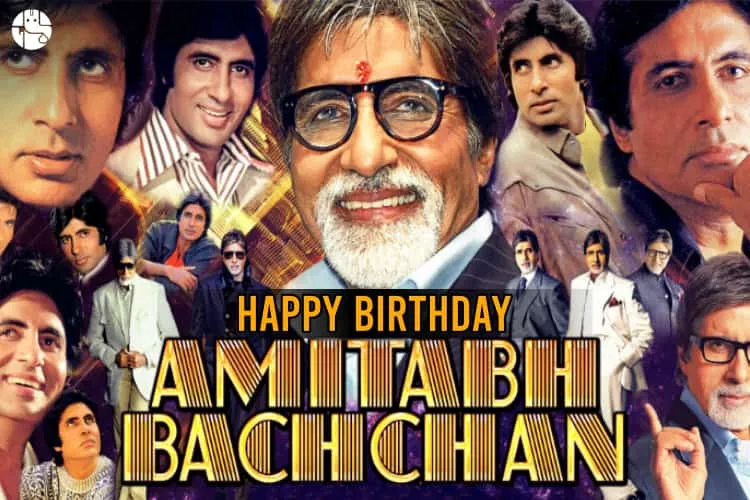 For all the Amitabh Bachchan fans out there, Aaj Khush Toh Bahut Hoge Tum, Hainnn! Because soon you will be able to speak to the Megastar, Amitabh Bachchan! You just have to say "Alexa, Say Hello To Mr Amitabh Bachchan" on any Alexa enabled device.
He will be the first Indian celebrity to lend his voice to Alexa. Isn't it great! With that comes the other good news that his birthday is just around the corner. Amitabh Bachchan turns 78 on October 11. Even at 78, he seems to be telling everybody, buddha hoga tera baap. Age is just the number when it comes to Amitabh Bachchan and still, he is on top of the game. We know you just can't wait to know his birthday plans and also will be curious to know what stars have in store for Shahenshah.
Well, this time we have something special and unique for Big B. We dub smashed his dialogues to predict his future. You must be scratching your head about how it is possible to use Amitabh Bachchan's dialogue to provide a glimpse of his year ahead. We tried! Because what better way to honour this Bollywood legend than remembering some of his iconic dialogues.
So, without further ado, let's unveil what the stars of Big B have to say about his future through his Janampatri and optimistic dialogues:
---
Amitabh Bachchan Birthday Predictions
Amitabh Bachchan Birth Chart: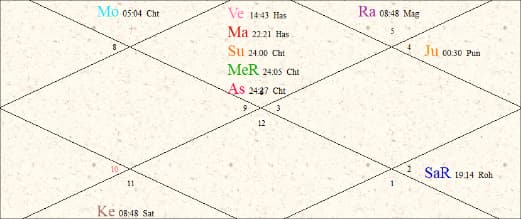 Pura Naam: Amitabh Harivansh Bachchan
Umar: Athahattara Saal (78 years)
Birth Date: 11th October 1942
Birthplace: Allahabad
Read on to reveal some of the life secrets from Amitabh Bachchan Kundli:
---
Aaj mere paas bangla hai, gaadi hai, bank balance hai, tumhare pass kya hai?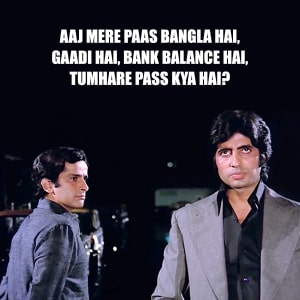 Film – Deewar
Saturn in its friendly earth sign Taurus has blessed Amitabh Bachchan with various properties and material comforts. The placement of Saturn in this house clearly indicates that he will achieve and enjoy all the material comforts, luxuries, and riches with his hard work and self-effort.
---
Pagar badao… pandrah sau rupiye me ghar nai chalta, saala imaan kya chalega?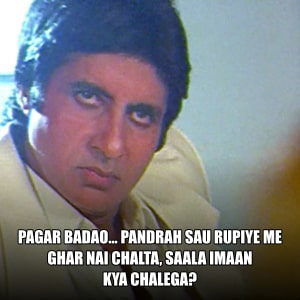 Film – Agneepath
In Amitabh Bachchan's birth chart, there is a Super Stellium as 4 planets are placed in the first house just to offer success in the field of his choice. It is also due to this reason he was once rated to be one of the highest-paid actors. Additionally, due to this rare placement, there has been an enhancement in his earnings and popularity. Planets will continue to favour him in the year ahead. Hey, but will planets be favourable for you in the year 2021?
Check out your
---
Rishte mein toh hum tumhare baap lagte hain, naam hai Shahenshah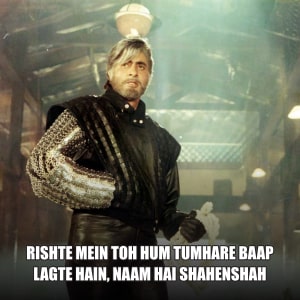 Film – Shahenshah
There were times when people tried to demotivate him after 11 back to back flops. From health issues to hitting rock-bottom with ABCL bankruptcy, he has seen it all. But, he never accepted his failure and kept moving. There was a miraculous change in his fortune. Later, he hosted Kaun Banega Crorepati which is considered as the turning point in his life and helped him to bounce back strongly in the Bollywood industry. He finally proved that he is the Baap of B-world. He was also supported by the planets. He is blessed with Budh-Aditya yoga – a combination of Sun and Mercury which has the power to change destiny and modify native's life. In the year ahead too, he will wear that Shahenshah crown on his head.
---
Jis kaam ke liye aapne mujhe rakha hai, vo kaam kaise kiya jayega, yeh sochna bhi mera kaam hai.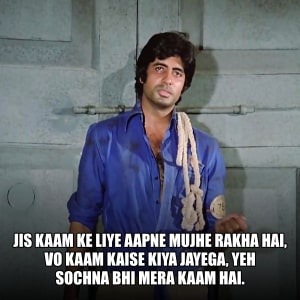 Film – Deewar
When it comes to his Kaam, he is the best. Excelling at what he is hired for comes before everything else. Amitabh Bachchan is a true workaholic and we can clearly see his passion to work in his movies. The conjunction of Venus and Mars makes one passionate about his work, the same is seen in Amitabh Bachchan's horoscope.
---
Bachpan se hain sar par allah ka hath, aur allah rakha hai mere saath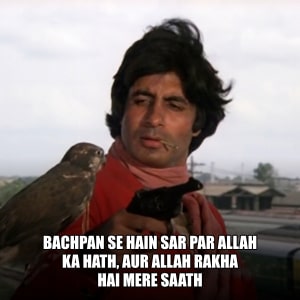 Film – Coolie
This movie will always be remembered because of the near-death experience by Amitabh Bachchan. At that time he faced many health issues due to unfavourable planetary transit. This year too, Amitabh Bachchan may face certain health issues. He should be more careful about his health in the days to come.
---
Don ka intezar toh gyarah mulkon ki police kar rahi hai. Lekin Don ko pakadna mushkil hi nahi, namumkin hai.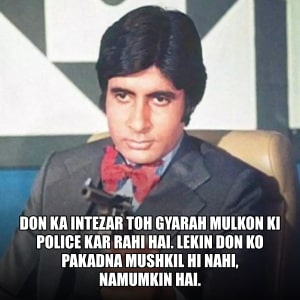 Film – Don
He is charming, mysterious and hard to capture. During the year ahead, transiting Jupiter will be in opposition with natal Jupiter. Result = name, fame, publicity, and appreciation. It will be difficult for other actors to compete with him. He will continue to climb the ladder of success.
---
Hum jahan khade ho jaate hain, line wahi se shuru hoti hain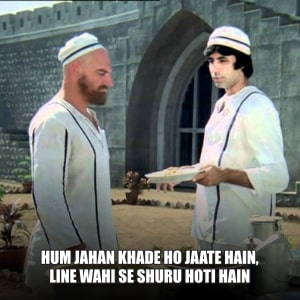 Film: Kaalia
He starts off as a simpleton and quickly learns the ways of the world. This famous dialogue only cements his position of dominance. In the year ahead, Amitji will stand strong and continue to play the protagonist.
Happy Birthday, Big B!
You are the true icon of Bollywood. Ganesha wishes you health, wealth, and prosperity in your life.
To Get Your Personalized Solutions, Talk To An Astrologer Now!
With Ganesha's Grace,
GaneshaSpeaks.com
---
---
Get 100% Cashback On First Consultation