Nine mukhi rudraksha: Benefits, Effects and Importance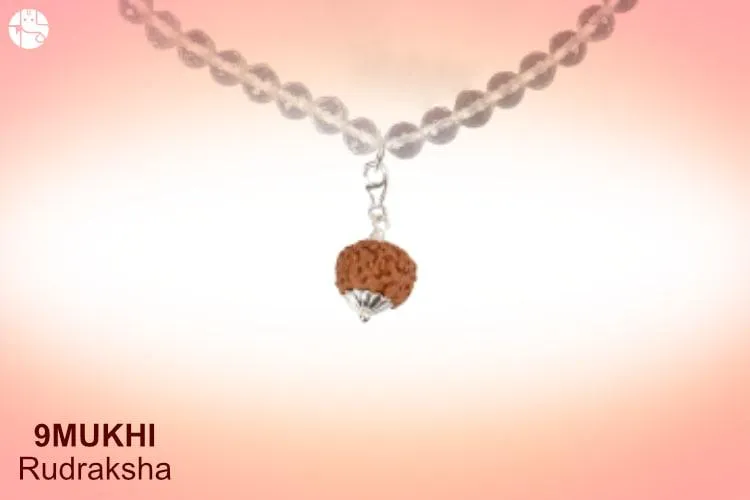 Endowed by Nav Durga, the Goddess of Shakti, the nine mukhi rudraksha is one of the rarest. It works on the Sahasrara Chakra and is ruled by the Rahu. When it is worshipped by chanting its mool mantra "Om Hreem Hoom Namah" 108 times, it invokes Maa Durga. The Goddess blesses the wearer with the worldly pleasure and comforts. She also liberates the wearer and helps him achieve salvation.
---
Importance of 9 mukhi rudraksha
It nullifies the malefic effects of Rahu.
It helps in winning over the fear of ghosts and enemies.
It connects the wearer with goddess Durga, who helps destroy all the sins.
It makes the wearer courageous and bold.
It enhances endurance and positivity.
It gives relief in vertigo and psychological disorders.
It helps in achieving a higher level of consciousness.
---
Benefits of wearing 9 mukhi rudraksha
Since it is blessed by the divine powers of Goddess Durga, the 9 mukhi rudraksha has several benefits to offer its wearer.
It helps in curing skin diseases.
It activates the Sahasrara Chakra and instils the values of self-worth, self-realization and contentment.
It helps in the smooth functioning of the nervous system and brain.
It helps in curing psychological disorders like phobia and hallucination.
It promotes spiritual consciousness in the wearer.
It helps in achieving success in all spheres of life.
It makes the person self-reliant.
It helps in analyzing self-worth and self-knowledge.
It helps to maintain a balance between spiritual life and materialistic life.
---
Purification of 9 mukhi rudraksha
Though these holy beads are blessed with divine powers, still if one desires for maximum effect, he should energize the beads by prana pratishtha. It is advisable to perform this puja on Saturday morning. The individual who wishes to wear the 9 mukhi rudraksha should wake up at the dawn time on Saturday, take a bath and get ready for the puja. After cleaning the rudraksha bead with Gangajal, keep it on a copper plate with nine leaves of peepal. Put some sandal paste on it and offer fresh flowers. Light a ghee lamp and dhoop stick. With a fully devoted mind, chant the mool mantra "Om Hreem Hoom Namah" 108 times and wear it in a red silk or woollen thread as a chain or encapsulate it in silver or gold as a bracelet. Worship Lord Shiva and bring prosperity to your life with a Rudrabhishekam Puja.
---
Things to remember
Everyone wishes to buy a rudraksha and it can easily be bought online. But before you buy a 9 mukhi rudraksha online, ensure that the dealer is authentic and registered. You should also know how to identify a genuine and a real 9 mukhi rudraksha.
Take a glass of warm water.
Drop the 9 mukhi rudraksha in the glass and leave it for ​_around 2 hours in it.
Remove the bead from water and closely observe it.
If it gets discoloured or you observe any joints in it then it is not an original bead.
If the water changes colour and gets dirty, then also the bead is not genuine.
---
Summing Up
The 9 mukhi rudraksha is the most auspicious bead as it is blessed with the divinity of feminine powers. This sacred bead is blessed by all nine manifestations of Goddess Durga. It has immense powers that can transform one into an active, happy, contented, prosperous and healthy person. It helps in numerous ailments and healthy functioning of brain and nervous system too.
To Get Your Personalized Solutions, Talk To An Astrologer Now!
With Ganesha's Grace,
GaneshaSpeaks.com
---
---
Get 100% Cashback On First Consultation