Navratri and Nav Durga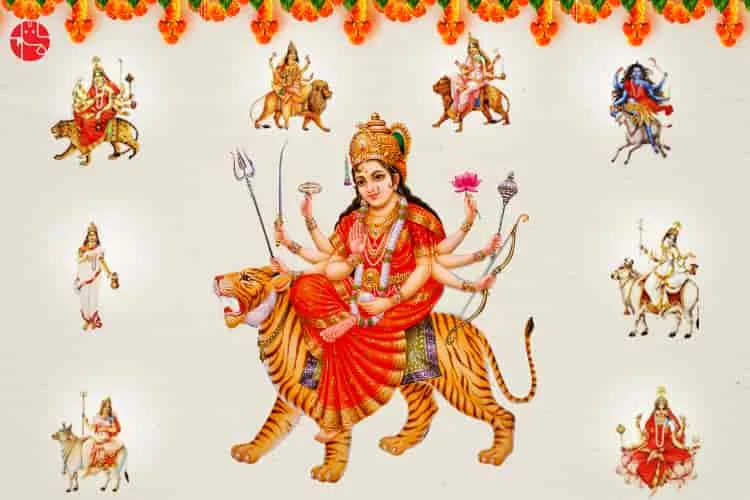 ---
---
What are the nine avatars of Maa Durga?
Though Scriptures differ in naming the nine incarnations, the most prevalent forms of Durga are:
1. Śailaputrī, known as Sati. She is considered to be the first manifestation of goddess Durga. She carries the Trishul and the lotus in her hands. Her vehicle is the Bull, Nandi.
2. Brahmachāriṇī, is two-armed, clad in white and carries a rudraksha mala and sacred Kamandalu. She is in a highly pious and peaceful form.
3. Chandraghaṇṭā bears the moon in her necklace. She is ten-armed and rides a tiger.
4. Kūṣmāṇḍa- Her name is made of three other words :"Ku + Ushma + Amanda "Ku" is "Little", "Ushma" is "Warmth or Energy" and "Anda" is "Egg", meaning the one who creates the universe as "Little Cosmic Egg" with the energy of Her divine smile.
5. Skanda-Mātā is the mother of Skanda, Kārttikeya. In this form, Durga is four-armed and rides on a lion. She carries a lotus, a Kamandalu and a bell. Her one hand is in blessing posture.
6. Kātyāyanī is the daughter of sage Kātyāyana, who incarnated to help the Devas. She is four-armed and carries a sword, shield and lotus. One hand is depicted as giving a blessing. She rides a lion.
7. Kālarātrī is black as night, destroyer of Kālī. She is four-armed and rides a donkey. She carries sword, trident and noose. She is cruel, dark and repulsive in appearance. She depicts the violent and dark side of Durga.
8. Mahāgaurī is the wife of Lord Shiva and is four-armed. She rides on a bull or a white elephant. She carries a Trishul and a Damaru. She is pure and is believed to have been in the form of Mata Parvati when she did penance to get Shiva as her husband. Purity is depicted in this form of Durga.
9. Siddhidātrī provides Siddhis and mystic powers. She is seated on a lotus and is four-armed. She holds a lotus, mace, discus and book. In this form, Durga removes ignorance and s provides the knowledge to realize.
---
---
---
Get 100% Cashback On First Consultation