Love Horoscope 2023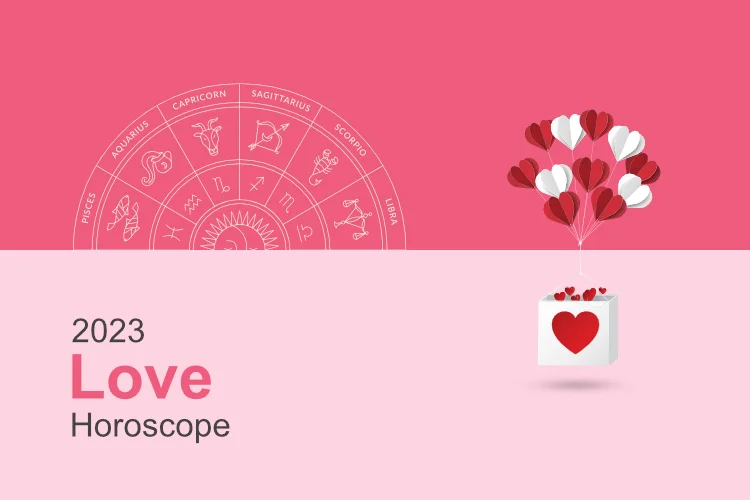 Aries Love Horoscope 2023
In 2023, Aries individuals will benefit greatly from Jupiter's influence. There are several opportunities to wed the one you truly love. Either way, there will very certainly be a fairy tale romance in 2023.
Get 2023 Love Life Report here
As per Aries 2023 love horoscope, the year would be quite favorable for the individuals. Though you might face up and downs in terms of love and relationship. You may lose interest in life but do not overdo it to make things better. True to be yourself and the person you love.
Taurus Love Horoscope 2023
According to the Taurus 2023 Love Predictions, the new year will bring an abundance of pleasure for individuals. You will have to handle some challenges in order to relish the joy of the new beginnings and achieve the optimum achievement this year.
In every challenging scenario, you must have a positive attitude for your own good. You will see really positive outcomes. The more work you put into your life, the better the outcomes.
Gemini Love Horoscope 2023
The year 2023 seems auspicious for Gemini individuals. You will get ample opportunities to get ahead in life. As per Gemini Love Horoscope 2023, you will achieve something new in life. It is not difficult to gain control of your life and move on.
According to Gemini Love Prediction 2023, you have to make commitments when it comes to romantic relationships. Even though you could occasionally feel alone, you'll generally feel valued and cherished. You will certainly take good care of your connection because this is a crucial aspect of life.

Cancer Love Horoscope 2023
The year Cancer Love Horoscope 2023 would be a great year with an abundance of prosperity and progress in life for Cancerians. There will be a time when you might feel low and depressed due to the existence of Mars in your horoscope. Though the circumstances may disturb you. Hence, you have to be cautious with your mental and physical health as well.
Leo Love Horoscope 2023
The year 2023 has lots to offer to Leo individuals. Leo Love Horoscope 2023 will bring unexpected things into your life. This next year will bring about a lot of changes in your life, yet everything will be worthwhile. Your romantic life will vary throughout time, but everything will come together in a lovely love tale in the end.
Virgo Love Horoscope 2023
According to Virgo Love Horoscope 2023, Virgo individuals will have a good year. The transition of the Moon in the zodiac sign will bring happiness and prosperity. The horoscope predicts different aspects of life that might change your outlook.
The year has several things in the bucket. The year will be quite exciting for individuals. Though married people can face certain issues in their relationship.
Libra Love Horoscope 2023
Incredible flybys are occurring as predicted by Libra Love Horoscope 2023. Mercury will continue to remain in the fifth house of the astrology chart. You will grow tremendously personally over the course of this year.
You'll discover new facts about life and delve into a variety of topics. For your better direction, it is encouraged to keep friends and family involved in your life during the year.
Scorpio Love Horoscope 2023
Matrimonial aspirations in 2023. Venus' transit across the zodiac will be beneficial for your romantic life.
Things can also become complex at times. Scorpio Love Horoscope 2023 predicts that natives form long-lasting ties. Accept individuals as they come into your life, let go of your ego, and love and affectionately hug your partner/spouse throughout the year.
Sagittarius Love Horoscope 2023
Sagittarius Horoscope 2023 Love life may affect you emotionally and mentally. Your emotional phase might affect your relationship with your partner. Have patience and control your anger in every situation. Avoid unnecessary arguments. Try new things with your partner to create beautiful moments as predicated by love life for Sagittarius 2023. Do not include anybody else in your connection.
Capricorn Love Horoscope 2023
The Capricorn Love Horoscope 2023 predicts that this year will be exciting and that your efforts will be dutifully rewarded. You'll make new friends and experience positive life-changing progress in many areas. You'll work tirelessly to achieve your goals during the year, which you'll give you utmost satisfaction.
Aquarius Love Horoscope 2023
According to the astrological chart, Aquarius Love Horoscope 2023 will bring lots of amazing experiences to the life of Aquarians. You might come up with some changes in life and you have to work hard to achieve certain goals in your life.
During the commencement of the year, individuals have to take control of a few habits for their well-being. Spend some quality time with your family and friends.
Pisces Love Horoscope 2023
According to Pisces Love Horoscope 2023, this year is going to be good for people in love life. You will go deep in your love and your tuning with your lover will be very good. Your love will also have a tough test this year. According to the Pisces Love Horoscope 2023, there will be some situations in the middle of the year, when you will have to handle your love. If you are successful in this, then in the last months of the year you will enjoy your love life to the fullest and may even be successful in marrying them.
Read more about Pisces Love Horoscope
Confused in Life? Know your Life Better...
Talk to an Astrologer Now and Get 100% Cashback on your First Recharge
Share Your Problem, Get Solutions
Check Articles For Other Areas Of Life as well: