Pisces Love Horoscope 2023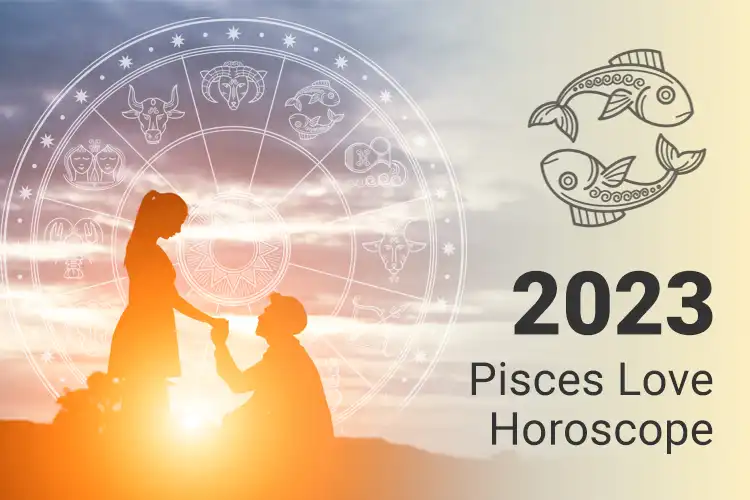 Finding Relationship Solution With Pisces Love Horoscope 2023
Pisces horoscope shows signs of luck and prosperity in the year. As per the astrological chart, individuals will find better opportunities in terms of career and education. There will be financial growth and new options during the year.
Your relationships with your colleagues will become better. As per Pisces yearly love horoscope 2023 predicts that you may go through certain obstacles in your personal relationship. An unexpected might occur that may disturb your mental well-being. Just keep calm, look after yourself and move ahead to achieve your goals.
2023 Pisces Love Horoscope: A Favourable Time To Flourish Relationships
The celestial movements in the zodiac sign will let individuals experience an amazing period of Pisces love life in 2023. You may feel changes in your life due to the presence of Saturn in your horoscope. You may indulge in social gatherings at the beginning of the year.
Individuals who are in a committed relationship might get influenced by Saturn as predicted by Pisces love horoscope 2023. The month of march is vital for you. You may let go of certain menial relationships. During the month Saturn will help you in sorting out differences with your spouse. Married couples will be able to resolve conflicts with their loved ones.
Around April, the planets will be supportive of your personal life. Be careful not to take your connection for granted, though. According to Mars, a carefree attitude and self-consciousness are more likely to result in some disturbances. Jupiter will assist you in laying the groundwork for a more secure partnership as the year progresses and might also assist you in finding your inner power.

Know your real strengths, weaknesses, abilities, and talents. Know your Zodiac Signs
Pisces Love Horoscope 2023: A Promising Year For Singles
Pisces love horoscope 2023 for singles predicts that you are probably going to have a very rewarding time leading up to the month of February and be satisfied in all areas of your life. Venus will be brimming with chances for you to attract the people you love in your romantic life. Singles should use this opportunity to make a proposal.
Around the month of May, the influence of Jupiter and Venus will make it easier for singles to communicate their feelings to their partners and advance their relationships. The broad effects of the planets may infuse your life with a breath of fresh love and joy. The effects of Nodes, though, might make you a little bit conceited in June.
The year is quite promising for both singles and married couples. The second half of the year seems to bring good times predicted by love life Pisces 2023 horoscope. You will get opportunities to create a strong bond with your loved ones.
Uncover all Challenges and Unwanted changes in your Life Graph. Get 2023 Reports
How Does The Presence Of Planets Influences The Life Of Pisces Individuals?
Saturn's influence may make you realize your imperfections and assist you in determining what you might be missing. As the year progresses, certain old concerns may resurface and demand your attention owing to the influence of the North Node.
Some difficult situations in your family may cause you to stress throughout the month of August. Allow this period to pass. During the latter half of this year, the combined influence of Venus and Mars will bring passion and love as indicated by Pisces 2023 love predictions.
The month of September will be a time to take a step back and reflect. It would be a fantastic moment to learn the equations of your relationship as well as the societal dynamics. Venus helps you in creating wonderful moments with your spouse or beloved as predicted by Pisces love horoscope 2023.
You might be able to find new vitality in your love life. Only one individual will be able to win the adored person's heart. Married couples are supposed to have a good time together. Jupiter may bring you closer to your companion, and your feelings of love may remain powerful, reaching new heights near the end of the year.
Talk to an Astrologer Now and Get 100% Cashback on your First Recharge