Sagittarius Love Horoscope 2023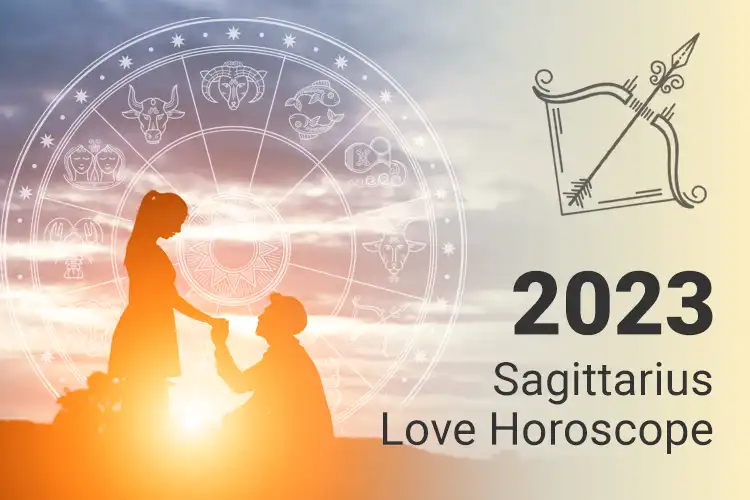 Sagittarius Love Horoscope 2023: Avoid Anger & Stress For Better Relationship
Luck is in favour of Sagitarrius individuals in terms of love and relationship. The year is going to be very fantastic for individuals who are planning to get married. Since, the Goddess of Love, Venus will assist you in finding your love mate. While the placement of Mars in your astrological chart can cause dispute with your beloved or spouse.
Sagittarius horoscope 2023 love life may affect you emotionally and mentally. Your emotional phase might affect your relationship with your partner. Have patience and control your anger in every situation. Avoid unnecessary arguments. Try new things with your partner to create beautiful moments as predicated by love life for Sagittarius 2023. Do not include anybody else in your connection.
Sagittarius Love Horoscope 2023: Relationship Status
As predicted by the Sagittarius relationship 2023 horoscope, you could opt to tell your family about your lover as the year comes to a close. The backing of several family members and friends will also strengthen their possibility of getting married.
The stars indicate that as you approach with complete positivity, things may become good at the commencement of the year. Venus suggests that if you are single right now, this may be the ideal moment to start a new romantic relationship.
Married couples should start planning for children around the middle of January. You will experience a lot of love throughout the month of February as Venus favours you.
2023 Sagittarius love horoscope indicates that somewhere near around the month of July, you and your loved ones will experience some misunderstandings and disputes. Amidst any complicated family issues, Jupiter's grace on family and relationship concerns will cross your path as the year progresses. Your romantic life will improve steadily.

Know your real strengths, weaknesses, abilities, and talents. Know your Zodiac Signs
2023 Sagittarius Love Horoscope: Are Singles Ready To Mingle In 2023
2023 is the right time for searching for a partner. Sagittarius love in 2023 predicts that singles may find their special one. As the year will pass, you will get busy with your social life. You might have to handle tough situations at home.
However, during the middle of this March, you'll experience issues in your romantic life. Numerous issues may arise for married couples.
You will have a wonderful, healthy love connection with your spouse. However, the Sagittarius love horoscope 2023 indicates that singles are only inclined to the enjoyable aspects of intimate relationships.
Commitments and dedications kinds of words are found less in the dictionary of youths. In the second half of the year, singles might show some seriousness towards their relationship which helps them discover a new phase of life.
Uncover all Challenges and Unwanted changes in your Life Graph. Get 2023 Reports
Are Your Stars Favourable For Relationship in 2023?
Throughout the month of September, you will have lots of chances to date. Making the right partner decision will be difficult for you, but all will turn out well in the end. You'll experience some major difficulties with your love life at the start of October.
Sagittarius love horoscope for 2023 predicts that married couples may also experience problems. But as the year draws to a close, the stars indicate that you'll have wonderful love and high social standing. Your thoughts may be quite upbeat during the last phase of the year, but your impetuous deeds may occasionally create issues.
Allow yourself to react in a balanced manner by going with the flow. You could have a better knowledge of your relationship during the second half of the year. If you are not already committed to a partnership, there is a potential for a new one. The influence of the planets may improve your chances of love and relationships.
Talk to an Astrologer Now and Get 100% Cashback on your First Recharge