Scorpio Love Horoscope 2023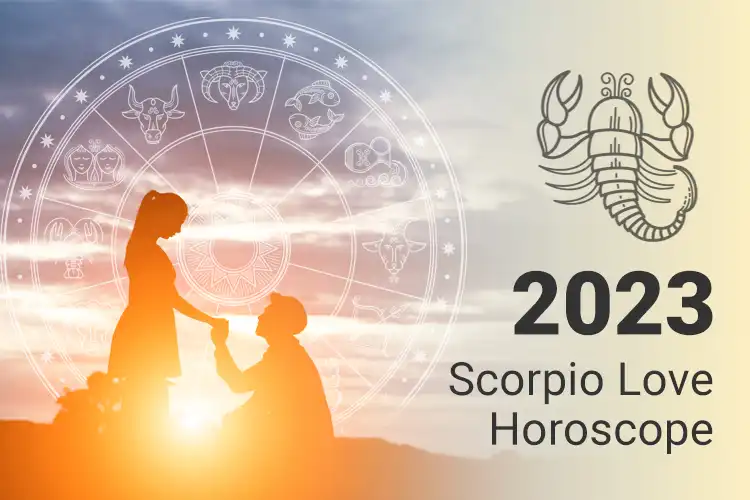 Scorpio Love 2023 Horoscope: Discover The Perfect Match
Matrimonial aspirations in 2023. Venus' transit across the zodiac will be beneficial for your romantic life.
Things can also become complex at times. Scorpio yearly love horoscope 2023 predicts that natives form long-lasting ties. Accept individuals as they come into your life, let go of your ego, and love and affectionately hug your partner/spouse throughout the year.
Saturn will provide you serenity and harmony in your love life throughout the year, allowing you to appreciate goodness with your companion. Avoid toxic connections and people who are harmful to your well-being. Only become linked to those you have a better understanding of and who will play a good role in your life.
Impact Of Planets On Relationship
Avoid things that might ruin your romantic connection. The coming year would be peaceful for the majority of it.
The influence of Jupiter and Venus at the start of this year implies that your love life will be nice. A married couple will have friendly interactions and a wonderful relationship with their spouse.
As per Scorpio 2023 love horoscope, singles hoping for a love connection will have a difficult time till the middle of February. However, as the month of February progresses, your relationship will thrive without any fuss. Singles may benefit from the period around the middle of February. This time, singles may meet their soul mates in unexpected places.

Know your real strengths, weaknesses, abilities, and talents. Know your Zodiac Signs
Will the Transition Of Mars Affect Your Relationship In The Year 2023?
According to Scorpio horoscope 2023 love and relationship will become more influential with the presence of the transiting Mars, and you may feel overly ambitious, which might result in some interesting meetings with your spouse in March. However, the time leading up to April will be characterised by a wide range of tumultuous or contradictory emotions.
Mars' and North Node's connection suggests that your job issues may cause a lack of balance between professional and personal life. Although there may be challenges, there will eventually be a lot of romantic opportunities. Even though there may be a few problems along the way in the middle of this year, your love life will be wonderful. Ask an Astrologer. First Consultation with 100% Cashback!
However, married couples will benefit from strong planetary assistance. The planets will have a good effect on your personal life as the year goes on. There are many options for married couples to spend quality time with their partners and families during the month of September.
Uncover all Challenges and Unwanted changes in your Life Graph. Get 2023 Reports
Will Scorpio find love in 2023?
Single who are looking for a new relationship might go through difficult situations as indicated by Scorpio 2023 love predictions. The month of July may not give sufficient results because of the transition of Mars in the astrological chart. While the presence of Jupiter may bring new hopes, happiness and satisfaction in the second half of the year.
The celestial influence over the fourth quarter may assist you in making extremely significant choices. Scorpio single love horoscope 2023 predicts that you can put a step forward if you are in a committed relationship. Married folks will find their lives enriched by an abundance of affection.
Around the month of November, single people have a better possibility of receiving the right proposals. The end of the year might be a fantastic time to enhance your bonds with your loved ones.
The effects of Saturn will assist you to identify your areas of weakness and become more conscious of them. You'll work to get better. You could develop maturity and a deeper knowledge of your life and relationships as a result of the effects of the planets.
Talk to an Astrologer Now and Get 100% Cashback on your First Recharge