2021 Horoscope For Sagittarius Sun Sign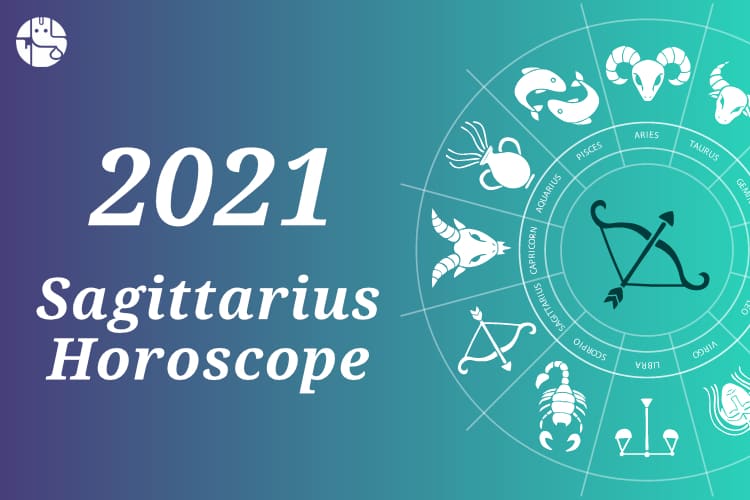 Sagittarius Horoscope 2021: Favourable Year For Your Career & Academics!
According to Sagittarius astrology prediction 2021, the year 2021 is likely to bring many surprises for you. Moreover, there is something for all age groups this year, which will delight one and all. Prosperity, success, and fortune are likely to manifest across the year to please you. There are chances that your education and higher studies may be impressive and fulfilling, says Sagittarius 2021 horoscope. As the year will progress, you may also realize that the luck and divine grace is here to stay.
As per the Sagittarius yearly horoscope 2021, the initial four months of the year are likely to be spent in planning your activities. Energy levels will be high and so is your enthusiasm. There is a high possibility of being meticulous in your action and may also try to leave no stone unturned. According to Sagittarius 2021 predictions, the effects of good planning and execution will be seen for the rest of the eight months of the year 2021. The astrology predictions may differ based on other planetary positions in your birth chart. Access Free Personalized 2021 Yearly Report!
Sagittarius Horoscope 2021: New Connections Are Foreseen!
As per horoscope 2021 Sagittarius, this year may be favorable to expand your social circle. You are likely to be in the spree to meet new people and even new friends. The association with new friends may turn beneficial in the days to come. Moreover, if you are looking out for that one special person who can please your mind and heart, then the chances are high to fall in love with such a special person within the start of the first three months.
According to the Sagittarius astrology 2021, Saturn will transit in the 2nd house of income and family, thus, you are likely to maintain a perfect balance of the two. Work will look interesting as your work may directly lead to a rise in income. Additionally, this may give you a better state in society and shall make you proud of your achievements in career.
Academically, students pursuing Mass media or planning to pursue the same can successfully find their enrolment in one of the reputed institutes in the world through hard work. According to the 2021 Sagittarius horoscope, it may give you the recognition that you have been working for a very long time. The year is also good for students planning to pursue a Master's program in metallurgical science. If writing any thesis on the subject, then your findings are likely to be appreciated and even felicitated.
2021 Sagittarius Horoscope: There are chances of delay in receiving the desired results from your business!
According to Sagittarius horoscope 2021, business and professional excellence may come in a delayed fashion. However, you will see positive results with the help of your hard work and determination. The initial three months may see some review of your past work. Moreover, this may involve brainstorming and even identifying new avenues to explore business. Make sure your business plan is perfect and flawless as your remaining part of the year will see maximum time in the implementation of your plan.
Sagittarius 2021 Horoscope: Stay Cautious About Your Diet!
As per the 2021 Sagittarius horoscope, you are likely to be free from the affiliation of the nodes (Rahu and Ketu). Additionally, the year will be more progressive with regard to health and fitness. You are likely to be conscious of your diet and fitness and this will be visible in your routine activities. Good sleep will reduce mental stress and will make you emotionally more stable and fit, says Sagittarius 2021 yearly horoscope.
Sagittarius Horoscope 2021: You are likely to maintain work-life balance!
According to Sagittarius 2021 horoscope, wealth and property may see a rise in finance through various sources. There are chances that income and expenditure may see an act of balancing your finance, especially in business or self-employment. The conjunction of Saturn and Jupiter is ideal to help you take up most of your time to analyze the sources and verify its feasibility, says Sagittarius prediction 2021. Ganesha suggests you complete this exercise before April 2021 to get the best deal in negotiation. Chances are high that you may easily convince the financial institution of your steady repayment track record to enjoy a good deal. To grab the opportunities coming in the year 2021 at the right time, access your Free Personalized 2021 Report!
Sagittarius 2021 Horoscope: You may face challenges in your relationship!
Sagittarius horoscope 2021 predictions say that native dating each other for long may plan to tie the nuptial knot. This may be a year in which you may face many ups and downs and also, differences of opinion. With the transit of Jupiter into Aquarius sign around April 2021, there are chances of postponing your marriage plan, according to Sagittarius 2021. There are also chances of silly arguments or reasons which can lead to a temporary separation, only to get a patched-up later. Though you can easily patch-up, the response will take time until the end of August 2021. Ego clash should ideally be restricted around this phase.

Sagittarius Finance Horoscope 2021

Sagittarius Love & Relationship Horoscope 2021

Sagittarius Education Horoscope 2021

Sagittarius Career & Business Horoscope 2021

Sagittarius Health Fitness Horoscope 2021

Sagittarius Wealth & Property Horoscope 2021

Sagittarius Marriage Horoscope 2021
With Ganesha's Grace,
The GaneshaSpeaks.com Team
---
Have 2021 In The Bag – Sagittarius Horoscope 2021
This 2K21, it is time to turn the tides around with Sagittarius Horoscope 2021.
A new year brings a new world of opportunities. It is time to come out of our shells and take on the new challenges, at the same time as we devour into the feast of the better times this year may bring. And how about us knowing about both of them well in advance? That is where Sagittarius Horoscope 2021 comes into the picture.
Plan your 2021 better with the help of Vedic Astrology. Prepared by our expert astrologers, Sagittarius Horoscope 2021 is the most accurate indication of what is coming next. What do planets and stars have in store for you this upcoming year? Will it be as good or bad as your last year? Is it finally the year of Sagittarius? Sagittarius Horoscope 2021 has all the answers. Know if the ride of 2021 will be a clear path without any obstacles or a bumpy road filled with ups and downs.
It is well known that planets and their transits, the movement and the positions of celestial bodies affect our lives significantly. They play a big factor in bringing benefits or challenges into our lives. Put in your efforts at the right times with the knowledge of Sagittarius Horoscope 2021, and get all the desired results you want this year. An understanding of your year overall, predictions about your job and career, love and relationships, health, and education are there to help you achieve whatever you have planned for this year.
With all the knowledge, it is time to make better decisions, plan your success, and make 2021 the year 2020 was supposed to be for you. And why stop there? The canvas is blank, and with Sagittarius Horoscope 2021, you have all the colours you need. The sky's the limit!

Day Guide
Comprises of events likely to happen, hourly guidance & precise timeframes

Life Meter
Know the percentages of different aspects of your physical and mental state

Compatibility
Check out how well will your wavelengths with others match
Check Articles For Other Areas Of Life as well: