Wealth & Property Horoscope 2022: Astrological Predictions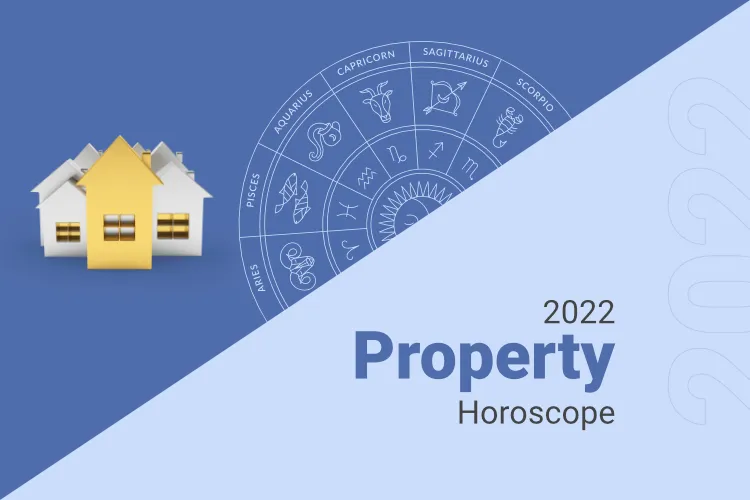 The world runs on money, and everyone who knows something about money knows how time is the money. So if you know about the times ahead, won't you be able to control your money better? Property Horoscope 2022 is here to help you with just that. Property and wealth are very crucial aspects of the society that we live in, and when it comes to critical choices, astrology is always there to help. Making the right decisions at the right time can make a difference of a day and night in the outcome of your expenses and investments.
With Wealth and Property Horoscope 2022, you will have a definite idea about what the planets and their movements have to say about your year ahead. Nobody wants to play blind, especially when it comes to investments like property. With your impeccable research meeting our Astrologers' years of experience, you can plan your year in advance! It is, however, not only about the predictions for the Property Horoscope 2022. You will always find a helpful tip here and there from the astrologers, telling you how you can survive some not-so-good times when they come knocking.
So what are you thinking about? This can be your year with Property Horoscope 2022 by your side. Make the right moves at the right time and own this year in terms of your Wealth and Property, two of the most important factors defining your living standards in the society we live in. With Property Horoscope 2022, this is your chance to up the ante.

Aries Property Horoscope 2022
It may have always been a dream to buy a new building or a new property for many years. However, it would help if you were careful during this time while investing in properties or while making any other form of investment. Play by the rules because if you do so, the odds will be in your favour. 2021 does not foresee a good time for investments or properties in general. So if you have been looking for a new home or new land, try to put it on hold as there may be some delays that may come across this year.
Read More

Taurus Property Horoscope 2022
This would be a phase where you would take the proper steps to build wealth and acquire property. Congratulations on that! Before you sign any paperwork, make sure you read everything thoroughly and adequately. Research everything about the property that you are planning to invest in. Take your time in terms of planning and once you're entirely sure, go ahead and make the deal. Even though the times are favourable, do not take things for granted.
Read More

Gemini Property Horoscope 2022
According to the 2022 horoscope, you may have minor problems with the flow of income. However, if you are well organised, your expenses could be managed. Hence, make sure you maintain a proper budget plan during this year. Hold a meeting with the people you know who are good with finances and make an entire plan for the year. These are the most crucial steps for the year 2022 in terms of income. Once the finances are well-managed, you can certainly use the saved money to buy assets and property
Read More

Cancer Property Horoscope 2022
Wealth creation has always been of prime importance for Cancer natives. Therefore, accumulation of wealth and property or investing for tomorrow is always on the back of the mind of Cancer natives. 2022 would be a dream come true for these natives as there are high chances of buying properties or making investments. Though there may be minor delays that you may come across during this time, you are advised not to be disheartened and continue working hard as time is favourable.
Read More

Leo Property Horoscope 2022
This year may help you bring your finances back in the light, and you may be much happier and comfortable with your financial position. Also, financial stability may help you improve your wealth and prosperity. You may plan to acquire a property, which would improve your fortunes in the days to come. So make sure you know and check everything about the property that you are investing in. Please read all the documents carefully before signing them
Read More

Virgo Property Horoscope 2022
With a considerable flow of money, you may likely make good progress with efficient planning this year. However, in case you are not good with planning, especially financial planning. Take help from your friends or family who are good at it. A thorough and detailed financial plan may help you get a clear idea of how and where you should redirect the money. If an expert makes the financial plan or even if your friend has made it, make sure that you check it before you start implementing it.
Read More

Libra Property Horoscope 2022
2022 is suitable for Libra natives in terms of collecting wealth. The first two months, January and February, are perfect. There may be quite an expense on the maintenance of wealth and property. Also, stay away from taking loans and liabilities during this period, as any loan taken during this period will not be easy to repay. Do not make any risky investments as you may lose your money; the principal part and wealth accumulation could be delayed.
Read More

Scorpio Property Horoscope 2022
This year is going to be exceptionally well in terms of financial condition. As a result, you may experience an enhancement in your economic prospects, says your yearly horoscope. Doesn't it feel great to hear that? You can now sweep off your entire shopping cart, which honestly is overflowing and waiting for you to run your card through to get back home. Now you can take your card out of the wallet and get it to do some cardio.
Read More

Sagittarius Property Horoscope 2022
During 2022, few would be on a roll throughout as gains & growth in financial matters would come very quickly & naturally to you. However, you should keep a balanced view since such substantial & easy payments could bring in compliance in money matters. It would help if you remembered that excellent times come with an expiry date, so your efforts should be on two levels. Hence, ensure that while you go ahead with properties, make sure you read all the documents thoroughly.
Read More

Capricorn Property Horoscope 2022
In 2022, wealth accumulation is likely to be of prime focus. Though money flow may be good this year, building assets, forming a formidable financial position, or even making the right investment may not be accessible, especially in the year's first half. You may struggle to find the right time or the right property, initially and then you would find it difficult to zero down the right property or asset. Therefore, patience would be needed, as you would not be happy with the way life would take up events initially.
Read More

Aquarius Property Horoscope 2022
Each passing year is a good experience for you to earn and make some property. Your interest in accumulating assets can be exciting and shall take you to the proper steps to get earnings and build wealth. 2022 may also be a good time for you to pay the dues and taxes pending for long. By clearing the rights you are supposed to remove, you can earn respect and bring the success needed to earn respect. Try not to be displeased when the plan for the year may see some deviation that can be troublesome for you.
Read More

Pisces Property Horoscope 2022
Despite professional difficulties, there may be some financial problems. Most of them may happen in the second half of 2022, when the financial status may be shifting. It may be connected with the expansion of business or with the financial claims of partners. Speculative activities would be favourable in the second half of 2022. This would enhance your wealth, and you would make good gains. Those who are not involved in the world of business may receive additional wealth in the form of hereditary wealth.
Read More
Your Accurate Personalised Astrology Predictions Are Just A Call Away – Talk To Expert Astrologer Now!
With Ganesha's Grace, The GaneshaSpeaks.com Team
Share Your Problem, Get Solutions