Finance Horoscope 2022: A Year of Minting the Moolah?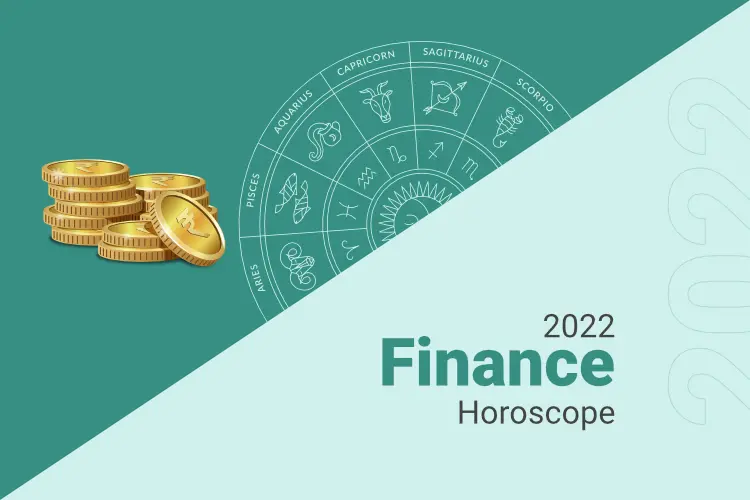 Get the most out of your greens with Finance Horoscope 2022, a comprehensive predictive guide of all things related to your finance. Money is amongst the most important things in life in this day and time, and we are here to tell you how it looks like this upcoming year, with the help of astrology.
Our experienced astrologers are here with Financial Astrological Predictions 2022. Know about your ups and downs in terms of your money and finance. With that knowledge, take the right decisions without any headaches associated with those ever-crucial finance decisions. Making the right moves with your finances brings you peace and prosperity, both instantaneous and long-term. It is your time to make 2022 your year. The right amount of expenses, a sensible amount of savings, and bam! The world is yours.
Have a look at your Finance Horoscope 2022 and manage your finances the way you always wanted to. You can be ready for the days of glory where you go all out with your aggressive financial decisions, and when it's a rainy day, you can sit back and wait for the right time. The best thing about it? You can know it all beforehand, thanks to your Finance Horoscope 2022.

Aries Finance Horoscope 2022
Natives may feel confident by earring from various avenues. As a result, there may be a rise in income and expenditure as well. Thus, there could be multiple reasons for stress for Aries folks. However, 2022 may be a good year for students who are earning their first stipend! The more you invest, the more you would earn through them this year. Also, you would make progress in reaching your goal during the first half of the year. However, duringInsteadecond half of the year, the flow of income can turn erratic.
Read More

Taurus Finance Horoscope 2022
Taurus Natives 2022 may find calm after the storm in terms of finances, as you may be pleased with the way the year may shape ahead for them. They will feel appreciated, and their hard work may reap fruits! The abundance of money may also be generated during the week, but money can't buy happiness. It probably can (or cannot)! But, for the Taurus natives, money may bring joy and peace of mind as they may use this money for a good cause such as charity and philanthropic work!
Read More

Gemini Finance Horoscope 2022
This year may be no less than a blessing for you as far as the finances are concerned. Financially the year is likely to bring good gains to you. Blessing is the right word for 2022 financial status, as regardless of how many obstacles may be in your career, you may never feel the crunch of money. It is the alignment of stars and planets because you may not feel the shortage of funds. Thanks to Saturn in the eleventh house during this time for the constant flow of money.
Read More

Cancer Finance Horoscope 2022
This year might offer mixed results regarding finance and money matters. Therefore, those looking for financial long term solutions are advised to be careful of their commitment. You must understand all the rules and regulations well what the policy means to you. Then, make long terms and evaluate whether you understand the needs well and make that kind of commitment. Each individual has different needs and you cannot tailor your plan by comparing it to your friends or colleagues.
Read More

Leo Finance Horoscope 2022
The financial situation in 2022 for the Leos would be average. However, it is not because you would earn a marginal or a nominal amount. Leos are blessed as they could earn from multiple sources this year, but their expenses may also increase, impacting their savings. Hence make sure that you take financial advice from an expert or your friends who are good with finances. Take financial advice from them and work out a plan which may be apt for you.
Read More

Virgo Finance Horoscope 2022
Considering the good financial status, you may decide to take up or do many pending activities for a long time. Some of you may also plan to renovate your house this year. However, this isn't a good time for real estate and speculative investments on a separate note. So make sure you research the market thoroughly and also see if you must renovate at present or else you could extend it by a couple of months.
Read More

Libra Finance Horoscope 2022
For most of the year 2022, your financial condition seems to be very promising this year. Therefore, you may receive monetary profits during this period. If you are facing hurdles in terms of investing then, try to take advice from the experts. Ask them about how the returns would be in terms of the long and short term investment. In 2022 you might have to cater to the demands of the family as well -  education of children and some social responsibilities would also be there.
Read More

Scorpio Finance Horoscope 2022
The year 2022 is going to be on the mixed side of your financial affairs. If you're planning to start a new business, then the outcomes would be favourable. You can expect some financial gains this year. However, you should be cautious and try to curb all the pointless costs to avoid the economic crunch. Save for the rainy days, make a budget plan, and abide by the program like your holy grail. Plan everything meticulously and try to cut down on your expenses right from the start.
Read More

Sagittarius Finance Horoscope 2022
The year 2022 may continue to remain positive in terms of finances. Your earnings are going to be stable and consistent. The first quarter could bring irregular income, but the rest of the year could remain good. Some of the Sagittarius natives may understand the situation and spend accordingly, and some may spend lavishly. Expenses in the year 2022 may include purchasing household items and appliances, travelling, or renovating your house.
Read More

Capricorn Finance Horoscope 2022
The year 2022 may be no less than a blessing for your financial life. Opportunities are galore for making more money this year. Moreover, the suitability of planets here indicates that you may be ready to work hard to increase the inflow of money for you, and you may get chances to explore some new ways of earning money. Try to commercialise your hobbies or take up a freelancing job that may help you with some extra income to help you sail over this situation.
Read More

Aquarius Finance Horoscope 2022
2022 is a good year for financial matters. You may see multiple sources of income. Profits from past investments are also bright. Since your financial condition is stable, you may spend some amount to fulfil your wants and desires. Home renovation can also be seen on cards. Some of you may feel the pressure of the loan taken for home or studies. Plan to save some amount of money as unexpected expenses can always come up. Be cautious while assisting someone on the financial front.
Read More

Pisces Finance Horoscope 2022
Pisces 2022 finance suggests that this year you may have excess job pressure. This instance can make you a little disturbed. Timely completion of work may affect your earnings and savings for the time being, especially if you are working as a businessman. In case you are a working professional, the stars are telling you to have patience as everything is likely to work out. Pisces 2022 financial horoscope is suggesting that you may also have to bear some debts and additional expenditures.
Read More
Share Your Problem, Get Solutions