Cancer Horoscope 2022: Everything Is The Centre Of Focus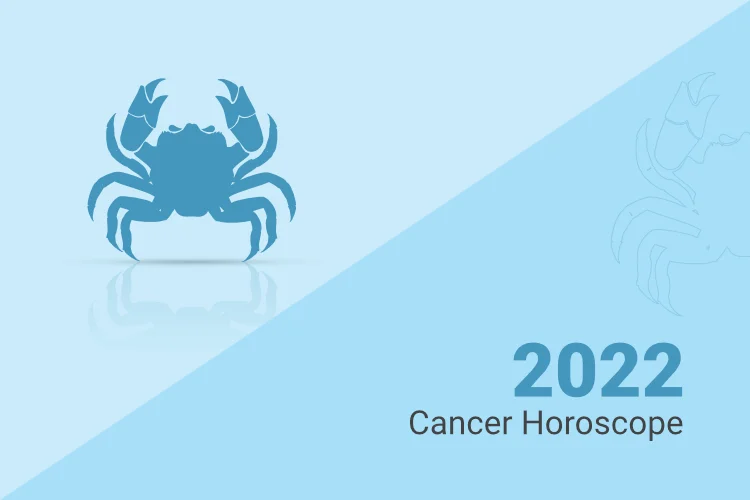 The focus point for the Cancer natives this year may be Personal life, Career, Finance and Property. All these spheres would be integral and essential, as there are quite happening things that would happen in all these spheres of life.
All this year demands from you is hard work, hard work, and hard work, as the year may be rewarding to all those who would work hard and plan to surpass each milestone.
Inaction breeds doubt and fear. Action breeds confidence and courage. If you want to conquer fear, do not sit home and think about it. Go out and get busy. To know about your relationships in the year 2022, access your Free Personalized 2022 Report.
Students Point of View
Students may have to continue working hard on their set goals. It is imperative to focus on academics entirely, rather than socialising or indulging in various other activities.
All work and no play makes Jim a dull boy.
So, do take some time from your studies, but try to use that time to develop your personality or develop your hobbies and interests.
You are also advised to manage your time between academics and extracurricular activities wisely. For example, try not to study in a group, as studies may be hampered, and time would be spent in chilling and chit-chatting.
Instead, try to study by yourself, as you'll be more focused, and you may even complete your syllabus fast.
The year may be rewarding all those who would work hard and plan to surpass each milestone.
"Learning is the only thing the mind never exhausts, never fears, and never regrets." – Leonardo da Vinci, inventor and polymath." Overcome your fears with the detailed
Cancer Education Horoscope 2022.
Small and Achievable Goals
All the Cancer natives are advised to set small goals and work upon them. It is said that thinking small is the secret to enormous success.
Setting small goals gives you both long term vision and short term vision. It helps you organise your time and resources accordingly. Even better, when you set small goals, you accomplish them faster, and the accomplishments boost your confidence and help you progress more quickly.
Cancer natives could be pretty content with the year 2022, as compared to 2021.

Revisit Investments
Investments may be relooked by most of you. However, this may be a year for those who had to use their assets in the past to replenish their investment once again.
Therefore, this would make you wise in all your money management. The only advice is to stay away from speculative investments. Unfortunately, this would not help you much this year.
Include investments in the financial plan that you create, as that may help you get a clear idea about the assets and how much you should invest. With Cancer Property Horoscope 2022, get better insights into your investment.
Feel And Sniff The Breeze of Love
You would be happy to find the support of your spouse or from your partner, especially in the ones in a long term relationship.
2022 may bring in the freshness of love, so feel the breeze and sniff the air, as love is everywhere.
You both may finally feel good to let go of the past issues. This year may bring a breath of fresh air to the relationship.
So, make the most of this time, try to plan romantic dinners, make plans to travel to the most romantic or insta worthy places. The world is your oyster's lovebirds! Have a look at your detailed Love Horoscope 2022 for a wonderful love life.
Let's make it official!
This time is so beautiful for the Cancer natives that they can even consider getting married if they look to take their relationship to the next level.
Marriage is also on the cards for natives dating each other. But, of course, your family and parents would also support you.
However, if there is any opposition from your parent's end, do not lose hope as you need to be persistent in your efforts and continue fighting for your love.
Your parents wish you the best of everything. However, if you convince them and let them know that this is your true love and who you want to get married to, They may understand and let their guard down. Let your parents better understand your feelings by your detailed Marriage Horoscope 2022.
Health is a boon, Care for it.
In terms of health, you are advised to be cautious. Those who had any ailment in the past and the same relapsed are advised to be careful this year.
No doubt planetary alignment supports a good treatment, but then as it's said, prevention is better than cure.
A regular check-up along with medication would continue to be helpful. This would also prevent you from suffering from any severe ailment.
You would have to be more careful in all walks of life. Further maintain a good diet, as this would help your health and fitness this year. Never compromise your health; refer to your Health Horoscope 2022 to gain better clarity.
Everything should be in Black and White.
Finally, when it comes to procuring wealth or even building assets. This year is likely to give you everything required to accumulate property or acquire some help.
You have been planning meticulously for a long time, enabling you to achieve what you would like to achieve.
You are advised never to deal with property or assets if you feel something is dicey in it.
Make sure the documents, paperwork are crystal clear. Make sure you have everything in writing rather than verbal confirmations.
You may pay a huge price for this. Never be on the wrong side of the legal provisions. Make sure your documentation is perfect this year. Also, find the correct path by referring to your Wealth & Property Investment 2022.

Your Accurate Personalised Astrology Predictions Are Just A Call Away – - Talk To Astrologer Now!
With Ganesha's Grace,
The GaneshaSpeaks.com Team
Share Your Problem, Get Solutions