Gemini Horoscope 2022: Everything Is The Centre Of Focus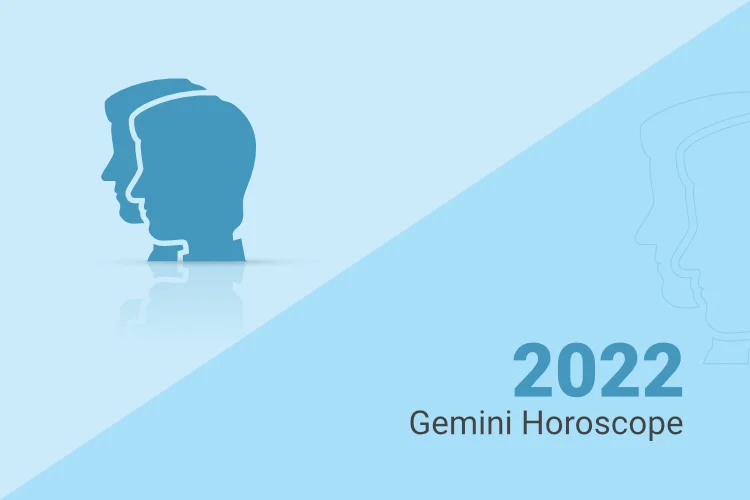 A unique year is awaiting you in 2022. This is a year where you would be more action-oriented and chase your dreams one after another, just like an endless sky. After each month, you would set up a goal and follow the same relentlessly, which may be something that you lacked in the past, and we're working towards it.
Finally, you may reach a point where you may implement everything that you learned in the past.
Planning is one of the most effective tools in the process of development and progress. Planning makes you more focused and clear in achieving your target. It also helps in achieving your goals effectively. It gives us a direction to where we are headed and also makes us accountable to finish it. To know about your relationships in the year 2022, access your Free Personalized Report.
Horoscope 2022 Gemini: Humble and Famous
Along with planning, you may direct all your other skills to the right goal in life. But make sure you remain humble throughout your life.
The higher we are placed, the more polite we should talk.
Try not to be overconfident with your achievements; instead, be more humble. Since your achievements are growing, there may be a lot of eyes set on you. You may start living life out of dreams, so you want to set a great example of being humble and down-to-earth even after having achieved tons.
So try to be kind, grounded, and approachable as people around you may need your help in achieving their goals. Try to take them under your wing and assist them thoroughly.
Gemini 2022 Predictions: Monetary Benefits
In terms of finances, the year 2022 may get mixed results for Gemini natives. The start of the quarter may bring a sudden rise in income. This would be followed through investments and revenue-generating asset-building exercises. But once you cross the second quarter, you may see a rise in your expenditure. The flow of income may be stable, but the outflow of payment may be high and disturbing.
Save for the rainy days, make a budget plan and abide by the project like your holy grail. Plan everything meticulously and try to cut down on your expenses right from the start.
Avoid any unnecessary expenses, especially luxurious items. Also, try to avoid shopping for unnecessary things or which you don't need at present; this includes your impulsive buys as well.
In case you are not good with planning, especially financial planning. Take help from your friends or family who are good at it. A thorough and detailed financial plan has to be in check as crucial times call for essential measures. To better understand your finance, read Gemini Finance Horoscope 2022.

Gemini 2022 Horoscope: Silver Lining
Every cloud has a silver lining, and your silver lining may appear from the start of the third quarter, as slowly your financial condition may show marked improvement.
You would be in a position to make some extra money through various avenues and even through disposing of an old property.
You can also try to earn money from various other avenues. Try to commercialise your hobbies or take up a freelancing job that may help you with some extra income to help you sail over this situation.
Try to choose work that you love doing as it could be like a refreshment to do what you love when you have controlled yourself in terms of expenses and other refreshment activities.
Therefore, the year may have many supporting factors for you and shall enable you to balance your finances wisely with sound money and support in your family.
Even after the tight money situation is over, don't spend lavishly. You can treat yourself for being so diligent with your financial plan but try not to let all ends lose.
Gemini 2022 Horoscope: Connecting Love
A desire to develop a relationship with someone close to you may be high this year. As each month passes, the urge to find someone important in your life may grow. You may feel like filling the relationship void that currently exists.
When you truly wish for something, the entire universe conspires for you to have it. Thus, you may find a partner in the second half of the year. It may take some time, and you may feel it is forever. But, you would unknowingly connect with someone who would emotionally embrace you and shall also give you the support of being an essential partner in your life. Learn more about your love life with your detailed Gemini Love Horoscope 2022.
Gemini For 2022 Foresees Marriage on Cards
People around you would be pleased to see you beaming in love. They may be happy that finally, the void has been filled.
You may always be on cloud nine to find someone truly so fascinating.
Love for you is like poetry or spring with all things around you lush green, warm weather, butterflies flying, flowers blooming.
The glow that you emmitt may become the talk of the town!
You may give your everything to the relationship that is newly brewed. Times are looking up in your favour, and marriage may be on the cards soon.
The initial courtship period has to be endured by the lucky couples. Also, mid the year you may feel happy in love and may even get married. Refer to your Gemini Marriage Horoscope 2022 to get a detailed glance of your married life.
Shoot For The Moon Advices Your Gemini Education Horoscope 2022
Studies may bother Gemini students who are in school. Their preparations for the year may remain average. However, the undying spirit in students may not give up as they would work even harder on the areas they have been lacking.
This is the spirit that everyone should learn from suggests your Gemini education horoscope 2022
Shoot for the moon; even if you miss, you may land amongst the stars.
These efforts may improve your learning performance and shall also give you the required confidence in your life.
Progress is Certain As Per Gemini Horoscope 2022
2022 is suitable for those working hard in pursuing their master's or even Bachelor's. Progress is looking assured.
However, don't take anything lightly; keep on working hard and keep your spirits high. Your studies and preparations should not lack focus and hard work.
Ensure you revise your portion throughout the year and not study just a few days before the examination. Continue your hard work and refer to Gemini Education Horoscope 2022 to avoid challenges.
Gemini Predictions 2022: You Are What You Eat
As per the horoscope prediction of 2022, you must be very careful about your health. Take utmost care of your diet and exercise regularly this year.
The months of June, July, September, and November 2022 indicate a rise in your weight-related problems. You would feel sad with this as you would not know how to control your weight, despite lots of effort and hard work. So, make sure you are careful of your health around this time.
The other form of ailments could be in a controlled condition. Also, refer to Gemini Health Horoscope 2022 so that you may avoid major health issues.
Investments – Yay or Nay Hear It From Gemini Forecast 2022
As the earnings for the first and third quarter of the year may be good, you would be interested in building up your assets and even buying a property. But the challenging part would be to work on the areas of driving the initial source of money. The money you would have to earn through and invest may take up some time to materialise and purchase the property. Read Gemini Wealth & Property Horoscope 2022 to have a better understanding of your investments.
Your Accurate Personalised Astrology Predictions Are Just A Call Away – - Talk To Astrologer Now!
With Ganesha's Grace,
The GaneshaSpeaks.com Team
Share Your Problem, Get Solutions