Career Horoscope 2022 For All Zodiac Signs - GaneshaSpeaks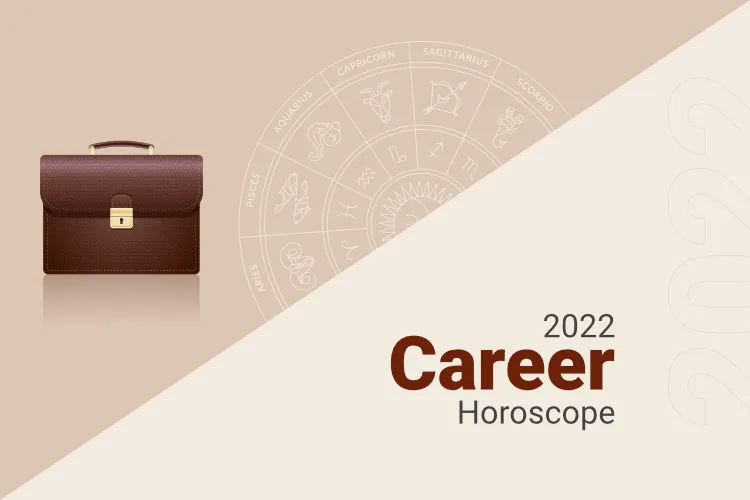 As we welcome 2022, one must not forget the times these past two years have brought to us. The economies are recovering, and it feels like the sun is shining just the right amount! However, the issues of bread and butter are very crucial for most of us. Career and Business are two of the most important aspects of today's life, and therefore, it is no surprise everybody is always either anxious or curious about them.
Well, good news! The Business and Career Horoscope 2022 is here to calm your nerves. A big jump, a career change, a new venture, or even a new field of work; whatever you are looking at, we have it covered. Your Career forecast 2022 is your look into the year ahead in terms of your career. Your Job Horoscope 2022 will tell you a lot about what's waiting for you at your workplace. A new colleague, a new project, your relationships with your seniors and subordinates, yearly Career Horoscope 2022 has it all.
A great career move will help you live a happy and prosperous life. This 2022 career horoscope based on your zodiac sign will help you achieve just that! Know in advance about both the good and not-so-good times and make the most out of them. When it's supposed to be going great, you can fly high. In times that are not so favourable, you can lay low and wait for your time to come. Let astrology help you with just the right information you need to move ahead. So what's the wait for? Access your Career Horoscope 2022 now!
Aries Career Horoscope 2022:
2022 is a mixed bag when it comes to a career for the Aries Natives. To one end, progress may be made for those who work hard and have vast connections. But, on the other hand, the people who live within the formality of a 9 to 6 job would see nothing special. This year is all about going out and about. Your work should scream volumes for you! Try to take the initiative within your team, and also take some extra additional responsibilities.
Read More
Taurus Career Horoscope 2022:
The year may be suitable for natives who have been planning to start their own business or activities. Their efforts may lead to better results, and this would enable you to improve your fortunes. Make sure you make a firm decision on what kind of business you would like to start. Do a proper market analysis, check and study about your competitors. Before you start your business, make a concrete plan and spend a reasonable amount of time planning.
Read More
Gemini Career Horoscope 2022:
This year, most of you are likely to win over your enemies and competitors. Your efforts and body of work may speak for you. Your competitors would be in awe of your work ethics and talent, owing to which your reputation may increase. However, a lot of hard work and effort may be required to attain that degree of satisfactory outcomes. It may be best to exercise caution when dealing with your lady clients. Try not to get into arguments or fights and maintain a healthy working relationship.
Read More
Cancer Career Horoscope 2022:
Natives of Cancer Zodiac signs may face issues in their profession during the initial months of 2022. As per Cancer Horoscope 2022, the planetary positions are not very favourable in terms of career. However, due to the planetary positions, you may come across a lot of tricky situations at work. You may have issues or rifts with your colleagues and seniors. They may not support you under any circumstances. We advise you to not worry about the current situation.
Read More
Leo Career Horoscope 2022:
In 2022, you are likely to do quite well in your professional life as the planetary positions seem to be in your favour this year. So, this may remain at the top of your career. Isn't that brilliant news!It is time to cherish this time and make the most of it. Pay more attention to your work in the year 2022, and plan the maximum and most critical professional opportunities this year, as positive results are high.Hence, take up new initiatives at work and profession. The industry is likely to bring rewarding results.
Read More
Virgo Career Horoscope 2022:
This year is suitable for your career and income! You may get new work opportunities after May 2022. So, make sure you prepare thoroughly and make sure you are at the top of your interview game. Take classes on how to improve your interview skills, or you could also watch videos on Youtube. Hone your Interview skills, upscale your knowledge and grab that opportunity by its neck. But it would help if you didn't decide based on an impulsive approach; else, you may regret it later on.
Read More
Scorpio Career Horoscope 2022:
The year 2022 appears to be an average year for the Scorpio natives in terms of Career and Business.You're advised not to invest a considerable amount into your business because chances of getting desired outcomes are almost negligible. However, if you're planning to change your career line, in that case, we would suggest you start a new job with proper planning and calculations. Also, before you do that, consult with the expert in the field that you are planning to move to.
Read More
Sagittarius Career Horoscope 2022:
In 2022, the planetary positions may bless you with immense strength, which may help you perform better on the work front. In addition, if your seniors have entrusted you with additional responsibilities, you may have the strength and the talent that may help you fulfil those responsibilities properly. You may even have the power to lead and take on all added responsibilities that come with leadership.
Read More
Capricorn Career Horoscope 2022:
In 2022, the first half of the year, you would have to make crucial decisions, take responsibility, develop the business, and get additional acquaintances. According to the yearly career horoscope, your connections with overseas partners would be valuable and beneficial; however, cooperation may not be smooth. The turbulence in the relationship may bring a lot of trouble in the 2nd half of the year.The key for you to resolve this matter is patience.
Read More
Aquarius Career Horoscope 2022 :
In 2022, students may get many opportunities to make progress in their studies and academic careers. They may ace their entrance exams and complete them with hard work, sincerity, and diligence. Students doing primary education may feel confused and distracted from their studies. When you feel distracted, please wait for a second, understand the reason for the distraction and try to take some action for it.
Read More
Pisces Career Horoscope 2022:
Pisces career horoscope 2022 says that you are likely to shine brightly. Being content is one thing, but striving to achieve more can be your secret recipe for success. The stars suggest you should never stop hustling and aim for the sky. Pisces career in 2022 shows that the outcomes are likely to be in your favour, and this year is gonna be a truly inspiring one. You may not know dear Pisces, but you have the ability to make decisions that can help you advance your goals.
Read More