Sagittarius 2022 Horoscope:- Endless Possibility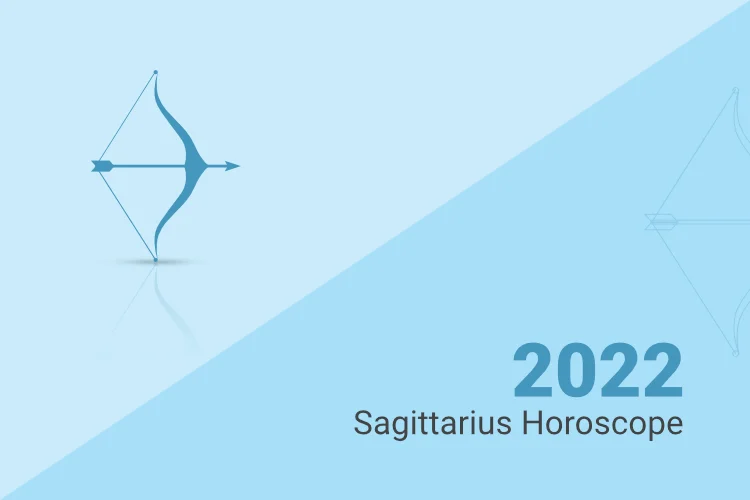 When the year 2022 is discussed for the Sagittarius folks, then the following possibilities or points may need to be remembered. First, your ability to experiment may make you capable of sorting out a budget as per the new scheme. This means finance may be one area which you would undoubtedly control at the right time. Thus, your financial position may be more stable and even robust.
This may come after a lot of hard work you may have put in over the last year. Now that you are in this position, you can go ahead and plan trips for some time now. You can start looking out for new destinations. Is it a beach or mountain holiday, or would it be a luxury vacation or backpacking trip? This may be a piece of fresh news for the Sagittarius, as everyone knows how much you archers enjoy travelling. To know about your relationships in the year 2022, access your Free Personalized Report.
Sagittarius 2022 Horoscope:- Bust Off the Stress
At work, you may win the appreciation of your superiors. Hence as advised earlier, stay away from office gossip and only focus on your position and performance.
Management is on your side, and you may need to work to maintain that balance with your colleagues and your seniors. Your seniors may appreciate the extra work that you have put into your work and for the organisation.
Hard work never goes unnoticed. It may take days, months or even a year, but the due credit comes along. Your talent may be recognised and shall be rewarded. In addition, your personality is likely to make a difference in your life.
2022 for Sagittarius:- New Year Gets Love
This year, your aim with cupid's arrow is incredibly on target, which means love and romance is on the cards, and you are likely to enjoy the beautiful phase in your life. Know more about your love life with Sagittarius Love Horoscope 2022 for better understanding.

Horoscope Sagittarius for 2022:- New One
You may become witty, generous, endearing, charming, making you always playful and intensely alive. This may be your vibe for the year 2022. Since you may be all fun this year, everybody may love being around you and feel like being in your company. And without a doubt, most of you may possess an irresistible sense of humour and immense charm.
With this love kind of personality and vibe, you may even find love. And it can happen with the most stimulating partner with whom you can share your mental interest. You both may love travelling and even talking about travelling. This would mean that you may always be travelling and roaming. You may be a couple always on the wheels and living outside your suitcase.
Your fun-loving nature and keen sense of humour may make you attracted to beauty and harmony. You may also be a target of attraction for others. As a result, you may find yourself a central figure in some parties or public gatherings.
Further, your peculiarities, which were a source for others to make fun of you, may bring some advantages for you this year. You may finally take command of your distinctiveness and may eventually convert it into strengths – a standout.
2022 Horoscope Sagittarius:- Work Out The Changes
Time is apt for you to work out the changes you intend to implement on projects you are undertaking. You may attain financial and physical support from the sources you expect.
Horoscope Sagittarius 2022:- Marriage is a Possibility
Marriage is possible for those who have been engaged with each other for a long time. Finally, you can start your marriage preparations in full swing. Be it shopping, decorations, food menu and list.
Sagittarius folks who may have broken up may reunite with them. You may think of rekindling your relationship with them again. Therefore, you would enjoy the support of time, which is likely to culminate in support of each other this year. Refer to Sagittarius Marriage Horoscope for more detailed insights into your marriage life in 2022.
2022 for Sagittarius:- Wish And You May Get It
Before you both get together, it may be a good idea to talk about things. Also, if you're hanging out for the second time or it's your second date, it'll be a level up for you to talk about the changes you both want in a relationship. So, make sure you put your thoughts out there in the open, tell your mate what you're passionate about, what you want from life and a relationship because you might get it or get more of it than you ever possibly thought.
Oh, and a word of advice, don't take things or people for granted – because it might happen to you even if you had put in a lot of effort in the beginning.
Sagittarius Horoscope For 2022:- Get Some Fresh Air
Seek out some time from your busy work and spend a year or two with your dear one. A journey to some beautiful place may act as a booster for your fading relationship due to the lack of romantic moments. For a long time, you would have been avoiding your artistic talent. Now it is time to brush off the dust and take it out.
Pick up that hobby that you have kept away a while back. It could be painting, pottery, or even any instrument, etc. Start working on your pursuit, as that would give you some mental peace. Your search for mental happiness may be pursuing your hobbies once again. Spending time with things you enjoy may provide you all the satisfaction that you long and deserve. Of course, it may bring a new stimulating mood to your life.
A trip with your near and dear ones may lead you to some thrilling moments. Family trips may be something which you have always enjoyed and always looked forward to. This would be no different, you would want this one as well, and it could also go on the list of the best moments of your life.
This trip may also help everybody in the family do away with all the fights and disputes of the past and be happy moments. So utilise this opportunity without wasting it. Enjoy it, as these are not the ones you get often. Access the Free Personalized 2023 Report to know what the stars have in store for you.
2022 Sagittarius:- Other Things
An unexpected approach from a random person may make your days harmonious. The year 2022 may also be good in terms of property and wealth. The folks who have been planning to own a property or buy and accumulate assets may get a chance to finalise everything and call the property theirs. But confused about whether to invest in property or not? Refer to your Property Horoscope 2022 for better insights.
These are some achievements that may take you far away in your personal life. Of course, life has all good moments, but some moments would need the support of enduring the challenging moments.
Your time is slowly going to improve your destiny and fate in the days to come. This would be your moment after a long gap. For those who have been looking for higher studies, initially, this year may be slightly disappointing. However, the last quarter of the year may bring better results and depend upon your efforts and preparation for learning. So, plan your year accordingly. Also, have a look at Sagittarius Education Horoscope 2022 for any doubts.
Sagittarius Money Luck 2022 Is Splendid
The year 2022 is going to be on the positive side of your financial affairs. Your earnings may be stable and consistent. This is the result of the hard work which you put in over the years. Finally, your hard work may be paid in terms of monetary benefits. You may earn a lot in 2022. Finally, you can give a green signal to all the work that was pending because of money.
In fact, along with getting done with all the pending tasks. You may also be able to start saving money or even make investments. You may need to be a bit alert during the first quarter of 2022 as it could bring some of the issues with regular income, but the rest of the year may have an excellent flow of revenue, says Sagittarius Finance Horoscope 2022.
Sagittarius 2022 Finance:- Spendings
You may purchase certain household items and appliances during the first half of the year. Because of this, the first few months may make you spend more than you expected.
Curate a financial plan that may be apt for you to follow the financial plan and handle your expenses as per the plan.
Your yearly Sagittarius finance horoscope 2022 also says that you may control your expenses to an extent and not splurge or spend. That is a good decision that you have taken as this may help you manage your finances exuberantly. Try to curb spendings for the first half of the year. At the same time, also take care of your health. Health should be your priority, refer to what your Health Horoscope 2022 says about your health trend in 2022.
Daring Adventure or Nothing at All
You like travelling, exploring and this year you may spend money on it. Travelling is one of the things which is ingrained in Sagittarius blood. Travelling is what keeps the Sagittarius going. They can go on in life without shopping or any other luxurious items but not without travelling. One of the many good qualities of the Saggi is seeking adventure. They cannot be stuck in a place where there is no experience or thrill. Even at the workplace, they may seek to do things differently.
Sagittarius can be any traveller. They can be backpackers and could be luxurious travellers as well. For them, "Life is either a daring adventure or nothing at all" ~ Helen Keller.
You can invest in the second half of the year to get better results, says your Sagittarius 2022 finance horoscope. So spend wisely and save some amount of money. The money saved can also be used in case you come across any unexpected expenditures. For those who lack dynamism in their career, this year may be average for your economic status.
Some of the Sagittarius may develop a habit of spending recklessly on useless things. You may need to take care of this. Even though your income may rise this year, do not spend on things that are not required. Follow a financial plan as mentioned above. If you want to splurge, definitely do it only after keeping aside the savings.
You may spend an unusual amount on the renovation of your house. Furthermore, there may be some expenses on repairs of an old vehicle.
The period from the middle of the year is suitable for investing money in share markets. However, you are advised not to invest money in real estate. Instead, try to check out various other investment avenues that are available for you.
First, list down the option that is available and then invest. Do not blindly follow the trend.
Ancestors Property
You are likely to receive some of the shares of property that might belong to your ancestors.
You can take a bank loan after mid-year if required. Jewellery store owners and jewellery designers may make a lot of money this year. Further, A financial plan may help you materialise and handle your financial portfolio with an ingenious strategy.
Hence, do take it seriously and, if possible, start planning right from the start of 2022 as it may help you throughout the year, and you could handle the financial hurdles in a better way.
Planning is bringing the future into the present so that you can do something about it.
Planning helps you get more stability in your financial life, says Sagittarius Finance 2022. The influence of tough financial decisions may keep you in a strong position on the economic front. But confused about your financial planning? Refer to Sagittarius Finance Horoscope 2022 for in-depth planning.
Suppose you have enough money you ought to spend a little on your personal needs too. So, go ahead. You may also donate money to some charitable organisation. This time is also suitable for buying household essentials, the ones that are expensive too. You may be able to maintain a good balance in your savings and expenditure.
Your Accurate Personalised Astrology Predictions Are Just A Call Away – - Talk To Astrologer Now!
With Ganesha's Grace,
The GaneshaSpeaks.com Team