2021 Horoscope For Cancer Sun Sign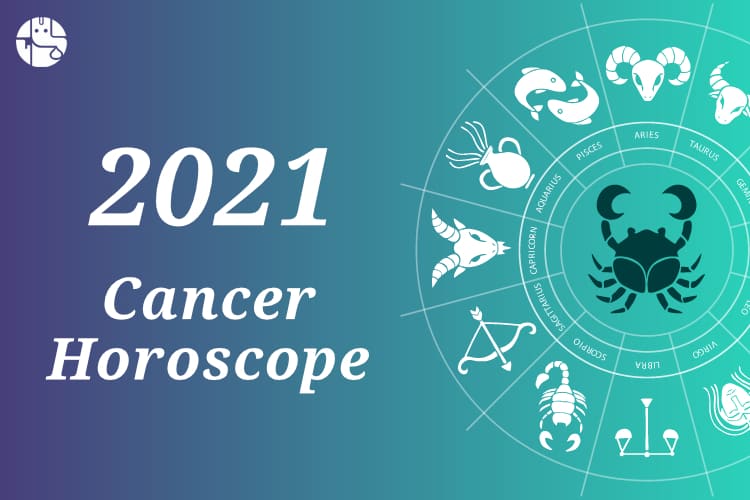 Cancer 2021 Horoscope Shows A Challenging Year Ahead
A year that will start on a sluggish note. 2021 as a year will be slightly challenging for natives of Cancer zodiac sign states of the Cancer horoscope 2021. The transit of Saturn in Capricorn and its hash aspect upon your sign will be difficult to sail through. But Saturn is known to reward hard work and efforts. Therefore, all those Cancer zodiacs sign native willing to put in their sweat are likely to improve their fortune. At the same time, Jupiter will be transiting over Aquarius that will contain the impediments, however will-not completely put a pause to the same. It would be important to continuously work hard and make new fortunes. Access your Free Personalized 2021 Report. Know whether your hard work will pay rich dividends in the year 2021.
With the advent of 2021, the year will see a continuous rise in income as per Cancer horoscope 2021 predictions. As Jupiter is an aspecting income house of Leo and this will be the reason for improving income for the year. You will see the cash balance improving and this will enhance your fortune. However, the aspect of Saturn upon your sign from Capricorn will make you see an increase in expenditure. You will also see an increase in expenditure due to the transit of Jupiter through the zodiac sign Aquarius. Make sure that you do not rush up to any temptation and spend without looking up to the matter on hand as per Cancer 2021 horoscope.
Cancer Horoscope 2021 Shows Misunderstanding With Your Partner
Considering the personal and romantic life of the Cancer native, the year will be slightly challenging as misunderstandings will be the reason for fights as per Cancer yearly horoscope 2020. Saturn in the house of a partner and its aspect upon your sign will be the cause of misunderstanding. More so in the middle of the year starting from May till September 2020 as per the Cancer 2021. Around this phase, Saturn will also aspect the house of romance and love which will lead to continuous fights and personality clashes. You are advised not to be harsh and firm upon your point of view this year as per Cancer astrology prediction 2021.
Having touched the issues of romance and love, other areas of life should also be analyzed. Such as education and academics. The year 2021 will demand more effort from students. Do not expect the support of luck to enhance your fortune as this will take away your scope of securing good grades. Again, the year is average for skills that enhance learning through formal education. You can however, take up vocational learning to improve your knowledge as you will put your knowledge in regular practice. This will enable you to improve your working knowledge for days to come, showing Cancer astrology 2021.
Cancer Horoscope 2021: You Will Get Stability In Your Career
With knowledge, the urge to earn money via a proper career will also be high this year. Cancer natives who have been looking for stability in their careers will find one. There will be more work and less time for leisure. You will be putting double efforts to make yourself felt within your company and organization. This effort from your side will give you success and elevate your position. Further, the year needs caution for those who have been looking to work on partnership business. Saturn aspecting your sign will not let you progress easily. Misunderstanding can be high and you will have to put them to rest amicably, states the Cancer 2021 yearly predictions.
Along with a good career, health is also important and this is one area where Cancer natives will have to be careful. As Saturn is in its own house, it would make you quite sluggish and shall not let you enjoy a good sleep. Tension and worry will be there, in accordance with the 2021 Cancer horoscope. However, the good part is that the transit of Jupiter upon the sign of Aquarius will contain any serious ailments this year. This will come as a relief on your health front.
Finally, the year will see a good accumulation of wealth. But wealth creation can happen only with the proper usage of money. Again, married life will see some disturbances, if you are already married. But thankfully Jupiter's transit on the Aquarius Zodiac sign will enable some support from elders who will enable mediation and resolve differences of opinion. If you are looking for a partner for marriage, you should ideally wait for some time to settle down permanently as seen in the Cancer 2021 horoscope. Access the Free Personalized 2021 Report! Know about your marriage.
2021 Cancer Horoscope: An Overview
The year 2021 will not begin on a very good note. You may face several challenges which may be quite tough and difficult to deal with. The transit of Saturn in Capricorn and its hash aspect upon your sign will be difficult to sail through. However, things will get better with the passage of time. You are likely to get moderate to high success on various fronts of life as per the findings from Cancer horoscope 2021 predictions.

Cancer Finance Horoscope 2021

Cancer Love & Relationship Horoscope 2021

Cancer Education Horoscope 2021

Cancer Career & Business Horoscope 2021

Cancer Health Fitness Horoscope 2021

Cancer Wealth & Property Horoscope 2021

Cancer Marriage Horoscope 2021
With Ganesha's Grace,
The GaneshaSpeaks.com Team
---
Be On The Up And Up – Cancer Horoscope 2021
The year 2020 was full of unusual times crushing the expectation of many. A new shift in jobs, organisation, and education was observed. The retrograde of Mercury, Venus, Saturn, Jupiter, shadow planets Rahu and Ketu changed the sign, rare conjunction – Jupiter and Saturn closest to one another, and 6 eclipses shake things up throughout the year.
Time to turn the tides around in 2021. Say goodbye to 2020 setbacks with your Cancer Horoscope 2021! An eventful year is awaiting which promises to breath fresh air. The year starts with three major conjunctions having a lot more potential to serve you in all areas of your life.
A complete understanding of good and not-so-good times that 2021 may bring. Fellow Cancer pals, we know you rely on your intuitions. It's time to be more rational and structured. With 2021 Cancer Horoscope analysis, all-in-one predictive guide, you can now stop that perpetual overthinking and relax a bit with the knowledge of what is coming up this year. Plan for the year and own it in style, with your Cancer Horoscope 2021!
Benefits of 2021 Cancer Horoscope
Insightful preview on the imminent events in 2021
Predictions about the opportunities and challenges ahead
Impact of cosmic events on all areas of your life
Expert Guidance to tackle the situations that are beyond your control
Uncover 2021 Cancer Horoscopes help you to see situations from different angles and tackle in the best possible way. Instead of going back to square one, have an extensive idea about all the favourable times, challenges, and precautions to be practised in 2021 to make a strong comeback and ace the testing time. Explore your 2021 Horoscope written by expert astrologers trained by Shri Bejan Daruwalla.

Day Guide
Comprises of events likely to happen, hourly guidance & precise timeframes

Life Meter
Know the percentages of different aspects of your physical and mental state

Compatibility
Check out how well will your wavelengths with others match