Will Virat be as great as Sachin? Virat Kohli Vs Sachin Tendulkar Statistics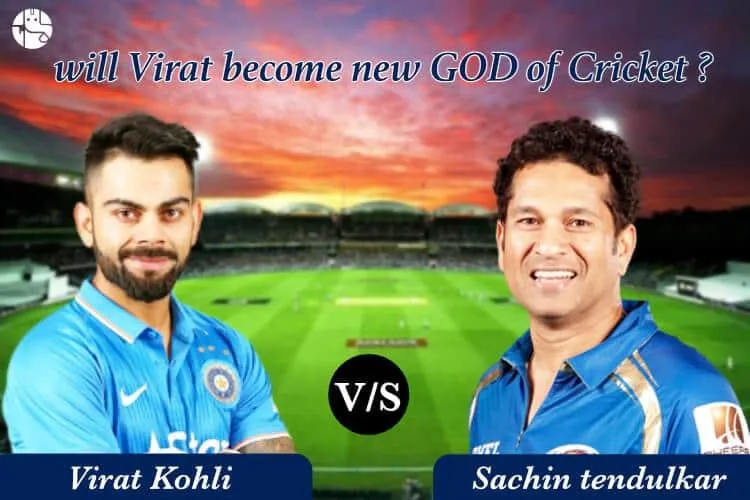 Will Virat be as great as Sachin
The right-handed top-order batsman Virat Kohli's career shot the first sixer in 2008. He had led India to victory in the Under-19 World Cup at Kuala Lumpur. Later in 2009, in Australia, he dominated the field with his batting skills against all kinds of bowling attacks. In 2011's World Cup, when the team lost its openers quite early; he scored 83 runs rescuing the team from pressure. This also helped Dhoni lay his platform for his 91*. In 2011, in Australia, he faced a lot of challenges due to his low stance on the bouncy pitch. However, in the third test, he gave an overwhelming performance and scored 75. This proved his ability and skill set to adapt to challenges. Later, he went on the rampage of making runs in ODIs and became the highest run-scorer for 3 successive years – 2010, 2011, 2012. He also won the title of ' ICC ODI cricketer of the year' in 2012. The gifted cricket player is also known for his aggressive batting style, as he is always hungry for the runs. At Adelaide, as MS Dhoni had to take a break because of his injury, Kohli was made captain temporarily for the first time. Later, he continued his captaincy in Test cricket. In 2016, he shocked everyone by scoring 973 runs and created a record for scoring the most runs in the history of IPL. Hailed as the strongest ODI batsman of his generation, he now leads the Indian team.
---
Birth Chart:
Birth Date: 5th November 1988
Birth Time: 10:28 AM (Unconfirmed)
Birth Place: Delhi, India
Virat was born in the Sagittarius ascendant and Virgo Moon sign. Currently, he is under the influence of the Rahu major period and sub-period Mercury which will rule till September 2020. Rahu is placed in the 3rd house of courage and Mercury is the Lord of the 10th house of career and it is placed in the 11th house. The signifier of sports, Mars is also well placed in the 4th house in the friendly sign. Also, there is an exchange of signs between Venus and Mercury. All of these planetary combinations are contributing to the grand success that he has achieved over a period of time.
---
Will Virat Kohli break all records made by Sachin:-
Virat is very hardworking and he is able to keep his head cool in most of the adverse situations in the game which has helped him in exceeding the expectations. His planetary combinations have given him exceptional abilities and he always tries to exceed his own expectations. He has received many appreciations from the other cricket legends as well. He is often compared with Sachin Tendulkar, where the headlines are often 'Virat vs Sachin'. Virat Kohli vs Sachin Tendulkar statistics shows that Virat scored 10,000 ODI runs in just about 205 innings compared to Sachin who reached this mark in about 259 innings. His chart has the potential to break the master blaster Sachin's record as well.
Planetary combinations of Virat will help him in continuing his legacy as a legend in modern cricket in the time to come. He will be able to inspire Team India and other players in achieving their ultimate goals. He will go a long way and he will continue to play for Team India and will climb the ladder of success and will take the game of cricket to the next level. What turn will your career take this year? Will you get the deserved promotion or face challenges? Get your personalized career report for 1 complete year now!
---
Kohli's fitness will continue or is he injury prone
Currently, the transiting Saturn is aspecting the natal Mars which is the signifier of sports activities and Sun which is the signifier of health. These planetary combinations are making him injury prone and he will have to be careful in this regard while practicing and playing. Fitness issues may also arise in the time to come and he will have to take proper care of his health.
Virat Kolhi will continue to shine and may Lord Ganesha bless him with all the success!
To Get Your Personalized Solutions, Talk To An Astrologer Now!
With Ganesha's Grace,
GaneshaSpeaks.com
---
---
Get 100% Cashback On First Consultation