Know Future Prediction of Sania Mirza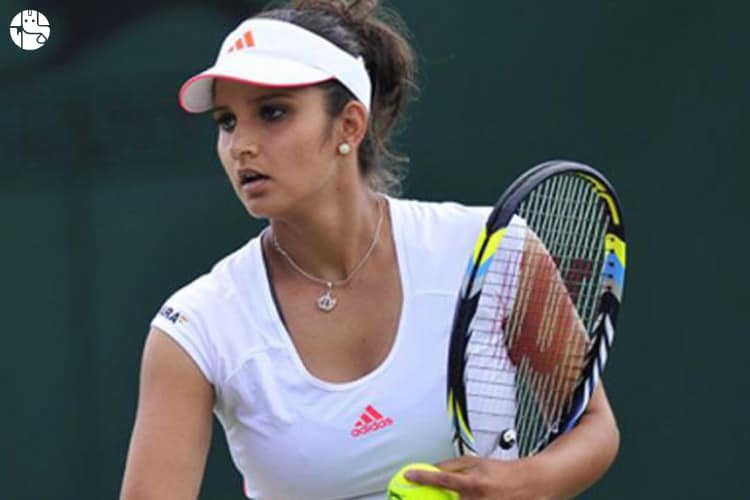 Known for her aggressive attitude during matches and splendid performance in the court, this tennis queen needs no other introduction. Yes, she is none other than Sania Mirza Malik. She was born on 15th November 1986 in Mumbai, Maharashtra. Her father was Imran Mirza and mother was Nasima Mirza, who were very supportive of her decision to play.
The woman who has made India proud not once but numerous times is going to celebrate her 33rd birthday on 15th November, Friday. After being gifted with a baby boy, Izhaan Malik last year, she is now all set to return to her ruling territory – the tennis court, in 2020.
The Tennis Sensation
Sania Mirza can be undoubtedly called the Tennis Sensation of the nation. She started playing tennis at a young and tender age of 6 years, under her coach and father Imran Mirza. Her contribution to Indian Sports has been the greatest motivation and strength to all the aspiring athletes, especially females. She is one of the highest-paid athletes of India and also India's highest-ranking female tennis player in singles as well as doubles.
In her career span of almost two decades, Mirza has witnessed many highs and lows in her performance, but this Hyderabadi girl never gave up. She fought back with the spirit of a wounded lioness every time and emerged victorious, even after facing great criticism.
Sania's stars in her Kundli
SURYA KUNDLI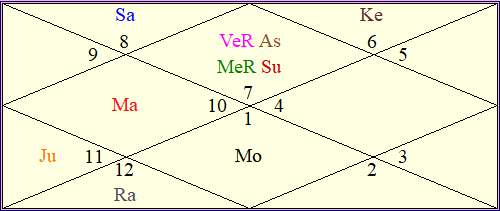 Astrological Analysis
Sania's stars possess immense strength, which is making her tennis career life progressive and goals' achiever. Mars is positioned in the 4th house, filling her with the aggression and it is aspecting the Moon. The beautiful relation of aggression and mind control the aggression and makes her able to apply this positive energy in the right direction to hit the ball like a thunderstorm.
On the other hand, Rahu is posited in 6th house. It is the house which is seen for the competitions. Rahu being here makes her competitive, she fiercely chases the game and makes them win due to the benefic effects of Rahu, that's why her opponents become speechless after her tennis shots.
The positioning of Saturn in the 2nd house, deliver its auspicious effects in the form of making her a strategic planner. Due to Saturn's effects, she plans her game strategically and flips the game in her favor. She knows perfectly how to win the game and she is born to win, thereby, she is one of the best performers at the tennis court.
Sania Mirza's Tennis Career Ahead
The transiting Saturn over to its 3rd house, indicates many more achievements during the year 2019, whereas the post-January 2020 brings all-round happiness and success in her life. Overall the year 2019-2020 is going to be the most productive year for her career. During the year 2019-2020, she will remain under the powerful and benefic effects of Saturn and Jupiter, and both of these slow-moving stars are going to be the game-changer in her life. Both of these stars will align to bring success to her life. She will gain momentum and achieve desired success through her positive efforts.
During the post-January 2020 period, Jupiter will remain in her 2nd house and Saturn will be in the 4th house. Since both are favorable houses, the perfect combinations of houses and planets will give all-around success to her life. Winning ahead in the national and international games in on cards, moreover, something new can be expected from her, somehow she will surprise her fans by endorsing some fashion and health fitness business-related proposals.
Image of Personal-Life
Sania is having a perfect blend of qualities to deal with every areas of her life with perfection and gentle care. During the year 2019-2020, she will have a happy domestic life, she will enjoy lovable moments with her husband and infant son. The positive effects of Venus fill her life with happiness and joy. The positive impact of Venus helps her to maintain the positive vibes at her domestic front and this quality makes her a perfectionist in all aspects.
Her sensible approach and positive attitude will support her to fulfil responsibilities towards the nation as well as the family. Somehow, her tiresome responsibilities would make her overworked. Therefore, Ganesha advises taking care of her health also to maintain the constant flow of energies.
Good Wishes from your Fans!
The world has been missing Sania's performances at the tennis court ever since she went on maternity break. Now that she is ready to start her game, we wish for her victorious career and happy motherhood too. On your birthday, we wish you break many more records of others and your own too. Keep playing and winning. You are the face of Indian Women in Tennis. The nation is proud of you!
Ganesha wishes good luck and a bright tennis career and happy personal life ahead.
To Get Your Personalized Solutions, Talk To An Astrologer Now!
With Ganesha's Grace,
The GaneshaSpeaks.com Team