MS Dhoni Horoscope: Sports, Business, & More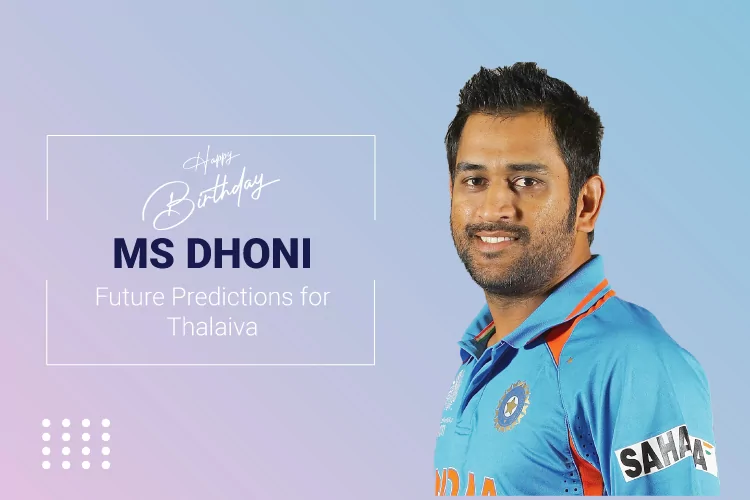 India's most successful wicket-keeper batsman and India's most successful captain is none other than Mahendra Singh Dhoni. He holds the record of ICCs most precious trophies in the world, such as World T-20 in 2007, World Cup in 2011 and Champions Trophy 2013, which has been achieved only by him. Dhoni, popularly known as Mahi, is also the highest wicket-keeper ODI scorer for India. He is widely known as one of the best finishers of all time in cricket history. In the IPL, he holds the IPL trophies 3 times for CSK.
So what makes him so special and so different from others which created his own landmark in international cricket. Coming from a small town and becoming so successful, let's reveal what is in MS Dhoni horoscope.
---
MS Dhoni Horoscope By Date of Birth
Mahendra Singh Dhoni: July 07, 1981.
Time of Birth: Unknown.
Place of Birth: Ranchi.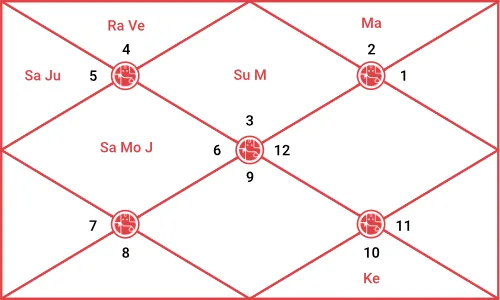 As per Mahendra Singh kundli, he is born as Sun in the sign of Gemini, which makes him a very charismatic and joyful person. His soul significator Sun in Gemini, always makes him smiley and funny in any situation. Mercury is placed in its own house, and Gemini again makes him very witty and fluent in speech. His horoscope has the auspicious Budh-Aditya Yoga, which makes him a very bright and intelligent person. Rahu and Venus conjunction makes him a very passionate person and wealthy. He is one of the richest cricketers of India. This conjunction is very much beneficial for name and fame. Taurus's Mars makes him practical and grounded, which reflects every time in his personality, as per MS Dhoni Horoscope.
What's in the horoscope that will give you success? Get Janampatri and a detailed report as well.
So, what the year 2023 holds for Mahi and what we can expect from him in the upcoming period, let's discuss it.
---
MS Dhoni Horoscope: The Year 2023 & Ahead
As per Dhoni horoscope, Saturn transit over natal Ketu will not be that good for him as it will give mixed results. However, Saturn transit will be very much helpful to reinvent itself and build a strong foundation for the future. Divine Jupiter transit in Aquarius will bring luck this year. Rahu transit over natal Mars will bring his fiery and passionate nature for cricket in 2021. As he is going through Jupiter, mahadasha, which has just started, will bless him with relaxation and calmness. He will be in his comfort zone this year which will reduce the stress and feel happy.
---
Health Of The Mahi In 2023
As per MS Dhoni horoscope, his health will be on top gear during this year. His health will be far better than in 2023 as Jupiter transit will be highly beneficial for health this year. Rahu transit in Taurus over natal Mars can create some health problems as Ketu is also transiting through the Sixth house. However still, Jupiter mahadasha will reduce the ill effects of transit as dasha will be very favourable for Mahi and will be able to protect him during this pandemic for sure. He can start new things to maintain his health.
Also Read: What's in for Sachin Tendulkar This Year 2023!
---
New Business Ventures Mahi
Yes, from this year, we will definitely see some new business investments from Mahi. Jupiter transit in the fortune house will bring a lot of positivity in his life, as per MS Dhoni Horoscope. Saturn transit will also help him to do something unexpected this time. He will try to study and will surely bring something for the new business. This will surely be very surprising for us. Mars will be the key factor in his life as the transit of Mars will give him that necessary push this year. Very favourable Mercury transit in Cancer, Leo and Virgo will make him a very creative and expressive person as well. Jupiter mahadasha will bring very positivity to new business ventures, which will also help for a solid foundation.
How will my career and business be during this year? Get Detailed Career/Business Report 2023.
---
IPL and Dhoni, What Is Stored In Future?
This year will bring some unexpected events in Dhoni's life for the IPL. His approach will be very different for IPL this time as Saturn transit will bring some up and down this year. Jupiter will all around bless him to go ahead as this transit will help to turn fortune for CSK this year. Venus and Mars transit in MS Dhoni Horoscope will be very good this year as this will help to increase his leadership quality as well. We will surely see some different strategies for CSK, which will bring many new things from him even though his future is far brighter in upcoming years as he is going through Jupiter mahadasha, which has just started. Jupiter dasha will bless him with many more successes in the future for sure.
As per the horoscope of Dhoni, this 2023 is very good for Mahi, even better than 2022. There are a lot more things that are going to happen in his life that will bring some of the most amazing output in his IPL career. Even though after retirement, there is a far better time ahead for him which will surely keep him investing his time in cricket. We can expect a lot many new things from him in upcoming years. That's the Mahi way.
We wish Mahi Dhoni a very Happy birthday and lots of success ahead!
Want to Lead a Celebrity Life? Consult Our Top Astrologers Now!
With Ganesha's Grace,
Astrologers trained by Shri Bejan Daruwalla
The GaneshaSpeaks Team
---
---
Get 100% Cashback On First Consultation