How will Mohammad Azharuddin play his innings in politics?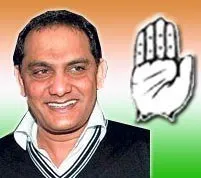 Scoring a superb cricketing career with 22 centuries in Test cricket and seven in ODIs, Mohammad Azharuddin, India's former right-hand batsman and right-arm medium pace bowler, has exemplified himself as a sportsman.
Azhar, as he is fondly called, entered the world of cricket as a stylish and reliable batsman. It was a delight to watch this former captain's clever batting, which sent the ball heading like a bullet to the boundary.
Azharuddin scored his first century in the three consecutive Tests he played for India. With 103 ODIs and 14 Test matches that India won under his captaincy, he is one the most successful skippers the team has had. Banned on account of alleged match fixing charges, Azharuddin made a hasty retreat from cricket. At that time, he was short of one match in his 99-Test match resume.
Azharuddin joined the Congress Party on February 19 to contest the 2009 Lok Sabha elections from one of the three constituencies in Hyderabad. With his foray into politics, he has turned a new leaf. Ganesha astrologically explores the chances of his success in this field.
---
ASTROLOGICAL ANALYSIS
Born with a Virgo Ascendant, Azhar is bound to be hard-working and ambitious. A cluster of planets have an influence over the 4th, 5th, 10th and 11th House. The 4th and 5th House represent feelings, ambitions and intimate relationships. With debilitated Mars in conjunction with Moon in its own sign Cancer, his relationships with persons of doubtful integrity came under a cloud.
Saturn, the Lord of the 5th House, which represents position as well as intimate relationship, is combust in the 5th House. As a result, Azharuddin is likely to get carried away when he occupies a high position. This trait was responsible for his downfall as captain of the Indian cricket team. His second marriage to actor Sangeeta Bijlani also brought him negative publicity. He was stylish at all times, both on and off the pitch.
Saturn currently strolls through Leo in the 12th House and, in turn, crosses over radical position of vibrating Uranus and mysterious Pluto. Azharuddin is currently under the last phase of Shani 'Sade-Sati'.
Besides, he is under the influence of Sukra (Venus) Antardasha (sub period) in Mahadasha (major period) of Chandra (Moon). The Lord of the 4th and 7th House, Jupiter, is debilitated in Capricorn and transits through the 4th House. Around election time, Jupiter transits through Aquarius in the 6th House. The Lord of the Ascendant and the 10th House of Karma, Budh (Mercury), gets retrograde from around 7th of May till the end of the month.
In view of these astrological findings, Ganesha feels that if Congress gives Azharuddin a ticket to contest, he has very little chance of winning a seat in the Lok Sabha elections. However, owing to his conduct, he is likely to be surrounded in controversy. On no account will he prove to be an asset for the party. In fact, because of his dubious alliances, his presence may tarnish the image of his political bosses in the long term.
May Lord Ganesha bless him with right thinking and good company.
Will the planets make your coming year bright? Buy 2023 Detailed Yearly Report and know the answer.
With Ganesha's Grace,
Bharat Trivedi
www.GaneshaSpeaks.com
---
---
Get 100% Cashback On First Consultation