Can Rahul Gandhi Revive The Diminishing Fortunes Of Congress? Ganesha Will Tell You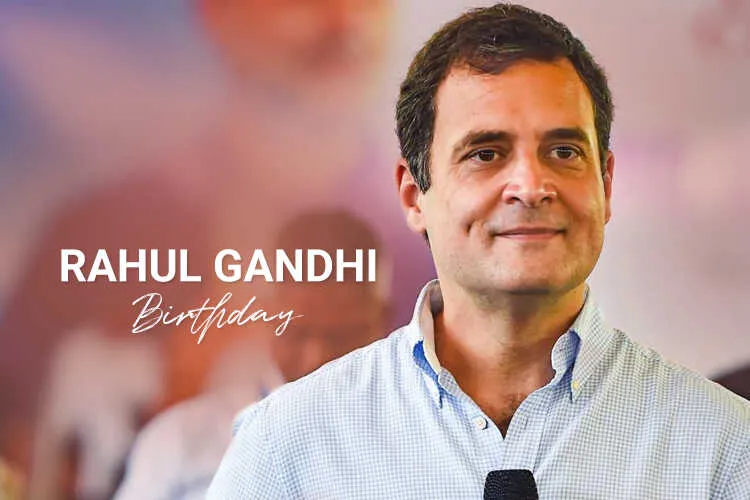 Indeed, Rahul Gandhi is born with a silver spoon in his mouth. He is one of those envied leaders who can reach the top more easily than others and change the national scenario. However, presently he is finding it difficult to even rejuvenate his own party, the Indian National Congress (INC). The big question doing the rounds is whether he will be able to revive the sagging fortunes of Congress and once again capture the national imagination. Well, Ganesha has analysed his horoscope and predicted his future. Read on to know more:
Rahul Gandhi
Date of Birth: 19 June 1970
Birth Time: 2:28 pm (Unconfirmed)
Place of Birth: New Delhi, India
---
Rahul Gandhi Surya Kundli
---
Sade Sati Phase Will Present More Challenges
Saturn is in the mid-phase of its Sade Sati in his horoscope. This means his fortunes in matters related to politics and health may get affected. This phase may not deliver anything great to him. In other words, the situation may stay challenging for Rahul Gandhi, in the time to come. He may at the most get mixed results during this planetary phase as per the predictions as per his birth chart. Rahul Gandhi's career is full of challenges.
Do you want to know your future? Buy the 2023 Career Report, and control your destiny.
---
Additional Responsibilities May Add On To Stress
Besides, Rahul Gandhi is now the Congress Party President. So, his added responsibilities and hardships may put additional stress on him according to Astrology. He may encounter several instances of strong disagreements with others in public life. These developments are likely to affect his efficiency. This may result in him not securing the much-needed success.
---
Patience And Discipline Will Help Him
At the same time, Saturn transits the 3rd house. This signifies he will need to put up huge efforts and concentration to carry forward his organisation. If Rahul Gandhi is able to move ahead in this manner, he is likely to get some level of success. Thus, the onus for the rise of Congress lies on Rahul Gandhi. Congress' revival will also depend on whether the support of Hardik Patel yields rich electoral dividends.
---
Extreme Caution In Communication Required
On the other hand, he may face some difficulties in his communication with others, more so in public affairs. Rahul Gandhi will need to be very cautious while taking any strategic, important decision or else it may boomerang on him.
---
Counsel From Experts Needed
In view of this development, Rahul Gandhi should seek advice and take the counsel of experts or seniors in this matter. He will be better placed if he takes advice from wise people. This is all the more important as he speaks against popular leaders like PM Narendra Modi. His challenges are likely to get lessened if he follows this message from the planets.
---
Success In Gujarat Elections Unlikely
As for Gujarat elections, his strong and sincere efforts may not bear the much-desired fruits. This is so as Jupiter is malefic in his horoscope. As Rahul Gandhi is under the influence of Jupiter, he may not be able to showcase his abilities and his performance may not be up to the mark. Elections are often prestige issues for parties. Elections also generate revenue and finance. Are you interested in knowing more about your financial future?
---
Should Try His Best To Keep The House In Order
Rahul Gandhi will need to put all extra efforts now as the new party president. Rahul Gandhi will need to pursue his goals to rejuvenate Congress much more fiercely. He may also face confrontations with his own party members during the 2nd half of 2023. He will have to work hard to keep his house in order.
To Get Your Personalised Solutions! Talk to an Astrologer Now, First Consultation with 100%
With Ganesha's Grace,
Malav Bhatt,
The GaneshaSpeaks Team
---
---
Get 100% Cashback On First Consultation