Finance Horoscope 2023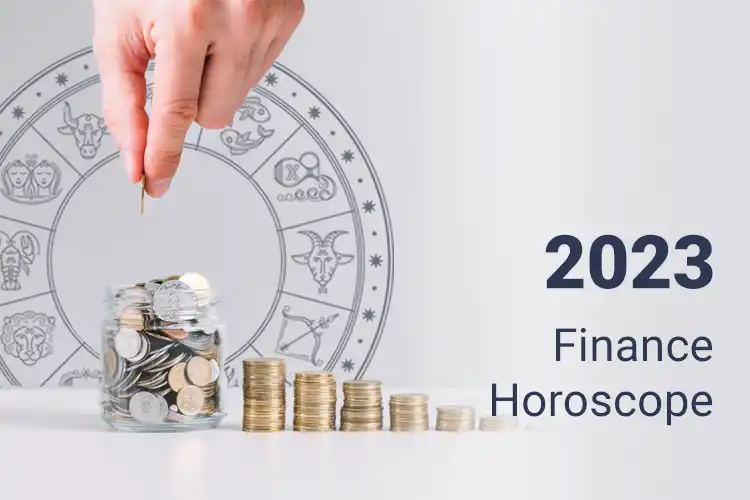 Aries Finance Horoscope 2023
By the influence of Jupiter and Rahu, there may be spending on marriage or business-related work. Those of you who are salaried may expected increment during the second quarter. This is due to the blessings of Lord Jupiter. Overall, this year is going to give mixed result on money matters. Jupiter blessings might be there to give you a better growth, enhance your savings and financial supports form a family as well, but all will depend on how you plan your finances for short term and long-term keeping in mind your priorities. Due to the effect of Saturn, you may not gain easy success and gains from the share market. It is advised to do more research, analysis and follow expert advice for investment and trading in stocks. Though, if you are planning any investments for a longer term, you may be blessed by Saturn.
Taurus Finance Horoscope 2023
This year seems to give the fulfilment of desire related to money as well as finance which might help you to attain what you want. The last phase of this year shows some planetary movements which seems to give financial shortage. Thus it is advised to you to have a proper plan based on priority and it is also important to save money so that you can manage the financial work with expected savings. It also seems like some unplanned expenditure might hit you so it is important for you to manage your finances as suggested by Taurus 2023 financial horoscope. Blessings of Jupiter are with you and might give you good support of luck in terms of money. You might also get the right intelligence to make the proper investment in the second quarter of this year.
Gemini Finance Horoscope 2023
Overall, this year Jupiter is ready to fulfil your wishes related to money and finances as indicated by Gemini Financial Horoscope 2023. There may be multiple ways to get financial benefits this year, so you need to be careful with your efforts and approaches. You need to do proper research and analysis before making any kind of major investment. Some of you might get new jobs and promotions which might improve your financial condition, suggests Gemini Money Horoscope 2023. There may be new business plans that might bring economic benefits, but in the early stages you need to be careful about your investments, as shown by Rahu and Jupiter. As Rahu and Ketu state, stock market and equity-related investments might turn out to be risky. Therefore, proper investigation and analysis is required to handle finances efficiently.
Cancer Finance Horoscope 2023
Saturn can delay achieving expected financial gains in the first quarter. Families and properties may bring you financial gain, but you have to be patient and make each step with patience and with all verification. It is possible for some of you to acquire foreign property or land. While Mars can give you financial expenses, it can also give you financial gain from traveling related to your job, business, and publishing. Business owners who deal with machinery or manufacturing can expect a boost in financial and business growth. Just try and go with the flow and make sure you do not over-commit.
Leo Finance Horoscope 2023
This year Saturn advises you to avoid digging into your past mistakes and start working on your projects and work. Your health can suffer from unnecessary negative thoughts. As indicated by the movement of Mars and Rahu, you should avoid aggression. By practicing regular meditation, you will be able to protect yourself from the damaging effects of Mars, Rahu, and Saturn which can make getting a good night's sleep difficult as well as affect your health.
Virgo Finance Horoscope 2023
In the first quarter, there may be financial gains from business-related work and financial support from your spouse. In the first phase between January and March, those of you who are independent professionals can also earn from your clients. Some of you might encounter a delay in getting financial assistance from your family, so you need to be patient. Some of you may spend money on buying a vehicle or repairing your vehicle. As indicated by the tough movement of planets this year, some of you might suffer financial loss as a result of making a bad decision in the first quarter. Regarding major investments and financial decisions, it would be helpful to get some expert suggestions.
Libra Finance Horoscope 2023
The year seems to be quite favourable for your finances as well as money related matters. In the beginning of this year, you need to clearly decide all your financial goals so that you might be able to manage them well. Saturn seems to demand you to have a solid plan and manage finances as per Libra Finance 2023. There is a possibility that the money that you have earned might get a new dimension. The transiting Venus indicates that there is a possibility of some accidental events which might take place. This might probably disturb your financial position in the beginning. Get your free yearly report 2023 and use that to operate with a clear strategic financial plan.
Scorpio Finance Horoscope 2023
The transition of planets indicates a prosperous start of the year for Scorpio Finance 2023. You might expect to get some good rewards from your old investments and it's just because of the blessings of Jupiter. But, the impact of Nodes might not be supportive due to which you might face some complicated issues as the year advances indicate Scorpio Finance Horoscope 2023. It might also demand you to have a solid plan. Managing Finances isn't a simple task as it needs management in an appropriate manner. Thus, it is advisable to manage everything in a proper manner. Things seem to improve further after mid of February.

Sagittarius Finance Horoscope 2023
In the beginning of the year, Jupiter and Venus seem to bring very positive vibes for you as regards to finances. Sagittarius Money Luck 2023 indicates numerous opportunities which seem to come your way. Your efforts seem to be rewarded accordingly and that might motivate you to strive even harder. Everything might begin to drift towards the positive picture and you might receive better results. However, some old issues regarding your assets might come your way and you might demand attention around the month of February. You might not find the desired level of success in your financial planning around the middle of this month as suggested by Sagittarius Finance 2023.
Capricorn Finance Horoscope 2023
In the beginning of this year, you might get great support from Jupiter in matters related to your education, says Capricorn Education Horoscope 2023. As the year advances the impact of Nodes might bring in a lot of disturbance and hence you might not be able to focus well. However, Saturn indicates that you might face stiff competition due to which you might have to struggle more before getting desired results in the studies. From the month of February, you might get ample opportunities to study new skills as suggested by Capricorn Student Horoscope 2023. There might be a variety of knowledge and mental stimulation as indicated by Mercury.
Aquarius Finance Horoscope 2023
Aquarius Finance 2023 shows an improvement and good returns by old investments in the latter half. It is advisable to take maximum benefit at that time period.
In the beginning of this year, Jupiter might bring some good earning opportunities for you. You just need to consult with an experienced advisor, before you undertake any new investments. Timely guidance might help you to make appropriate decisions. As the year advances, Saturn might test your money management skills. Though you know how to manage your money and make it work for you, some unexpected issues might test your skills and patience. Around the mid of February, the impact of Nodes indicates that you are likely to face several difficulties on the financial front as per Aquarius Financial Horoscope 2023. Gradually, planets might make you able to find a realistic understanding of your financial status and future goals. A good Financial management is important to get desired results. Expenses need to be cut down and proper Financial management needs to be looked upon. Important Financial decisions need to be taken only by consulting experienced people or some family members.
Pisces Finance Horoscope 2023
Pisces Finance Horoscope 2023 gives you materialistic gains. Be positive in matters related to investments.
This year is likely to bring some good opportunities which might strike some good financial deals, suggests Pisces 2023 Financial Horoscope. You might be able to enhance your financial growth. But, as the year progresses, there might be some tricky situations to face. You need to handle matters related to finance or investments much cautiously, suggests Pisces Finance Horoscope 2023. Your financial status might improve gradually from the month of February. Your optimistic planning might boost your financial prospects. However, you might need to accept new challenges as Saturn might not allow you to get the desired success so easily. Around the month of March, you might face some pressure on your financial status due to some unplanned expenses according to Pisces 2023 Finance. Due to the blessings of Jupiter, your income might improve and it might also help you to resolve some pending issues regarding your property or other assets. But Saturn would demand careful steps in regard to financial matters. Finances might be managed by effective planning and for that you might need expert Advice. You might Consult an Astrologer for Free to know how to efficiently manage your Finances.
Share Your Problem, Get Solutions
Check Articles For Other Areas Of Life as well: