Celebrate Vamana Jayanti and show your devotion towards the Vishnu Avatar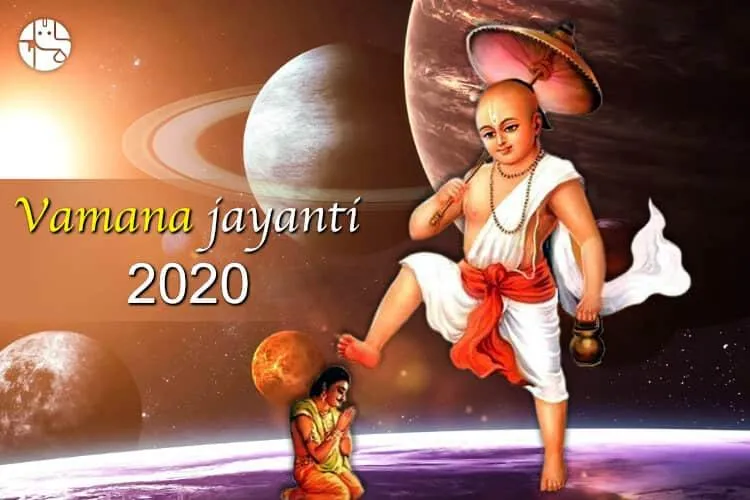 As per ancient Hindu scriptures, Lord Vishnu is said to take birth in the form of Dashavataras or 10 incarnations to save the man from evil and bring peace, prosperity, love, and happiness all around. One such incarnation of the Lord is Vamana – their 5th Avatar.
The 1st four incarnations of Lord Vishnu were as animals – Matsya the fish, Kurma the tortoise, Varaha the boar, and Narasimha the lion. Treta Yuga of the 4 Yugas marked the period in which Lord Vamana was born according to the Bhagavad Puranas. Vamana was the first embodiment as a human. Rishi Kashyapa and Goddess Aditi gave birth to Vamana on the day of Dwadashi during Abhijit Muhurat at the time of Shravana Nakshatra.
Hence, Vamana's birthday is celebrated as Vamana Jayanti. This day is also named as Vamana Dwadashi due to being celebrated on the Bhadrapada Shukla Paksha Dwadashi.
Also Read: Know About Kalki Avatar, the Upcoming Avatar of Lord Vishnu
---
Vaman Jayanti 2023 Dates
Vaman Jayanti is observed on the day of Shukla Paksha during Bhadrapada each year. The date for Vaman Jayanti this year is the 26th of September, 2023, Wednesday.
---
Vamana Jayanti Story – About Vamana Jayanti
Lord Vishnu was born as Vamana Avatar to reinstate the rule of Indra Dev on Swarga Loka. King Bali was a big admirer of Lord Vishnu, but dethroned Dev Indra and instead put himself on the throne of Swarga Loka. Though Bali was a bountiful king and phenomenal devotee of Lord Vishnu, he was brutal and arrogant. He used his powers in front of the Gods and Brahmins to spread terror. This misuse of power on Gods and those similar to humans made him the unbeatable king. Bali grew his empire to rule over not just Swarga Loka, but Bhu Loka and Patala Loka as well.
Indra, from whom his own kingdom was snatched, went to Lord Vishnu for aid, accompanied by other Gods. Lord Vishnu gave his word to Indra Dev and said that He would incarnate in the home of Aditi and Kashyapa as their son – a dwarf Brahmin and save the 3 Lokas from king Bali's ruthless behavior.
To conclude his pledge, Lord Vishnu took birth as Vamana in the form of a dwarf monk. He went to King Bali, who was conducting the Ashvamedha Yagya. In alms, Vamana requested Bali to give him 3 strides of land, which was granted by the latter. Soon after that, Vamana turned into an enormous being. He then placed his 1st step on the entire Earth, and the 2nd step on heaven. As he went to take the 3rd stride, Bali recognized Lord Vishnu in the dwarf monk, and for the 3rd step, he surrendered his head. Seeing this devotion and goodwill of Bali, Lord Vishnu stopped from killing him, and instead granted him the reign to Patala Loka (the underworld). The Lord also gave a blessing to Bali that he could come to Earth and meet his natives once a year. Onam festival in Kerala is the same day on which king Bali returns home every year. Whereas his homecoming is celebrated in other parts of India on the day of Bali Pratipada.
What Will You Do In Your Life? Get Access To the Premium Junampatri Report.
---
Vaman Jayanti Puja Vidhi and Rituals
On this auspicious occasion, Lord Vishnu is offered prayers in his Vamana Avatar. It is believed that if Vamana Jayanti occurs during Shravana Nakshatra, it's importance and blessings multiply in people's lives. Below rituals are followed on this day:
This pious day begins with people offering food, curd, and rice to the Brahmins, as doing so on Vamana Jayanti is considered to be highly sacred.
Early in the morning, an idol of Vamana made of gold or clay is worshipped by doing Panchopachara or Shodashopachara Puja.
Chanting of several mantras along with Vishnu Sahasranama is done.
During the recitation of Lord Vishnu's names, devotees light diya, incense sticks, and offer flowers to the idol or photo of the Lord.
Vamana Jayanti Vrat Katha or story is read and listened to by the devotees in the evening. They then pray to the Lord and offer Prasad, which is then taken by everyone.
Fasting is also done by devotees, which is broken after the Katha in the evening.
May the Lord bless you all and remove all the evil from your life. Celebrate Vamana Jayanti with immense fervor and happiness to gain lots of love and a prosperous life. Happy Vamana Jayanti!
To Get Your Personalized Solutions, Talk To An Astrologer Now!
With Ganesha's Grace,
GaneshaSpeaks.com
---
---
Get 100% Cashback On First Consultation