Kojagiri Purnima 2023: Date & Rituals for Kojagiri Lakshmi Puja 2023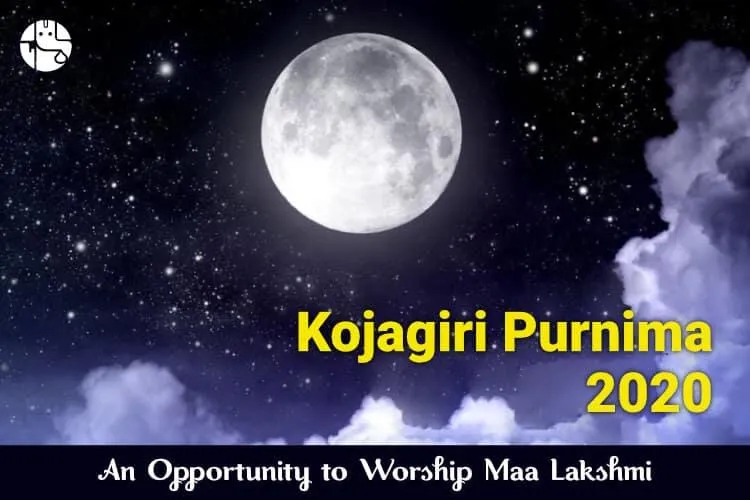 ---
About Kojagiri Purnima 2023
Kojagiri Purnima (or Kojagiri Poornima) is a day dedicated to Goddess Lakhsmi. The day is more commonly known as Sharad Purnima. As the name suggests, it falls on the Purnima (full moon) of the Ashwin month of the Hindu Calendar, the day also denotes the end of monsoon. It is a festival celebrated more in the states of West Bengal, Odisha, and Assam.
In some parts, it is also known as Kojagori Lokkhi Puja or Bengal Lakshmi Puja. It usually falls in the September/October month of the Gregorian Calendar.
For most parts of India, Lakshmi Puja is also done on the day of Diwali, which falls on Amavasya (new moon) of the Ashwin month.
---
Importance of Kojagiri Purnima Puja
As we mentioned, the Kojagiri Purnima is the day that belongs to Goddess Lakshmi. She is seen as the goddess of prosperity and good fortune. On this auspicious day, it is believed that Maa Lakshmi visits its devotees and blesses them with good luck, wealth and prosperity. Chanting mantras and stotras dedicated to goddess Lakshmi is thought to be rewarding. To invoke blessings from the Goddess, Lakshmi Puja must be performed correctly with a recital of Sri Suktam. Our expert pandits can help you perform an online, hassle-free Lakshmi Puja exclusively for you, from the comfort of your home.
Maa Lakshmi is believed to have emerged from the legendary 'Samudra Manthan' and chose Vishnu as her consort. She is the goddess of the goals (Lakshya, where her name comes from) to be achieved in one's life.
Some also follow a Jagran (night vigil) on Kojagiri Purnima or Sharad Purnima, believing Maa Lakshmi will visit their home in the night and will bless them with prosperity. Through the night, devotees sing Artis, Bhajans, and Praises of the goddess.
---
Kojagiri Purnima 2023 Date and Muhurats:
Kojagiri Purnima this year falls on the 28th of October 2023, Saturday.
Kojagiri Purnima Date: 28th October 2023, Saturday
Kojagara Puja Nishita Time: 11:42 

PM

 

to 

12:30 

AM

, Oct 29
Moonrise on Kojagara Puja Day: 05:41 

PM

Purnima Tithi Begins: 04:17 

AM

 

on

 Oct 28, 2023

Purnima Tithi Ends: 01:53 

AM

 

on

 Oct 29, 2023
---
Kojagari Lakshmi Puja Vidhi and Other Rituals:
The rituals for Kojagiri Lakshmi Puja differ from community to community. In Bengal, idols of Maa Lakshmi are worshipped either at home or the pandals, just like Durga Puja. Generally, in the pandals, the Puja is performed by a priest. At home, many people fast on the day of Kojagiri Purnima.
You can prepare a Kalash in front of Maa Lakshmi's idol or picture. For that, you need to take a copper Kalash and fill it with water. Tie a red thread around the neck of the pot. With kumkum, draw a swastika on the pot. You can then chant a mantra for Maa Lakshmi and perform Arti along with the offerings. Worshipping a Lakshmi Ganesha Yantra can also help you bring prosperity and wealth in your life.
Here is a mantra that you can chant: ॐ ह्रीं क्लीन महालक्ष्म्यै नमः ।।
Kheer holds a significant place on the day of Kojagiri Puja. Some people put Kheer in a silver bowl, under the moon and offer it to Maa Lakshmi. Kheer is also used to break the fast on the day of Kojagiri Purnima. Other offerings to the Goddess Lakshmi include Bengali sweets like 'Narkel Bhaja' and 'Taaler Kheer'. In some places, the offerings also include flattened rice and milk.
Women in Bengal draw Alpana (a kind of Rangoli) in front of their homes. Many of them contain a pattern that symbolises the feet of Goddess Lakshmi.
---
Welcome, Goddess Lakshmi!
May the Goddess of fortune and prosperity bless us all on this auspicious day of Kojagiri Purnima, as we worship and welcome her in our homes, on this night of full moon!
To Get Your Personalized Solutions, Talk To An Astrologer Now!
With Ganesha's Grace,
GaneshaSpeaks.com
---
---
Get 100% Cashback On First Consultation