Holi 2024 Festival Celebration – Importance and Why It Is Celebrated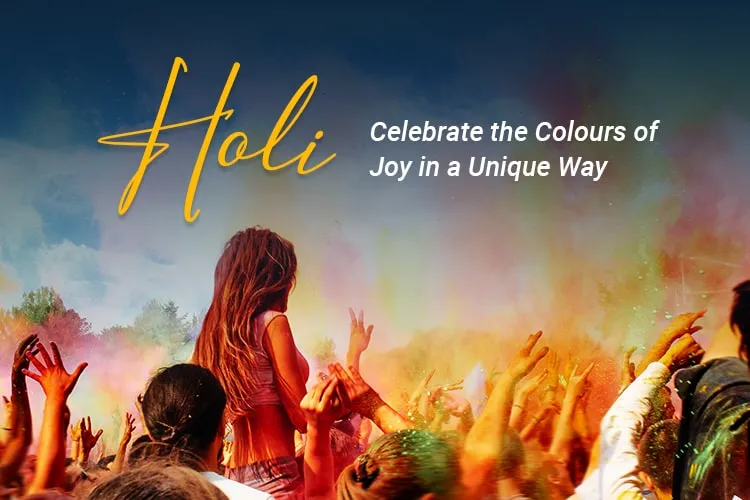 Holi is the ancient Hindu festival popularly known as the festival of love and colours. Probably the day on which you can say "Daag Acche Hain". The festival is celebrated spanning two days – the first day is celebrated as Holika Dahan. The following day people play Dulheti. The most awaited colour festival of the year signifies the healing of broken relationships with the popular phrase "Bura Na Mano Holi Hai". People visit their relatives and friends, play with colours, share delicacies, and have lots of fun and frolic.
---
Holika Dahan Date in 2024
According to the Hindu calendar, Holi is celebrated on Phalguna Purnima when the Moon is full. So, this year Holika Dahan falls on Monday 25th March 2024. Let us know what Vedic Astrology informs about the two-day festival Holi.
There is no fixed timing for burning Holi. But generally after sunset, the pyre is lit in open spaces, parks, community centres, and near temples, signifying Holika Dahan.
According to Vedic Astrology, the Sun and the Moon are on the opposite ends of each other in the sky. The position is considered a favourable time. During this period, the Moon is present in the house of Leo and Virgo. While the Sun is very much placed in Pisces and Aquarius. Rahu often transits into the celestial archer Sagittarius. Vedic Astrologers and Vastu Experts consider it an auspicious day to perform Vaastu Puja.
It goes without saying that it is a festival that fills colours in everyone's life. However, the colours that suit each zodiac sign would be different. For instance, the Cancer zodiac must use and wear colours Blue and Green similarly Leos may benefit from colours Yellow, Red, and Orange.
Get a complete idea of how different zodiac signs celebrate this festival of colours here!
---
Holi Dahan Stories - Legends Behind Celebration Of Holi
According to a legend, demon King Hiranyakashipu was despised by his own Vishnu bhakta son Prahalada and so conspired to kill him. Holika the sister of Hiranyakashipu sat with Prahalada in the pyre wearing a cloak that made her immune. Surprisingly, the cloak protected young Prahlada and Holika was burnt to ashes. Thus, remembering the incidence, the pyre is lit in many regions of India on the first night of Holi.
Another legend states that Kamadeva risked himself to bring Lord Shiva back into the world. The god of love Kamadeva shot an arrow towards Lord Shiva which instantly infuriated Lord Shiva but also brought him to life. The result was that Kamadeva was turned into ashes but Shiva got married to Parvati bringing stability into the universe. The wife of Kamadeva Rati was upset and did penance for forty days after which Shiva brought Kamadeva back to life. Hence, across India and abroad after forty days of Vasant Panchami the festival of Holi is celebrated.
---
Radha Krishna Significance on Holi
In the regions surrounding Braj, the festival is celebrated as Rang Panchami to commemorate the divine love of Radha and Krishna. According to the legend, Krishna developed a characteristic dark colour because the demon Putana poisoned him with the milk of her breast. This is why people apply different colours on faces and even celebrate Lathmar Holi in which women beat their brothers-in-law and husbands for all their mischiefs done, and thus in this way they celebrate the festival of colours..
Not just limited to legendary stories, the colourful festival also holds Vedic importance, which significantly impacts human lives.
---
Vedic Astrology and Holi Celebration
This day holds a special place in Vedic astrology as it helps to get rid of evil energies by offering prayers to Lord Hanuman. A visit to the temple of Hanuman and offering Jaggery and black thread may cast away negativities. It is quite helpful to recite the powerful mantra 'Om Hanumante Namah' and wear the black thread. Even placing it on the main door may cast away all the negative energies.
---
How Holi Is Celebrated In Different Regions?
Holi is celebrated across many regions of our country and even in different countries in several forms such as Phagwa, Dola Jatra, and Basanta Utsav. In fact, in Braj regions it is celebrated as a tourist festival in remembrance of Lord Krishna in the regions of Mathura, Vrindavan, Nandgaon, and Barsana. So, let us explore how this festival of colours is celebrated across Indian states and abroad.
Assam
Holi known as Phakuwa/Doul is locally called as Doul Jatra and is celebrated all over Assam. The first day of the festival is celebrated by burning the clay huts in regions of Barpeta. On the second day, it is celebrated with colour powders and a chorus devoted to Lord Krishna.
Bihar/Jharkhand
Popularly known as Phagua in the local Bhojpuri dialect, here Holi has a varied inclination. On the eve of the full moon that is Phalguna Purnima people usually light bonfires. At the time of Holika, people gather and circle the pyre. The very next day the festival is celebrated with colours and a load of frolic. Holi Milan is practised in which family members and well-wishers visit each other's families and apply colours (abeer).
Performing Vishnu Puja on the Day of Holi Is Significant to Remove Obstacles and Get Protection from Enemies. Book Now!
Goa
The colour festival is locally known as Ukkuli in Konkani. There is a huge celebration around the Konkani temple called Gosripuram temple on this day. The festival of colour is a prominent part of the Goa or Konkani spring festival which lasts even more than a month. Holi rituals include Holika Pujan and Dahan, Dhulvad, Halduni, or even offering saffron, and gulaal to the deity.
Gujarat
In the vibrant state of Indian continent – Gujarat too, Holi is celebrated in the form of a two-day festival. On the evening of the first day, people light the bonfire not only in the remembrance of Great Devotee Prahlad but also to remove all the evil energies from their lives. Here, it is a tradition to offer raw coconut and corn to the pyre as a sign of reverence. On the second day, people across play with colours and enjoy music. Also, in the Dwarkadheesh temple and Dakor temple, Holi is celebrated by gathering thousands of people.
Get Vedic Remedy Kit to Remove All the Evil Energies in Your Life. Get Now!
Telangana
In rural regions of Telangana, children collect funds, rice, corn, and wood before Holi to celebrate the two-day festival. The festival is also called by various names like Kamuda, Karma Vilas, Kaman Pandigai, and Kaha-Dahanam.
West Bengal
Popularly known as Dol Jatra, Swing festival, and Dol Purnima in West Bengal, the day of Holi has a touch of sweetness. The colourful festival is celebrated in a very special manner by placing the statues of Radha and Krishna on a picturesquely decorated palanquin which are taken across the streets. However, on the day of Dol Purnima, students dress up in saffron colour clothes. Also, they wear white or floral garlands and play with colours. Wooah, music is on with the feet dancing to enhance the mood of celebration.
Nepal
Not just limited to the Indian continent, Holi also has a special place in our neighbouring country Nepal. Here, it is an important festival along with Dashain and Diwali. It is celebrated widely in the month of Phagun (February/March) and signifies the legend of Lord Krishna. Amazingly traditional concerts are held in major cities like Kathmandu, Narayangarh, and Dharan which are broadcasted on television showcasing various celebrity guests.
---
Colouring Up
The festival of colours – Holi arrives on the Phalguna Purnima which is the full moon and is considered very auspicious. Offering prayers on the day may bring great benefits into your life as well as organizing Vedic pujas help to remove all the negative energies not only from your house but also from your life.
The festival of colours is also celebrated across Europe and the United States. Many fun and colour-filled philanthropic events are held, such as the 'Festival of Colors Tour' and 'Holi One' inviting people to participate and have fun. Spreading the essence of fun and joy, Holi is also celebrated in a very festive manner at Sri Sri Radha Krishna Temple in Spanish Fork, Utah, and NYC Holi Hai in Manhattan, New York.
With Ganesha's Grace,
Astrologers trained by Shri Bejan Daruwalla
The GaneshaSpeaks Team
---
---
Get 100% Cashback On First Consultation