Hartalika Teej – A Day Of Shiv Parvati Union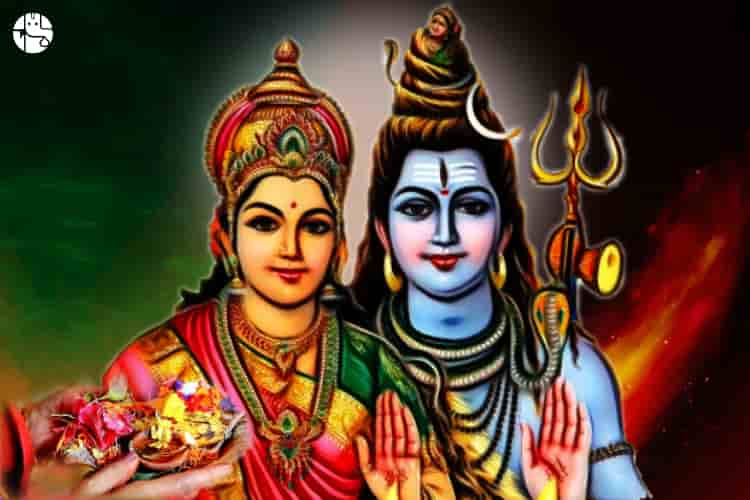 Teej in Hindi signifies the third day after the no moon night (Amavsya) or the full moon night (Purnima). Hartalika Teej is one of the major festivals celebrated with fervour by Hindu women across the states of Uttar Pradesh, Rajasthan, Bihar, Jharkhand and Madhya Pradesh. The day is dedicated to Goddess Parvati, for her austerity in a dense forest to get married to Lord Shiva.
Hartalika Teej 2020 is on August 21, Friday.
Puja Muhurat for Hartalika 2020:
Pratahkal Hartalika Puja Muhurat - 06:18 AM to 08:52 AM
Pradosh puja muhurat - 07:07 PM to 09:21 PM
Tritiya tithi - Aug 21, 02:13 AM –Aug 21, 11:02 PM.
Know Today's Tithi according to Hindu Panchang
What Is The Significance Of Hartalika Teej?
Hartalika Teej Vrat has immense importance for Hindu women. It is believed that if an unmarried girl observes this fast religiously, she can get her soul mate, just as Goddess Parvati got Lord Shiva. The main objective of Hartalika Teej is to seek marital bliss along with progeny.
Mythological Saga Of Hartalika Teej (Vrat Katha)
Hartalika means "abduction by a female friend". According to the mythology, Goddess Parvati incarnated as Shailputri, who was the daughter of Himalaya. On Narad's suggestion, her father promised her hand in marriage to Lord Vishnu. But Parvati didn't agree to her father's decision so her friend took Parvati to a thick forest, so that her father would not marry her against her wish.
On the third day of the bright half of Bhadrapud, Goddess Parvati made a Shivalinga out of her hair and leaves. Impressed with her dedication, Lord Shiva gave his word to marry Parvati. Eventually, she was united with Lord Shiva and was married to him with her father's blessing. Since then, the day is referred to as Haritalika Teej as Goddess Parvati's female (aalika) friend had to abduct (harit) her in order for the Goddess to achieve her goal of marrying Lord Shiva.
Rituals to be followed during Hartalika Teej
A) Women observe fast without food or water (Nirjala Vrat), and pray to Lord Shiva and Goddess Parvati.
B) They dress up like a bride with bindi, kum kum, mehendi, bangles, anklets and other accessories and take blessings of their husbands.
C) In the evening, they gather and prepare Shivlinga with mud and cover it with flowers, bilwa leaves and dhatura. This Shivlinga is covered with a swing hanging above it, made with garlands.
D) They worship Lord Shiva and chant mantras all through the night. They dance, sing and remain awake all night.
The puja ends with the narration of Vrat Katha early morning after which beautiful procession of goddess Parvati and Lord Shiva are taken out. All women break their fast by eating Bilwa leaves followed by coconut Prasad and some fruits.
Let's ask our expert some important details:
1- What are the consequences of breaking the fast in mid?
If the fast is given up in the midst, the effects can be disastrous. This is what the scriptures preach. They also recommend 'penance' if there is a break in a vrat.
2- Which mantra should be recited during this puja?
Chant these mantras for your soul mate and a blessed marital life
ॐ शिवाये नम:। ॐ उमाये नम:। ॐ पार्वत्यै नम:। ॐ जगद्धात्रयै नम:। ॐ जगत्प्रतिष्ठायै नम:। ॐ शांतिरूपिण्यै नम:।
ॐ नम: शिवाय। ॐ हराय नम:। ॐ महेश्वराय नम:। ॐ शम्भवे नम:। ॐ शूलपाणये नम:। ॐ पिनाकवृषे नम:। ॐ पशुपतये नम:।
Wrapping up
A vrat should never be undertaken blindly. Lack of awareness and ignorance will not do here. Any vrat should be followed meticulously. One should not think of the hardships we may have to face when observing it.
So enjoy the auspicious Hartalika Teej and seek blessings from Shiv Parvati.
To Get Your Personalized Solutions, Talk To An Astrologer Now!
With Ganesha's Grace,
The GaneshaSpeaks.com Team