Hariyali Teej 2019-Singhara Teej what you need to know?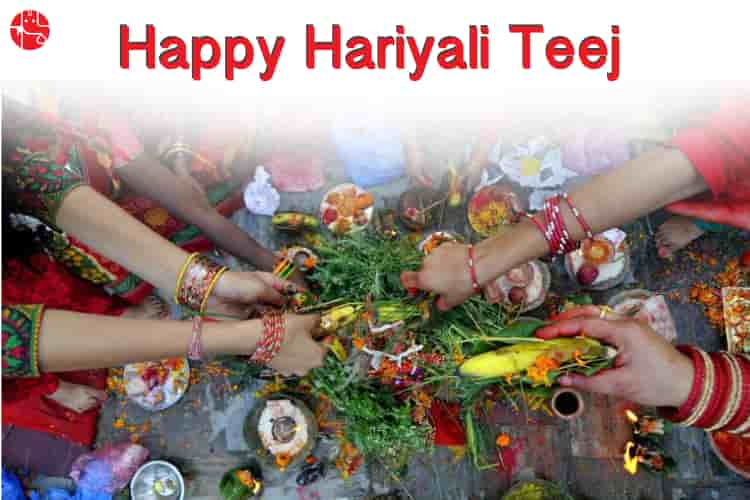 Hariyali Teej – the festival of greenery is on August 3, 2019. The theme of the festival is to strengthen the bond of love and affection in married life and love relations. Hariyali Teej is primarily celebrated by girls and women, with songs, dancing and prayer rituals. This festival of Teej is dedicated to Goddess Parvati and her union with Lord Shiva. Hariyali Teej is also known as Singhara Teej, Shravani Teej, Choti Teej, and Hari Tritiya. All these names differ from place to place and region to region.
Significance of Hariyali Teej
As the name suggests, Hariyali Teej signifies greenery. The meaning of Haryali is greenery. Hariyali Teej is celebrated on the third day of Shukla Paksha (bright fortnight). Hariyali Teej occurs in the Hindu month Shravan; hence, it is also called Shravani Teej or Sawan Teej. As per the tradition, on this Hariyali Teej, women will observe the Vrat for the long life of their husband.
Females worship Lord Shiva and Goddess Parvati on this day and follow all the rituals with faith and devotion to impress the deities.
Let's take a look at the main legend of this day.
The Main Legend ( Story-Vrat Katha)
The festival of Teej symbolizes reunion of Lord Shiva and Goddess Parvati. Goddess Parvati followed fasting and austerity for 108 long years. In the 108th birth of Goddess Parvati, Lord Shiva accepted her love. Goddess Parvati is also known as Teej Mata. Till today, the festival of Teej is celebrated to honour the devotion of Goddess Parvati – popularly known as TEEJ MATA. Knowing that Lord Shiva has accepted her as a wife, she was delighted and celebrated the reunion during the pleasant time of monsoon, in the month of Shravan. Hence, to date, the festival is well known as Hariyali Teej or Shravani Teej. Singhara Teej is remembered as a reunion of Shiva and Shakti.
The festival of Hariyali Teej also signifies the bond of love of Radha-Krishna. Hence, Lord Shiva, Goddess Parvati, Lord Krishna, and Goddess Radha are the ones who are to be worshipped.
Ask our astrologer the detailed Hariyali Teej Vrat Katha.
Rituals (Vrat Vidhi)
Below are the rituals that should be followed while celebrating Hariyali Teej:
1. A fast should be observed on the day of Hariyali Teej, which continues from morning till evening.
2. Females dress up in their best attire by applying Sindoor, Bindi, Mehndi, and wearing new clothes.
3. Unmarried females observe fast on this day to get the desired spouse.
4. On the festival day, folk songs, special dances, fairs and swings are being performed. Spiritual songs are also sung.
5. Women worship Lord Moon on the occasion of Hariyali Teej by offering food, curd, milk, and sweets.
Know the rituals to be followed while observing the fast of Hariyali Teej. Talk to our Astrologer!
Important dates and timings for Hariyali Teej 2019
Tritiya Tithi Begins - 01:36 AM on August 03, 2019
Tritiya Tithi Ends - 10:06 PM on Aug 03, 2019
Mantra to chant
The following Mantra must be recited on the day of Hariyali Teej to envoke the blessings of Lord Shiva and Goddess Parvati:
'गण गौरी शंकरार्धांगि यथा त्वं शंकर प्रिया। मां कुरु कल्याणी कांत कांता सुदुर्लभाम्'
'Gan Gauri Shankaraardhaangi Yatha Tvan Shankar Priya. Ma Kuru Kalyaanee Kaant Kaanta Sudurlabhaam'
By chanting this mantra on the auspicious day of Hariyali Teej will bring happiness and bliss in your married life and will also bless your husband with a healthy and long life.
So, on this Hariyali Teej, get your desires fulfilled by earning blessings of Lord Shiva and Goddess Parvati. This can be done if you follow all the rituals on Shravani Teej.
To Get Your Personalized Solutions, Talk To An Astrologer Now!
With Ganesha's Grace,
The GaneshaSpeaks.com Team