Hariyali Teej 2023 | Sawan Teej 2023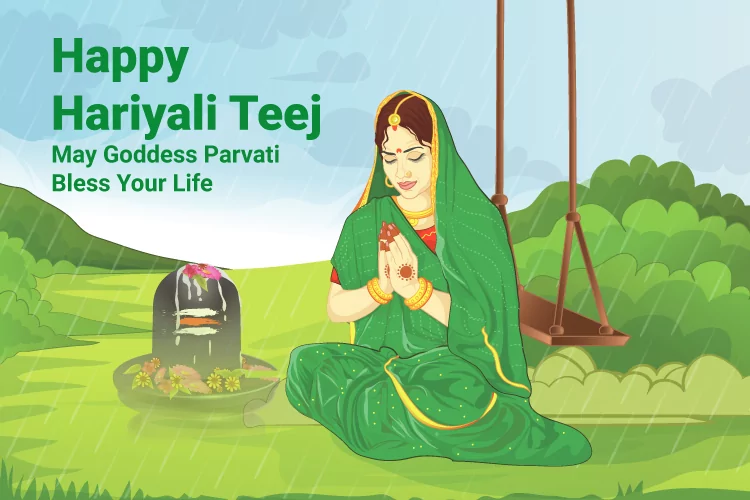 ---
Hariyali Teej Importance
Hariyali Teej is one of the three major teej festivals that Hindu women celebrate (the others are Kajari Teej and Hartalika Teej). According to the Hindu calendar, the festival is celebrated on the Tritiya (third day) of the Shukla paksha (bright fortnight of the moon) of Shravan month (Sawan month). A fast is performed by married women for the sake of their husbands' lifespan and well-being
---
Hariyali Teej Date 2023
Hariyali Teej 2023 will fall on August 19, 2023, two days before Nag Panchami, which falls on August 21. On the Shukla paksha Tritiya of Bhadrapad, on September 18, Hartalika Teej will be celebrated.
---
Teej Festival dates in 2023
| | |
| --- | --- |
| Teej | Date |
| Hariyali Teej | On Saturday – 19th August 2023 |
| Kajari Teej | On Saturday – 2nd September 2023 |
| Hartalika Teej | On Monday – 18th September 2023 |
The Hariyali Teej festival takes place during the monsoon season, when the grounds are lush with greenery, hence the name (Green Teej). Sawan Teej (or Sawan ki teej), Choti Teej, and Madhusrava Teej are other names for the same festival. Hariyali Teej has the same significance as Karwa Chauth, which is celebrated by married Hindu women.
Hariyali Teej is a celebration honouring Goddess Parvati and her union with Lord Shiva. Lord Shiva welcomed Goddess Parvati as his wife on this auspicious day. As a result, Goddess Parvati is also known as 'Teej Mata.'
This festival is celebrated throughout the north Indian states with considerable fanfare. Teeyan is the Punjabi word for it, and Shingara Teej is the Rajasthani word for it. Hariyali Teej festivities may differ slightly from place to place, but the passion and excitement are universal.
---
Hariyali Teej 2023 Tithi timings:
Sunrise – 19 August 2023 06:08 AM.
Sunset – 19 JuAugustly 2023 06:52 PM.
Tritiya Tithi Begins – 
08:01 

PM

 

on

 Aug 18, 2023
Tritiya Tithi Ends – 
10:19 

PM

 

on

 Aug 19, 2023
---
Hariyali Teej Rituals:
Married ladies are given Shringara things such as traditional costumes, bangles, henna, sindoor, and sweets by their respective in-laws on the day of Hariyali teej.
Green lehengas or sarees are worn by women in particular. These Shringara objects represent marriage and have a lot of meaning for married women. Wearing them is also considered auspicious. According to Hindu belief, a lady can safeguard her husband from all dangers by wearing all 16 adornments. This tradition of giving 'Sindhara' is especially important for newlyweds. Women then go to their parents' residence to celebrate this festival as part of the ceremony. Everyone enjoys the delicious cuisine that is served.
On the day, the ritual of applying henna to the hands and feet is especially important. Without performing this ritual, the Shingara Teej festival is incomplete. It is a common idea that the colour of Mehendi on the hands indicates how much love a husband has lavished on his wife. The darker the henna colour on her palm, the more her fiancé or husband will adore her. In some locations, ladies use henna to write their husband's or beloved's name on their hands.
Having the dreams of your marriage? Find the prospects with Marriage Report.
The Vat Vriksha tradition is also an essential aspect of the 'Shravani teej.' Swings are hanging from the branches of Banyan trees or Vat Vriksha in most areas and even in residences. Women spend the day swinging, singing, and dancing with one another. On this day, women are given the freedom to enjoy themselves and have a good time. The Banyan tree is considered sacred in Hindu mythology, and its hanging branches represent knowledge. As a result, worshipping the Vat Vriksha on Hariyali Teej is also considered auspicious.
Women also follow a severe fast known as 'Nirjala Vrat' on this day, during which they are not allowed to drink even water for the entire day. Both married and unmarried ladies can participate in the Hariyali Teej vrat. After worshipping the moon, the fast is broken. Teej Mata (Goddess Parvati) is worshipped by women on this day for the prosperity and well-being of their husbands. Lord Shiva and Goddess Parvati's idols are worshipped, and hymns dedicated to them are sung.
Hariyali Teej is a festival that honours the nuptial connection of marriage. The celebration of this holiday by Indian women symbolises their love for their families and how they are always ready to protect them from all dangers. Hariyali Teej festivities are quite complex in all of Vridavan's Krishna Mandirs. The ceremony is termed as the 'Jhullan Leela,' and it involves laying swings for their goddess.
In all of the mandirs, religious hymns and songs are chanted, and devotees celebrate this holiday with zeal and enthusiasm. The statues of Lord Krishna and Radha are ornately decked, and water is poured over the devotees after the celebrations to signal the arrival of the monsoons.
Attract Good Luck With Your Personalised Horoscope On The Auspicious Day Of Hariyali Teej! – Talk To Expert Astrologer Now!
With Ganesha's Grace,
Astrologers trained by Shri Bejan Daruwalla
The GaneshaSpeaks Team
---
---
Get 100% Cashback On First Consultation