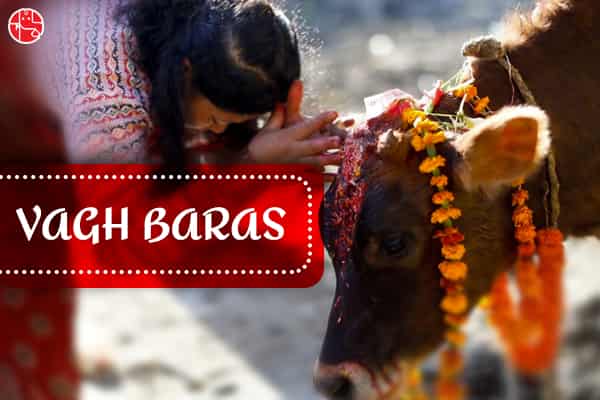 (Image Source: Internet)
About Vagh Baras 2017
Vagh Baras is a unique Hindu festival that is celebrated to worship the cows as a kind of gesture of gratitude for their part in perpetuating human life. Vagh Baras is also called Govatsa Dwadashi or Nandini Vrat, and is celebrated on the 12th day of the Krishna Paksha or the waning fortnight of the moon of the Ashwin month of the Hindu calendar. This year it falls on October 16, 2017 as per the Gregorian Calendar.
The Vagh Baras festival is celebrated with great pomp and ceremony in all parts of the country. In Maharashtra this day is called 'Vasu Baras' and is the first day of the Diwali festivities. In Andhra Pradesh, the Govatsa Dwadashi is called the 'Sripada Vallabha Aradhana Utsav', while in Gujarat it is celebrated as the 'Vagh Baras.' Money is important in life as it can buy us convenience and luxuries. Are you curious whether your money will grow?
If yes, get the Free 2018 Finance Report and find the answer
.
The Rituals To Be Followed On Vagh Baras
Worship of cows. The cows are bathed and vermilion is applied on their forehead. These cows are then adorned with bright clothes and flower garlands.
On Vagh Baras, devotees who are unable to find a cow nearby, prepare an idol from mud, which is then decorated with kumkum and turmeric. An 'aarti' is performed on the evening of Vagh Baras.
Among the offerings that are made to the cows are gram and sprouted moong.
During the course of the day, devotees offer prayers to Lord Krishna, an incarnation of Lord Vishnu, who had a profound love for cows.
Women, on Govatsa Dwadashi, observe a fast for the well-being of their children. They consume only one meal during the day. The devotees avoids any physical activity and stay awake all night. Those, however, who cannot avoid sleeping, should sleep on the floor.
In some parts of the country, devotees abstain from consuming cow milk, curd and ghee on the day of Vagh Baras.
Significance of Vagh Baras
As per Hindu mythology, the significance of Vagh Baras is mentioned in the Bhavishya Purana, where the story of the cow Nandini is narrated. Hindus consider the cow as the most sacred of animals. Cows are worshiped as holy mothers because they offer nourishment to human beings in the form of milk. It is also believed that if a couple who does not have children, observe this festival and keep a fast, they will be blessed with children. In certain parts of India, Vagh means money, and therefore businessmen close their account books on this day and do not make any more transactions until they open a new account book on the day of
Diwali
.
With Ganesha's Grace,