Vagh Baras 2021: Why It Is Celebrated & How?
1 Nov 2021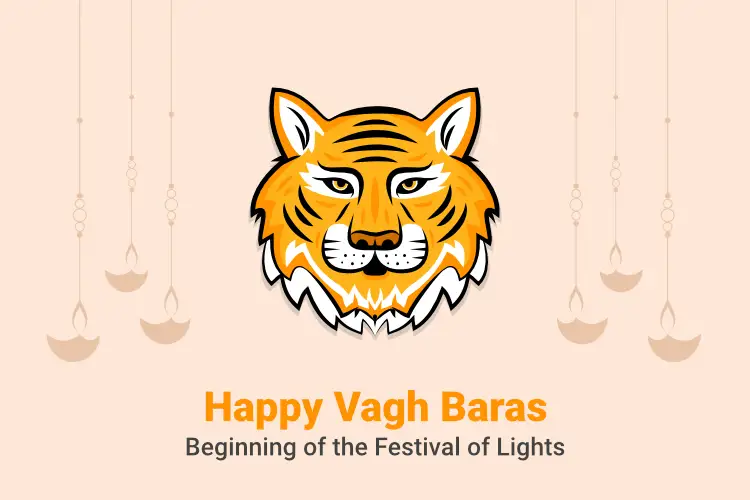 In Gujarat and a portion of Rajasthan,Diwaliis marked with the festival of Vagh Baras. This may be regarded as the beginning of the Gujarati Diwali celebrations. Vagh Baras 2021 is going to celebrate on 1st November 2021. The day is an occasion for worshipping cows and other domestic animals. Additionally, this is the last day on which companies and bookkeepers enter transactions for the current fiscal year.
Vagh Baras is also using the names Vagh Baras, Govatsa Dwadashi, and Guru Dwadashi. With auspicious timings (subah muhurat) playing a crucial factor in Hindu festivals, people are busy searching online for the right information. So When the Vagh Baras are? And why is it celebrated with great pomp all over the world? Know all about Vagh Baras 2021 and its related information here.
Vagh Baras Meaning
Vagh Baras is the fourteenth day of the month of Ashwin and the twelfth day of Krishna Paksha. In this, the Cow is worshipped as a holy animal, and It is rumoured that Lord Dattatreya, the embodiment of Shri Vallabha, the tenth avatar of Vishnu, vanished into the Krishna River on this day. If you are the great devotee of Lord Vishnu, then performVishnu Puja, as it is believed that worshipping him on this day helps remove all the obstacles of life and bless you and your family with joy and happiness.
Vagh Baras always arrives a day before the 'Dhanteras' celebration. On Govatsa Dwadashi, worshippers worship Nandini, the celestial cow. The devotee of cows thinks that all their sins would be cleansed as if they were washing in the Ganges River.
Want to be free of any past sins that are impeding your progress in life?Consult our astrologersfor assistance.
Vagh Bars 2021 Dates & Its Auspicious Timing
Vagh Baras is celebrated in Gujarat and Maharashtra a day before Dhanteras. It is an important day when cattle and calves are worshipped and fed with wheat products.On 1st November 2021, Vagh Baras 2021 will fall, according to Muhurt.
Pradosha Kala Vagh Baras Muhurat – 05:29 PM to 08:07 PM (Duration – 02 Hours 39 Mins)
Dwadashi Tithi Begins – 12:40 AM on 1st November 2021
Dwadashi Tithi Ends – 09:30 PM on 1st November 2021
he Preceding Rituals Of Vagh Baras 2021
On the day of Vagh Baras, the cows are washed and ornate with vermilion on their foreheads. These cows are then adorned with luminous clothing and flowers.
On this day, worshippers that cannot find a cow nearby construct a mud statue that is then adorned with kumkum and turmeric. An 'aarti' is conducted on Vagh Baras's night.
Gram and sprouting moong are the gifts offered to the cows on the auspicious day of Vagh Baras.
During the day, worshippers offer prayers to Lord Krishna, the avatar of Lord Vishnu, who had a deep love for cows.
Women observe fast for their children's well-being on Govatsa Dwadashi. During the day, they eat only one meal. The devotees forgo physical exertion and remain alert throughout the night. Those who can't help but sleep on the floor should sleep.
In certain areas of the nation, worshippers abstain on this Day from eating cow milk, curd and ghee.
Govatsa Dwadashi 2021 | Vagh Baras – Significance
The Govatsa Dwadashi Festival 2021 celebrates "Nandini," the holy cow. A cow is a very sacred animal in Hindu culture and is considered a holy mother, as it nourishes every human life on this earth. Today, mothers observe Nandini Vrat for their children's happiness and long life. It is also believed that any childless couple worshipping a cow on this day and observing a fast are soon rewarded with a kid. During this fast, followers do not eat any dairy or wheat products. This event is observed and celebrated with great zeal in various regions of India, and those who do so are blessed with pleasure and wealth.
The Legends Behind Vagh Baras
In Hindu tradition, 'Bhavishya Purana' includes the stories of Vagh Baras that relate to the narrative of the celestial cow 'Nandini.' In the Hindu religion, cows are looked at as gods and revered as sacred mothers to nurture humanity. On this day, mother's maintain fast for their children's well-being. It's a widespread notion that if a childless lady worships or maintains fast with tremendous devotion on this day, she's rewarded with a lovely kid. If you're lacking the Joy of Parenthood for a long time,Santan Gopal Yantracan fill it.
Govatsa Dwadashi Katha
According to legend, five wish-fulfilling cows arose during the ocean's churning process, also known as ( Samundra Manthan). There was also one heavenly cow, called Nandani, among these five cows. Thus, the holiday Govasta Dwadashi was held to pay respect to and worship the sacred cow Nandani.
On this day, great deeds are performed to honour cows and calves. On this day, devotees who fast abstain from eating wheat or any other dairy products. It is commonly referred to as the Nandani Varat. For generations, it has been thought that by fasting on this day, all wishes are granted and provide good fortune to ladies who have been trying to conceive for years.
Happy Vagh Baras 2021
According to the Indian calendar of Ashwin month, Vasu Baras is observed in Krishna Paksha Dwadashi. The day is also referred to in some regions of India as Guru Dwadashi or Govatsa Dwadashi. Married women observe Gau Pujan along with Sri Krishna Puja for the good health and riches of the family.
Attract Good Luck With Your Personalised Horoscope On The Auspicious Day Of Vagh Baras! –Talk To Expert Astrologer Now!
With Ganesha's Grace,
The GaneshaSpeaks.com Team
Astrologers trained by Shri Bejan Daruwalla.