Wagh Baras 2023: A holy day to worship cows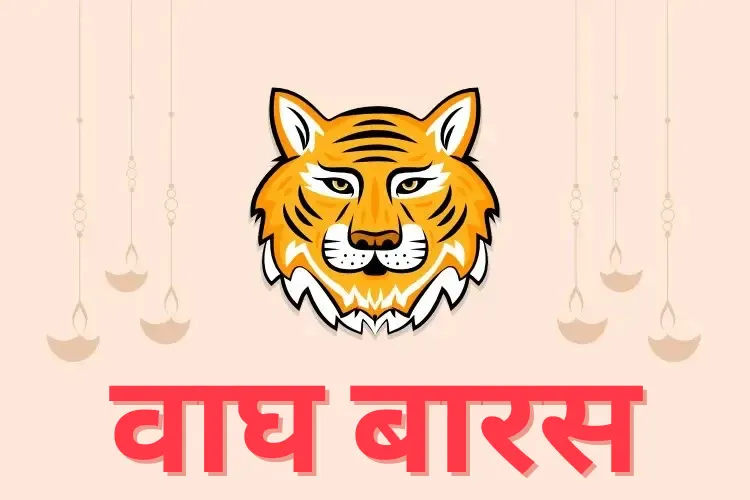 According to the Hindi calendar, the Vagh Baras Puja is organized on the Dwadashi Tithi of the Krishna Paksha of the month of Kartik. Mother cow is specially worshiped on this day. Especially the people of the business class do the work of repaying the loan by looking at their old account books on this day. After this, after finishing all his transactions again, he starts a new ledger. On this day Nandani Vrat is also organized with great pomp. It is also called Govatsa Dwadashi. On this day especially women keep fast throughout the day. On this occasion, Vrati worship the calf of the cow at twilight vela. Along with that she also does beautiful makeup. Women fast, especially for the attainment of child happiness, perform this festival with great devotion.
---
The meaning of Vagh Baras festival
Vagh Baras means repaying one's financial debt. On this day, especially the people of the business class end the borrowings of their account and start a new book account. After this again start the process of new transaction. This festival is also known as Govatsa Dwadashi or Nadani Vrat. On this day all the devotees worship 'Nandani', the revered cow of the deities. According to belief, by worshiping Wagh Baras, God fulfills every wish of the devotees. This festival is celebrated with immense enthusiasm all over the country.
---
Vagh baras (Wagh Baras) in Gujarat
Wagh Varas Puja is celebrated with great pomp in Gujarat. This festival is celebrated on the first day of Diwali festival. On Govatsa Dwadashi, 'Shripad Vallabha Aradhana Utsav' is organized with great fanfare in Pithapuram Datta Mahasansthanam, Andhra Pradesh, while in Gujarat it is celebrated as Vagh Baras. According to beliefs, this festival is a festival of worshiping cows. The festival is celebrated on the 12th day of the Krishna Paksha of the lunar month according to the traditional Hindu calendar.
Are you facing constant problems in life, then consult our astrologer experts today. Talk to…
---
Important dates and times of Vagh Baras
Wagh Baras (Govts Dwadashi) will be organized on Thursday, Wednesday, 9th November.
Shubh Muhurt – Pradoshkal Govatsa Dwadashi Muhurt from 05:59 PM to 08:26 PM
Pooja Duration – 02 Hours 27 Minutes
Dwadashi Tithi Begins –
On November 09, 2023 10:41 

am

 

am
Dwadashi date ends – 
Nov 10, 2023 

on

 12:35 

PM

 

PM
This festival is celebrated a day before Dhanteras. Cows and calves are worshiped on the day of Govatsa Dwadashi. After the puja, the cows and calves are fed dishes made of wheat.
---
Rituals performed in vagh baras
Cows are bathed with holy water on the day of Vagh Baras festival. After this vermilion is applied on their forehead. Then the cow is decorated with flowers and beautiful clothes. If mother cow is not found nearby, the devotees worship by making idols of cow and calf made of clay. Then kumkum and turmeric are offered on these idols. In the evening, cow worship and aarti are performed. Then the cow is fed various offerings like moong, wheat. After this devotees worship Lord Krishna. Lord Krishna had many cows. Worshiping Lord Vishnu and Shri Krishna on this day removes all the troubles of life. Happiness and prosperity comes in the house. On this day women of all classes fast with full devotion for the long life of their son. On this day all the fasting eat food only once. Also, they avoid all kinds of physical touch. She stays awake all night. On this day fasting people especially refrain from consuming milk or curd.
To worship Lord Vishnu Click here…
---
Vagh baras festival
According to Hindu scriptures, the festival of Vagh Baras has been mentioned in 'Bhavishya Purana'. In which the story of divine cow Nandini is mentioned. The cow is worshiped as a mother in Hinduism, as the cow provides nourishment to mankind. On this day all the women fast for the long life of their children. According to beliefs, if a childless woman observes this fast with devotion, she will soon be blessed with a child. This day is also celebrated as Govatsa Dwadashi. On this day Shri Vallabh, an incarnation of Lord Dattatreya is worshipped. This worship helps in preserving cows across the country.
---
---
Get 100% Cashback On First Consultation