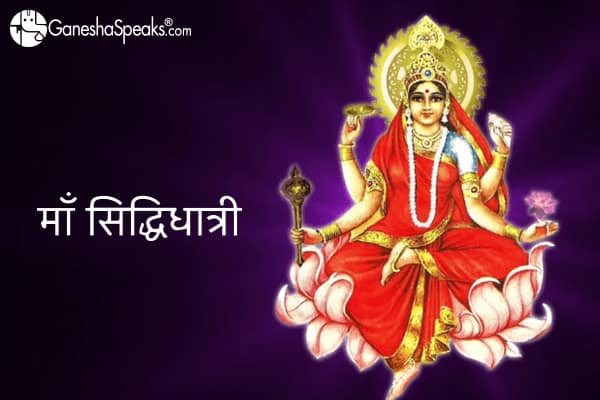 (Image Source: Internet) 
Maa Siddhidatri Is The Giver Of Spiritual Powers (Siddhis)
The ninth avatar amongst the Shakti Roopas is Maa Siddhidatri. She will be worshipped on 18th October 2018, the last and 9th day of Navratri. According to the Markandaye Puran, there are eight Siddhis - Anima, Mahima, Garima, Laghima, Prapti, Prakamya, Ishita and Vashita. As mentioned in the Devipuran, the Supreme God Shiva attained all these 8 Siddhis by worshipping Maa Shakti. With her gratitude, half part of Shiva's body was merged with the Goddess and hence Lord Shiva was named Ardhanareshvar. The Ardhanareshwar Swaroop refers to Shiv-Shakti i.e. Shiva+Shakti. Maa Siddhidatri is the bestower of boons. You can also win her grace by Yantra worshipping.
Buy the Meru Prushth Shree Yantra - Golden Plated and worship it, win the blessings of this Goddess
. 
Goddess Siddhidatri Rides A Lion And Sits On A Lotus Flower
Maa Siddhidatri has four arms. She rides a lion and sits on a lotus flower.  This goddess holds a Chakra in her lower right hand, and a Mace (Gada) in the upper right hand. There is a Conch (Shankh) in the lower left hand, whereas she holds a Lotus (Kamal) in Maa Siddhidatri's upper left hand. 
Maa Siddhidatri Is The Bestower Of 26 Different Wishes To Her Devotees 
If a devotee worships Goddess Siddhidatri with full faith and devotion on the 9th day of Navratri, he/she will be able to acquire all the 8 Siddhis. As a result, there will be nothing unattainable in the universe for that devotee. It is also mentioned in the legends that Maa Siddhidatri is the grantor of 26 different wishes to her devotees. After the completion of Devi Siddhidatri's worship, the devotees spiritually move in the divine abode of the Goddess and they are always blessed by Maa Siddhidatri. Win the special blessings of Goddess Siddhidatri.
Buy the Sarva Karya Siddhi Yantra Golden Plated
.
Other Celebrations On This Day:
2018 Maha Navami 
Mahanavami is third and final day of Durga Puja. Durga Puja on Maha Navami begins with Mahasnan and Shodashopachar Puja. 
On Maha Navami Goddess Durga is worshipped as Mahisasuramardini which means the Annihilator of the Buffalo Demon. It is believed that on Maha Navami day Maa Durga killed the demon Mahishasura.
2018 Ayudha Puja, Shastra Puja
Ayudha Puja falls during Maha Navratri and it is popular only in South India mainly in Karnataka, Tamil Nadu, Andhra Pradesh and Kerala. Ayudha Puja is done on Navami Tithi during Navratri. Most of the time, it falls on Maha Navami during Navratri. Ayudha Puja is also known as Shastra Puja and Astra Puja. 
Historically Ayudha Puja was meant to worship weapons but in its present form all sort of instruments are worshipped on the very same day. In South India it is a day when craftsmen worship their tools and instruments similar to Vishwakarma Puja in other parts of India.
The Mantra And Other Facts About Maa Siddhidatri: 
Maa Siddhidatri Dhyan: Siddh Gandharva Yakshadyairasurairamarairapi Sevyamana Sada Bhuyaat Siddhida Siddhidayini. 
Maa Siddhidatri  Mantra:  Om Siddhidatryai Devyai Namah.  (Chant it 108 times). 
Colour of the ninth day:  Red & Yellow colour. 
Prasad of the ninth day:  Naivedya i.e. Mahaprasad, Payasam (Kheer), Panchamrut, Coconut and Dhaan ka Lawa should be offered.
With Ganesha's Grace,
Acharya Agastya
Subscribe Our Newsletters