Worship Maa Siddhidatri on the 9th day of Navaratri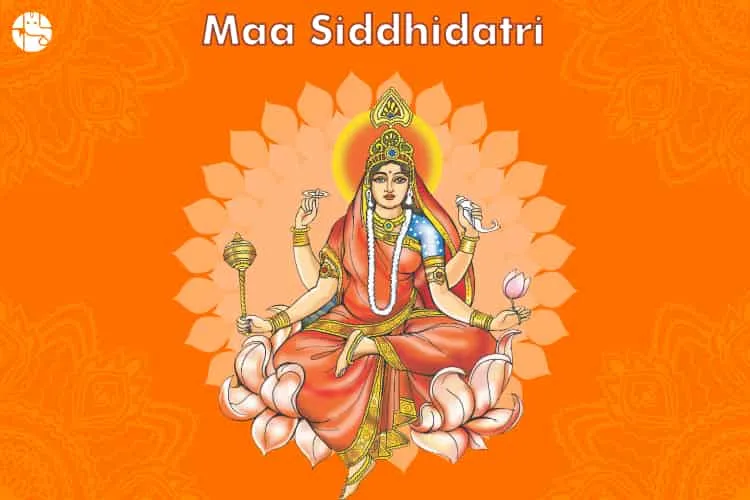 The last among the nine Avtar of Maa Durga, Maa Siddhidatri, is worshipped on the 9th day of Navaratri. Maa Siddhidatri grants Her devotees all sorts of achievements and is capable of giving all sorts of occult powers. She is the possessor of 26 different wishes (Siddhis) which She grants Her worshipers. The legend has it that the Lord Shiva got all those Siddhis by worshipping Maa Shakti. With Her gratitude the half body of Lord Shiva became that of Maa Shakti, and therefore he was called as Ardhnarishvar.
This Avtar of Maa Durga removes ignorance and provides knowledge to Her devotees. She is also worshipped by Deva, Gandharva, Asura, Yaksha and Siddha. Maa sits on Kamal (Lotus) and rides on the lion. She has four hands and holds a Gada in the lower right hand, a Chakra in the upper right hand, a lotus flower in the lower left hand and a Shankha in the upper left hand.
Her glory and power are infinite and worshipping Maa Siddhidatri on the final day (the ninth day) of Navaratri bestows all Siddhis to Her devotees and also marks the successful completion of the Navaratri festival.
Read more about worshipping Maa Siddhidatri…
Chant this mantra to worship Maa Siddhidatri…
सिद्धगधर्व यक्षाद्यैरसुरैरमरैरपि।
सेव्यमाना सदा भूयात सिद्धिदा सिद्धिदायिनी।।
Sid'dhagadharva yakṣādyairasurairamarairapi |
Sēvyamānā sadā bhūyāta sid'dhidā sid'dhidāyinī ||
Navratri is a special occasion. A time for new beginnings and offering your dedication and reverence to the Goddess Shakti. This Navratri, bring home and institute a Meru Prusth Shree Yantra – a beautiful, divine symbol of the blessings of Goddess Lakshmi herself.
Talk to an Astrologer Now, First Consultation with 100%
With Ganesha's Grace,
The GaneshaSpeaks Team
---
---
Get 100% Cashback On First Consultation